Electronic circuit simulation software uses mathematical models to copy the behavior of the actual design of the circuit. Model circuit operation using simulation software and analyze your circuit. Modify your circuit and see the effect it has on your circuit by seeing simulations. Improve the efficiency of your design using such software. Get insights on the behaviors of circuits by viewing them in 3D form. Save cost in buying all the tools when planning your design as electronic circuit simulation software helps to model everything online. Clear all the faults in your design using the simulation to get better output results in reality.
1. EasyEDA

EasyEDA is an online PCB design tool used for creating circuit simulations. Many Engineers use this software to create their designs as it contains a powerful simulator. A free trial version is available for this software. Use nearly 1 million real-time components to make your circuit design. Create or import standard libraries that will aid you in designing. Refer to stocks, prices, and order while you design your circuits. Get a 3D view of your design. Create public or private simulations and get ideas from open-source projects available in this software. Design high-quality circuits using EasyEDA. This software is easy for beginners to use.
2. Autodesk Eagle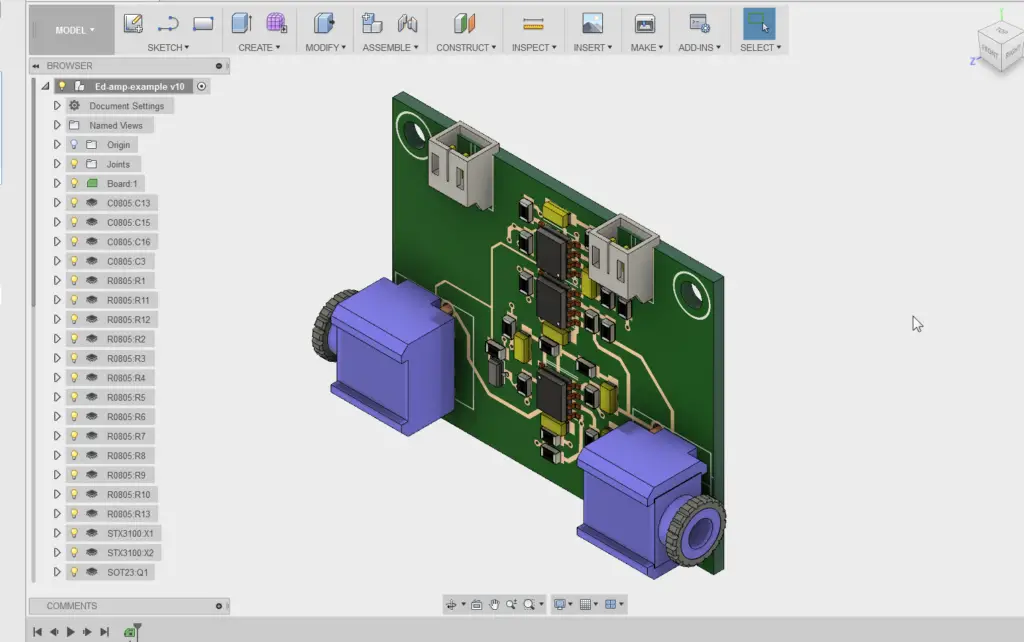 Autodesk Eagle allows you to create Printed Circuit Board designs by entering dimensions from a datasheet. Create 3D models that are ready for manufacturing. Use packages available in the library found in this software. Export and use your designs anywhere. Get real-time design synchronization to view a simulation of your design accurately. Test ideas and validate the performance of your circuits using a SPICE simulation method. Automatic alignments tools are available to create your designs. Drag and drop design blocks to save time in completing your design. Electronic rule checking is available to validate your schematic diagram. Obstacle avoidance routing and Push and shove routing are some of the new features to aid you in designing circuits.
3. PartSim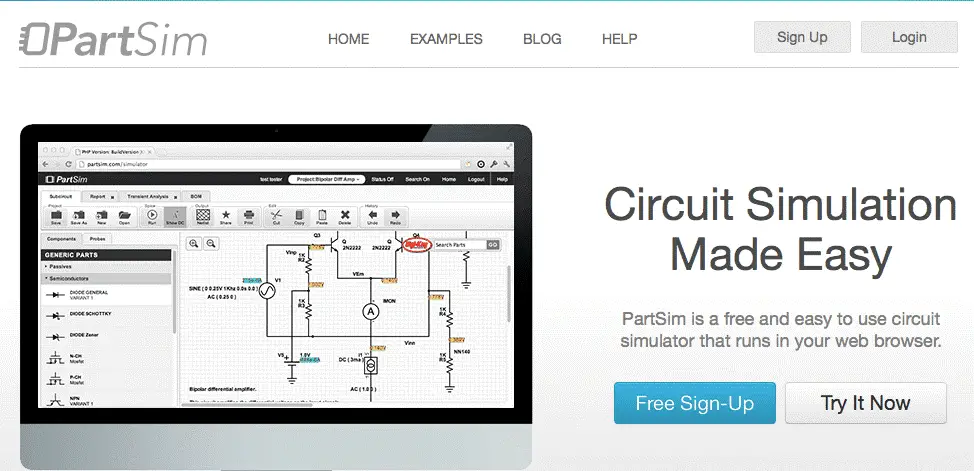 PartSim is a circuit simulator software that you can run on your web browser and is free to use. The SPICE simulation engine of this software allows precise simulation of the circuit with a graphical waveform viewer. It helps to view faults in design during the simulation itself. It also contains a web-based schematic capture tool to assist in circuit simulation. Try out a sample simulation for free to see how this software works. Assign Arrow Part Numbers to your models to help in the designing of the circuit. The library contains most of the circuit related tools. Save your work and export your file to create your design in reality.
4. EveryCircuit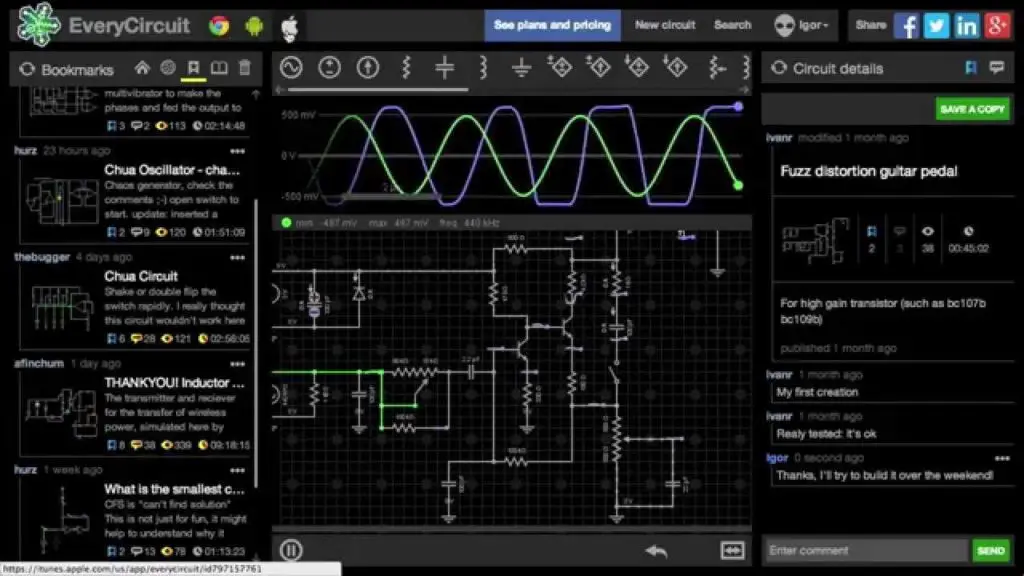 EveryCircuit helps to create circuits and make simulations. Share your work and explore electronic circuits to get ideas on how to create circuits. This software is available on the App Store, Google Play, and Chrome. Build your circuit from anywhere using your phone and check how the circuits work by testing your design. Interact with the large community of EveryCircuit to get ideas. Visualize dynamic animations of current and voltage and get insight into your circuit operation. Simulate your designs using the built-in simulation engine and see how your circuit works, and the touch-screen interface makes this software easy-to-use as you can build circuits using your hands.
5. Circuit Sims

Circuit Sims is a simple web platform that can run on any browser. Beginners will like this platform as understanding the functionality of circuits is easy using this software. You do not require any account to use this software, and it is for free. You can adjust the components of your circuit. Adjust factors such as simulation speed, current speed, capacitance, inductance, and the circuit's resistance to see how it affects your design. View the waveform of your circuit in the design panel. Use the run/stop button to on and off your circuit as your wish. A menu is available to display sample circuits for you to refer when you need it.
6. DC/AC Virtual lab

Get the real-life experience of your circuits using a DC/AC Virtual lab circuit simulator. You can try it for free and buy the paid version. The software provides you with real-life components to make your designs, the current flow mode and electron flow mode is available to make changes to your current and electron flow. Browse through the experiments of other users and watch the circuit simulations done by them to get an idea of making circuits. Use the lessons available to learn how to use this software. Get updates in this software as it gets new updates frequently.
7. DoCircuits

Use DoCircuits to build analog and digital circuits, make a circuit board, PCB, circuit-related projects, etc. Log in to view the simulation of your designs. The design of this software is interactive as the components are real looking, and you can try the different elements to modify your design. Many sample circuits are available such that you can make small modifications in it to make your circuit. Test and measure the circuit—model plots and graphs to analyze your design. Virtual devices like oscilloscope and function generator are available too. Use advanced sweep analysis to perform multiple domain analysis.
8. CircuitsCloud

CircuitsCloud is an online electronic circuit simulator. This free platform makes the creation of circuits easy. This cloud-computing based application allows the user to access the application through the internet, and all their data will be stored online. Use this software for educational purposes and get benefited. Improve your learning about logical circuit using this software. Connect elements without much frustration by using the wire modes available. The modern and intuitive interface with drag and drop feature allows you to design your circuit easily. You can control the debugging by pausing the simulation and watching the signal's propagation in every step.
9. Circuit lab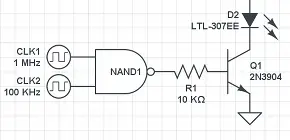 Build and simulate your circuits using CircuitLab. The schematic editor of this software is easy-to-use. Create analog and digital circuits in seconds using this software. Simulate both analog and digital circuits side-by-side using mixed-mode circuit simulation. You can make wiring diagrams and schematic PDFs using this software. You do not need to install this software and launch it with one click. The easy-wire mode of this software allows you to connect elements easily. Mix parts of circuits in the CircuitLab community using the cross-window copy/paste function. Human-friendly formats allow you to display values concisely. Unique circuit URLs will let you share your work online. Advanced simulation capabilities like frequency domain simulation, stepping circuit parameter, and many more are available.
10. TinaCloud

TinaCloud is a circuit simulation software for Digital, Analog, and MCU circuits. Analyze, design, and test your circuits using this software. Analyze the communication and RF of the circuits too. Offline circuit simulation is also possible with TinaCloud. Edit and run your schematic designs on PCs or Macs. This software has an analog to digital conversions and vice versa. A wide range of virtual instruments is available in this software like a multimeter and digital signal generator. Multilayer PCB with split power plane layers and auto-routing are some of the many advanced features available in this software. Test your circuits, debug, and run them to get the best output.