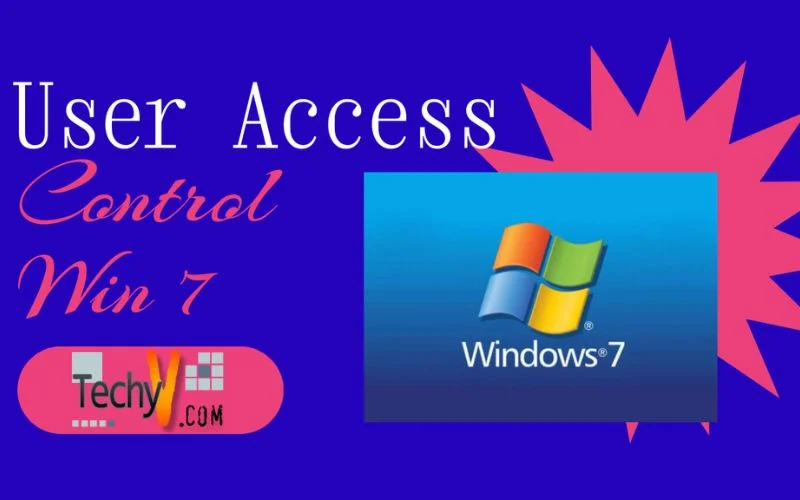 User Access Control
With the increasing use of computer and information technology in all aspects of life, the importance of information security has increased concurrently. Microsoft has successfully dominated the market. Its Operating Systems have become the most widely used system application all across the globe.
Microsoft Operating Systems have been relying on third-party antivirus and antimalware programs for a long period of time while they have been trying to bring this feature from within the Operating System. In the progress of system security features, Microsoft launched User Access Control (UAC) first time with Windows Vista and Windows Server 2008.
UAC is a built-in application in the aforementioned Operating Systems that improve the security of Microsoft Operating Systems by limiting an application to be authorized by the system administrator. This application prompts even if the user has logged in as an administrator. Any application that can make a change to system or a system application needs the user's authority. Thus, the chance of malware running unnoticed reduced by far. Given that security level applied is appropriate.
UAC application in Windows Vista and Windows Server 2008 has a very complex version and it was really difficult for an end user to cope up with its interface and settings. It took more resources in the system and took more time to manage. Microsoft, in its effort to provide the users with maximum ease, improved the application interface by introducing the UAC slider option in Windows 7 and Windows Server 2008 R2 so that the users may change the level of security by sliding the options.
UAC in Windows 7
Windows 7 has brought the improved and user-friendly version of UAC to its users. The procedure for changing access and settings is given in the simple steps below:
Accessing UAC in Windows 7
Users may open User Access Control (UAC) by following the two simple steps below.
Step 1
Go to Control Panel and click "User Accounts".
Step 2
In the User Accounts window, click "Change User Account Control Settings".
Applying Security
Users are provided with four security levels to choose from the slider in "User Access Control Settings" window. The details regarding each option and its impact to system security are elaborated as follows.
Always Notify
The users that regularly install applications and do a lot of browsing on various websites are recommended to use this option as a security level. This option enables the system to prompt as soon as a program tries to make a change to the computer or installs an application. It also lets the UAC prompts to pop up if the user himself is making changes to Window Settings.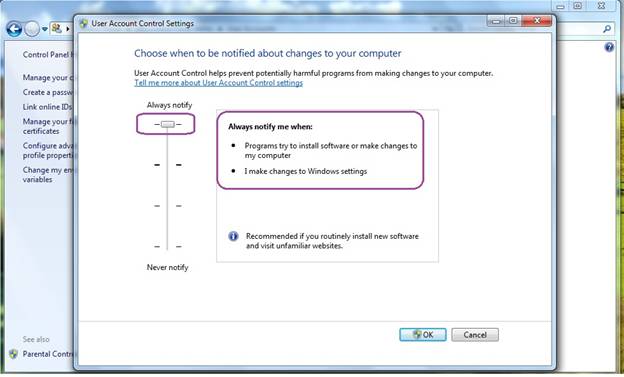 Default Notify
The end users are provided by this default User Access Control notification security level by Microsoft in Windows 7 Operating System. This security level is recommended by Microsoft to be applied if the users have a limited system usage with familiar programs running regularly and new applications are occasionally installed and ran. This level of security prompts the user as soon as a setting can affect the Windows settings.
Notify if program try to make a change
Microsoft recommends this security level to be opted only if the user has limited system resources and the notifications take more time to prompt. This option is applied so that the user is notified as soon as a program tries making changes to the computer.
Never Notify
Users that need to use applications that are not certified for Windows 7 apply this option since such programs do not support UAC.