Are you one of those who are missing theatres badly? Because of covid, they have been closed for a long period of time. Watching movies in a cinema hall gives another level of feeling which we can't have on normal TVs or smartphones. So here in the article, we will be mentioning the best home theatre brands. If we can't go to the theatre, then it can come to our homes.
1. SVS Prime Satellite 5.1
It's for the ones who don't want an extensive system that covers most of the area in a room. It has five satellite speakers for left, right, and center that have a massive sound that brings immersive surround sound home. It contains an SB-1000 subwoofer, 12-inch front-firing driver, 300 watts RMS, and 700+ watts peak power amplifier that will give mesmerizing and energetic sound to your room with five years warranty.
2. Yamaha YHT-4950U
The home theater system comes with a powerful AV receiver with five speakers (which delivers a clear and balanced sound), a subwoofer, and a speaker. It is affordable, easy to use, and the AV receiver delivers transmission of 4K video in 60 frames. Apart from this, it also supports High Dynamic Range that gives high-definition enjoyment.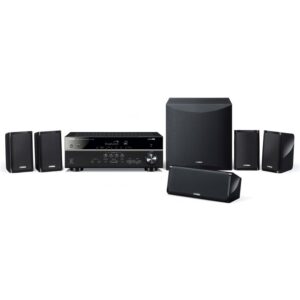 3. Samsung HW-Q60T 5.1-ch Soundbar
The home theater comes with a 3D surround sound that will bring your surround sound to life and turn your room into a theater. It has an Acoustic Beam technology and can have multiple connections, which enables you to switch between devices easily. Also, it contains adaptive sound technology, which optimizes sound for every scene and allows you to hear clear voices in low volume.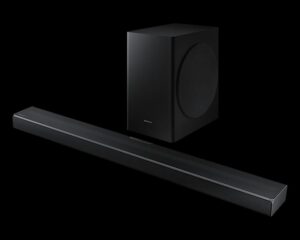 4. Bose Soundbar 700
The best performing soundbar from Bose, which will not only give you an excellent experience but will make your room look smarter. It is Alexa built, so you can ask to play the music at any time according to your moods. You can also play wifi music services like Spotify or use a Bluetooth connection. It will bring your music, movies, and TV to life with full, immersive surround sound.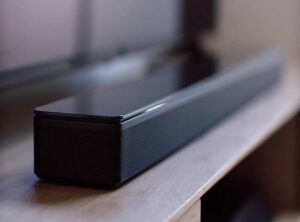 5. Nakamichi Shockwafe Elite
Transform your room into a theater with this award-winning system. Its one-button room optimization will provide sound control based on your room size. The industry's only Dual Wireless Subwoofer and True 360° 7.2 channel surround sound with the soundbar and two rear surround speakers. Its subwoofers will give you a cinema-level experience, and 2 rear speakers will give you a dynamic sound. Its eight-speaker soundbar is the star of the show.
6. JBL Bar 5.1 Soundbar Surround System
It will transform from a soundbar into an accurate wireless 5.1 home theater system for movies and music. The speakers are detachable, battery-powered, and can surround sound with 510W of power. Also, it has a thrilling bass from a 10″ (250mm) wireless subwoofer. It supports wireless streaming with Bluetooth, and the batteries can change easily.
7. Dali Oberon 5 5.1 Speaker Package
It is a 5 speaker package housing 2 x 5¼" wood fiber and SMC-based woofers and has the series' wide bandwidth 29 mm ultra-lightweight soft dome tweeter, which will surprise you with its deep firm bass. The Dali Oberon 5 speakers include- The DALI OBERON VOKAL (that delivers a very vibrant and clear sound), The DALI OBERON 1 (a bookshelf speaker), and the Dali E-9F Subwoofer.
8. Q Acoustics 3050i 5.1 Cinema Pack
It's a home theatre system that ensures that you hear every detail at its very best. It provides good quality sound and deep bass due to its P2P™ (Point to Point) bracing and HPE™ technology. They combine the very best of the 3000i series so that they can bring on-screen sound to life and give you a next-level theater experience.
9. Monitor Audio Silver 200 AV12
These are the smallest floorstander and designed in a way to deliver a stunning sound in small to medium-sized rooms, with its 25 mm C-CAM (Ceramic-Coated Aluminium/Magnesium) tweeter, featuring vented Neo magnet system that is for lower distortion and clearer sound, and highs 5¼-inch bass and 5¼-inch bass/mid drivers with 'dished' C-CAM cone profile for better damping and improved mid-range clarity.
10. Sennheiser Ambeo
The Soundbar comes with 13 speakers, which includes six woofers, five tweeters, and two top-firing full-range speakers in one single frame. It can support 3D sound as well and can connect to any smart control app. The Soundbar will make your room dance and you can easily control it with the Sennheiser Sound Control app. It contains a sound upscaling technology (Sennheiser's Upmix) that can convert stereo audio to 3D sound.