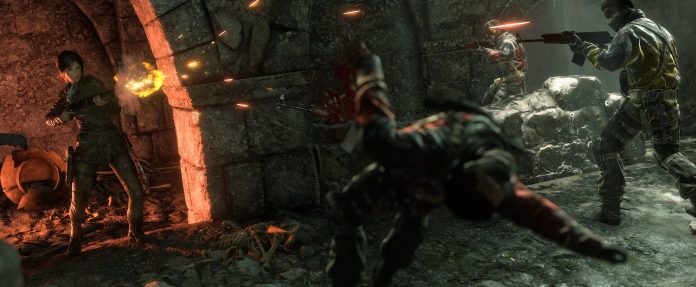 Dishonored 2
Dishonored 2 looks like the game of the year! And it's well and good to be played this holiday season as well as for later. The story revolves around an Empress (Emily Kaldwin or Corvo Attano; players are allowed to play as one of them). The Empress has been dethroned and now the player has to restore it. And, you can complete the game without killing anyone. How new is that?
Call of Duty: Infinite Warfare
Call of Duty has already shown the Past, Present, and Future. So now, it takes us to SPACE! To play this game is a thrilling experience and fun. You get to have a robot buddy called Ethan, and you also fly a spaceship. 'Infinite Ward' has the hidden tools, which makes the game more engaging. It's your job to explore them now.
Titanfall-2
It's one of the best games of 2k16. Like its previous release, Titanfall-2 is a first person shooter. Each chapter of Titanfall-2 is a straddling playground of debris fields, jungle valleys, and military structures. This game is time-consuming. You can always 'Pause' anytime you like, but you can never quit!
Gears of War 4
"Gears of War 4" focuses onJD Fenix,the son of main characterof the original trilogy. In a post-apocalyptic landscape the protagonist, along with his friends fights all the nightmare creatures. It is one of the best games this year has seen.
Mafia III
Grown up watching Quentin Tarantino movies like Pulp Fiction and Django Unchained? It's an open world crime game with an inquisitive plot set in New Orleans.
Overwatch
Overwatch gives you the best multiplayer experience. It is a perfect holiday season game for everybody. For fun, you can choose one of your characters that suits your style. Playing this game is a smooth process.
Battlefield 1
As the name itself suggests, Battlefield brings you in the World War scenario which has five story lines from five different characters. What could be more interesting than that! You get ride tanks and fighter planes and horses. This game is the best first person shooter game ever.
Forza Horizon
Tested your gaming skills on NFS already? Now it's time to take a step head and go 'Fast n Furious.' The game lets you explore Australia through fast paced cars. It features cross-platform play between the two platforms. The player can select vehicles of his/her choice. The game is all about fun!
The Last Guardian
The making of this game started in 2007, and because of its long development period, the potential of The Last Guardian on PS4 is extraordinary. It is one of the most anticipated games of the year 2016. The Last Guardian comes with an intriguing story line and an encompassing narrative style. The game is a must played.
Super Mario Bros
How can a 90's kid still not be obsessed with Mario? The platform and vintage interface of the game is reliable even after all this time. The game still plays well, and it would always be our first choice no matter what new games may come and go.