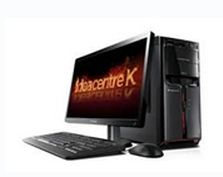 Top 10 Best Desktop PC to Add a Digital Touch in Daily Life
With the developing era of changing technology, everything is going to be automated. If you are looking for a brand new desktop PC, you'll be astounded because of numerous collections of desktop computers. To decrease the inconvenience of proper information, we will categorize the top 10 best desktop computers. Let's have a look on this.
1. Dell's Studio XPS 8100
The Dell Studio XPS 8100 is a reasonably priced mainstream desktop pc, which can handle most tasks in style. The main advantage of this desktop is it's less costly H57 chipset as well as Core i7 processor. Users will be able to customize the memory, as they required. Most catchy features of this desktop are contemporary design, tray and ports.
2. Apple iMac
Apple iMac is still beating all the competition of desktop computers with enhancing its performance without making it costly. Main attractions of Apple iMac are graphic power in addition to new Thunderbolt port. However, it looks same at the outside but as a whole, it is new AIO (All In One). It will satisfy the customers with some new features like FaceTime camera, option to choose Magic mouse and Magic Trackpad as well as light sensor.
3. Gateway SX2850-33
SX2850-33 has added a new line to the Gateway's flexible slim tower with its very fast Intel Core i3 processor. As a living room desktop, it develops its popularity with Wi-Fi. It may be expensive than any dedicated video streaming device but it meets its high price with speed and flexibility.
4. Sony JS Series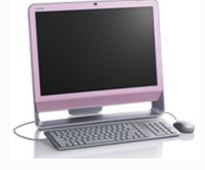 Sony VAIO JS Series comes with 20.1-inch LCD monitor, Intel Core Pentium processor as well as 4GB RAM and pre-installed with Genuine Microsoft Windows 7 Home Premium. Sony JS Series comprises with gigabit Ethernet, five USB input, Bluetooth modem, a headphone socket as well as iLink Firewire.
5. Dell Studio XPS 9100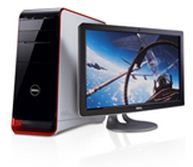 With superior performance, feature and powerful processor Dell Studio XPS 9100 has blown away the desktop competition. This is the best gaming computer. This Dell product is mostly used for digital imaging, editing of video, imaging of video as well as entertainment.
6. Velocity Micro Edge E2250
If you are interested to treat your kids to a new hot system then you should consider the Velocity Micro Edge2250. It is comprised with very trendy feature like high graphic card, large spaced hard disk as well as quad-core power. Space of this desktop PC is expandable. It is capable of playing Crysis.
7. Lenovo IdeaCentre K320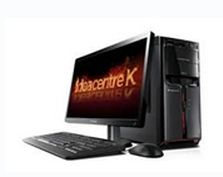 Lenovo IdeaCentre K320 is enhanced with powerful basic configuration. Its standout features are Intel Core i3 processor, 4GigaByte RAM memory, Intel Graphics Media Accelerator as well as 500GB Hard disk.
8. HP Pavilion Slimline S3500t
If you are looking for a powerful desktop computer in a compressed space, here is a choice of HP Pavilion Slimline S3500t. It is a third sized contemporary PC with Windows Vista Home Premium. It is comprised with Intel Core 2 Duo 2.4 GHz processor, 320 GB Hard disk, NVIDIA GeForce 8500 GT graphic processor and other general features.
9. Sony Vaio VGC-IS 25E
The Sony VAIO VGC-LS25E is a great looking, all in one configured Desktop PC. Beyond its looks, it comprises with an HDTV tuner. The Sony VAIO VGC-LS25E is featured with a good video card that will help to improve the quality of images and video.
10. Dell Inspiron 570
The Dell Inspiron i570-6939PBK comes with entire entry-level package at a reasonable price. It is now popular for competitive dual-core performance, a 20-inch LCD, free to bloatware hard disk and HDMI port.