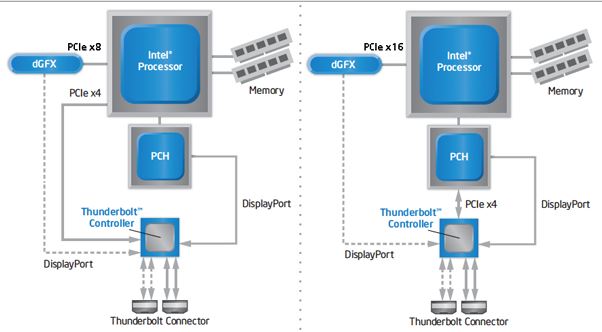 Thunderbolt
ThunderBolt is an interface which is used to connect various external devices onto the system. It was majorly developed with an idea to connect devices and to transfer data and media with speed as fast as the light. This technology initially surfaced at Intel Labs but over time, collaborated with Apple. The makers wanted to create an extremely fast input/output technology that can be universally compatible with any peripheral device. It first made its appearance in Mac computers.

How does it work?
A Thunderbolt is a simple combination of PCI Express and a display port which combinedly carries data over long distances. It multiplexes various individual data lines and transports the signals and demultiplexes to separately send them on the other side of the device.
Why is this technology a hit?
The reason why this technology is a hit among others is that it is universally compatible with all existing devices follows a dual protocol and also has highly accurate time synchronization. Also, devices connected using ThunderBolt can be daisy chained. Daisy chaining is a technique with more than one devices connected all together in a linear fashion such that the data transfer can between indirectly connected systems through an intermediate system.
Evolution of ThunderBolt:
After Apple had released its Thunderbolt embedded MAC computers, there was an upsurge in demand for such universally compatible products and it is then that the evolution of ThunderBolt Techology began.
ThunderBolt 2:
The ThunderBolt 2 was just the same as the Thunderbolt at the physical level, as they both have the same bandwidth of 10gbps. But at the logical level, the structure of ThunderBolt 2 differs; it enables channel aggregation. It is so highly efficient that it can simultaneously transfer and display a movie within just a few seconds. It is also backward compatible. Its first market appearance with Retina Mac Book Pro.

ThunderBolt 3:
ThunderBolt 3 has an I/O controller that supports 3rd generation bolt, USB 3.1. It can transfer dataupto 40gbps. It also comes with a capability of charging devices that require about 100W of power. ThunderBolt 3 also enables Lane Bonding. The drawback of this ThunderBolt 3 is that the external connectors differ from the previous ones and hence older versions of the systems use adapters to support it.
Lane Bonding in ThunderBolt 3:
The Thunderbolt 3 controllers bound two lanes in each direction at 10 GBPS or 20GBPS to create either two 20GBPS or 40GBPS links, to enable high-speed data transfers.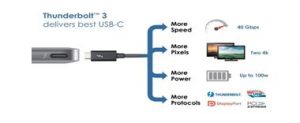 The future of data transfer:
ThunderBolt Technology came as a blessing into today's world where people all around expect their tasks to happen with a fraction of seconds without compromising on efficiency and security.Thunderbolt attracted many innovative companies which accelerate the data transfer rates even to their thinnest laptops, using a single cable. In future, we can even expect an entire hard disk to be transferred onto another device just within a blink of an eye. Yes! The future of data transfer is here.ThunderBolt.