There are some innate similarities between Robotic Process Automation (RPA) and Artificial Intelligence (AI). So there is no surprise that they both would intersect in a number of varied channels. Both of these processes bring a streamlined order to processes. If not using them, the processes might have the risk of malfunctioning for several reasons. The most glaring reason is human error. Nowadays, RPA and AI are working together in several business applications.
What are the benefits of RPA?
RPA lets humans work smarter with rich software to automate business activities. This eventually leads to rich process data that initiate meaningful insights. Then the question arises as to how AI and pertinent technologies make it powerful? The activity of manual tasks lessens the performance and morale of the employees. That said, experts forecast that half of these activities should be automated. Some organizations may not contemplate on automating their IT processes, but they should remember that RPA's objective is to assist them giving a new meaning to the way they perform business activities and raising their customer's satisfaction and augmenting staffs' work ethics.
What is the scope of AI with RPA now?
The term AI nowadays comprises the total conceptualization of a machine that is smart both in terms of operational and social implications. RPA and AI strengthen human efficiency, raise productivity and are travelling from simple routine expertise to human-like cognitive proficiency. To comprehend the impact of AI, it is essential to take lessons from the past. It is also important to look out for potential directions and likely legal, and ethical consequences.
RPA and AI-delving further
RPA imitates human activity by means of User Interface (UI) in a non-disturbing way and can take care of structured and semi-structured data. The range of likely actions is made out by predefined rules so that the behaviour of a robot can have authority.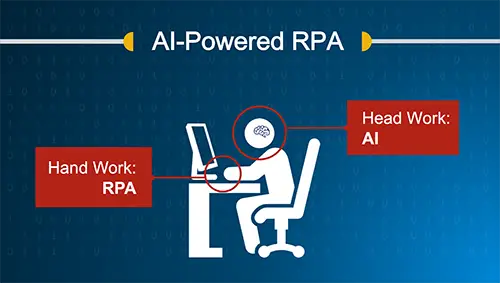 When RPA and AI are combined together, there is imitation of human tasks through machine vision, pattern detection, speech recognition, etc. It can take care of structured, unstructured, and semi-structured data. Machine learning allows robots to grasp how to process and also enhance processes that pave the way to probabilistic behaviour.
Conclusion
RPA is an improved set of software that adheres to rules to carry out business actions. Humans are needed to develop the rules, take care of exceptions, and handle complicated and unforeseeable issues. When software robots are utilized with a combination of AI and assisted with policies and historical data, there will be progress in efficiency.