Nintendo LABO is a series of kits to combine the awesomeness of Nintendo Switch and the fun of DIY creations. One can make, play and explore with this new gadget which is going to launch on April 20. The most exceptional feature is Toy-Con Garage that can be accessed in Discover mode. Along with it, the Toy-Con projects in the kit also brings you loads of fun.
To be brief, the all-new Nintendo LABO is gonna offer a unique opportunity for interactive gaming in retro style. It allows you to create things like motorcycle handles, fishing rod or even a piano out of the cardboard.
What is Nintendo Labo?
It simply is a dream comes true that makes the owner a real-life crafter and helps to turn the Switch into different kind of objects. It offers cardboard kits which are called the Toy-Con and then your imagination is the only limit. Nintendo also encourages you to free your imagination and you can draw anything on the cardboard using color pencil to bring the kits into life.
This gaming style is even better than the Augmented Reality and Virtual Reality. There are lots of possibilities and the creation surely does inspire the new gamers. Each Labo kit contains 25 cardboard sheets which are to be transformed into IKEA objects. Satoru Shibata states that Nintendo's goal is to put a smile on every Nintendo lovers'. "Nintendo Labo invites every creative mind and playful heart to one place and allows making, playing and discovering in all new ways with Nintendo Labo."
Nintendo Labo Robot kit: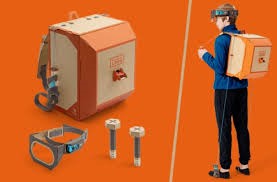 This Robot kit allows you to build your own wearable Toy-Con Robot suit for the giant in-game robot. You have to complete challenges to unlock powerful abilities. You can even invite your friend and play together in a fight. You can customize your creation with your imagination. Robot kit allows you to level-up your in-game robot.
Nintendo Labo Variety Kit:
Toy-Con Piano is a 13-key Piano which you can create out of the cardboard sheets and you can play it and record your own music. You can experiment with all the sounds included in the set.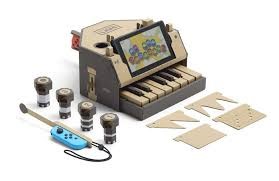 Toy-Con Motorbike is simply an exciting set to put your hands on. Create your handlebars and race with different opponents. Challenge your opponent and collect your targets. You can even create your own racing tracks.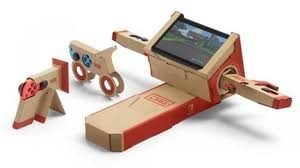 Toy-Con Fishing Rod is another awesome kit that fulfills your fishing dreams. There are many exotic fishes to discover. Create your fishing rod, color them as you want and start fishing. Show off the collection of pieces in your Aquarium. You can also make your own fish with all color and stuff.
Toy-Con House is an imaginative house where some cute creatures live in. Befriend them and interact with them in all new ways. You can play mine-cart races, bowling and jump rope with them.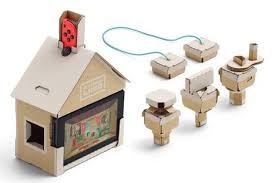 Toy-Con RC Car is full of surprising features. The variety kit offers you build your own Cars and you can race with your friends using those hand-made cars. Advance through the obstacles and complete in a sumo-inspired challenge by knocking your friend's car over.
How much it costs?
Nintendo Labo Variety Kit should cost 69.99 euro at its release date and with an offer it can save your 16.14 euro costing it only 53.85 euros. Nintendo Labo Robot Kit, on the other hand, costs 89.99 euro and again with the offer it costs 63.85 euro.