Specifications of the 10 Best Toshiba Product Models
1. Satellite C655D-S5200: Satellite C655D-S5200 provides us an easy access to your daily life with a flexible way both at home and on the go. The specifications of this model are, 15.6-inch display, Windows 7, 3GB RAM, 320GB HDD, 1000 MHz CPU, With DVD Drive, Touchpad, Widescreen, 6-hour battery life. The ergonomic keyboard and separate numeric keypad present fully flat for a relaxing stress-free usage.
2. Satellite L745-S4210: Satellite L745-S4210 includes many aspects that are important such as great battery life, up-to-date processor (Intel® CoreTM i3-2310M Processor 2.1GHz), and inexpensive pricing. The model is looking nice because it is navy-blue-tint employed on the cover.
3. Qosmio X775-3DV80: Qosmio X775-3DV80 has NVIDIA 3D Vision technology so that you can enjoy full stereoscopic 3D entertainment for gaming, photos, movies and more. It maximizes your mobile performances with raised-tile keyboard enhanced with red LED backlighting, ultra-fast components including the latest generation of Intel multi-core processors.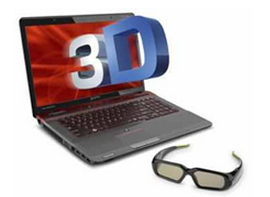 4. Qosmio X775-Q7272: Qosmio X775-Q7272 powered by a second-generation Intel Core i7 Quad-core processor, that offers breakthrough digital media management, 3D gaming competence, content creation, and the latest Intel Turbo-Boost Technology, and also Core i7 increases speed automatically when needed.
5. Portege R835-P81: Portege R835-P81 offers a brilliant design, spill-resistant keyboard, Intel Core i5 processor, and Intel Wireless Display functionality. Roam wherever you want, this laptop provides you a premium craftsmanship for uncompromising mobility. Other important features are Intel Core i3 processor, 640GB HDD, Wi-Fi, and 9-hours battery life.
6. Portege R830-S8330: Portege R830-S8330 is for a professional heavy user with wide range apps and features. It includes Intel® Core™ i7-2620M processor, 13.3″ widescreen, 4GB DDR3 1333MHz memory, 128GB Solid State Drive (Serial ATA, SSD), Intel® Integrated Graphics features.
7. Qosmio X775-3DV80: This device is perfect for you to enjoy 3D world. You can enjoy full stereoscopic 3D entertainment for gaming, photos, movies, and more. Its 17.3-inch diagonal display is complemented by Harman Kardon speakers, and enhanced sound system. The laptop consists 750GB HDD and 8GB DDR3 RAM.
8. Portege R200-S2031: The device performance is assured; it has Intel Core i3 processor, widescreen bright display, vibrant works perfect, display size of 12.1 Display Resolution, and Integrated for better battery management.
9. Satellite P770-ST4NX2: The product specifications are, 1600×900 WSXGA Display, 6GB RAM, 500GB HDD, Intel HD 3000 Graphics Card, Bluetooth and Webcam. Satellite P770-ST4NX2 is comfortable for business purposes. You can easily roam the world wherever you want for better flexibility.
10. Satellite P755-S5269: Satellite P755-S5269 is build in few communication features like LAN, Modem, Bluetooth, and Webcam. It has Intel® Core™ i7-2630QM processor and 750GB HDD.