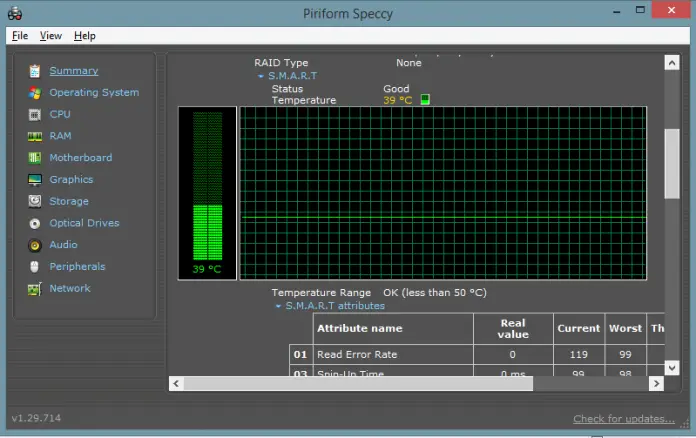 Speccy is software that will give detailed information about the hardware of your computer. It also shows the temperatures of different components which help in maintaining of the computer.
It is a Piriform product, which develops cleaning and optimization software for Microsoft Windows.
Using Speccy a normal user can get all the information about the computer. Speccy gives accurate details of every component of the computer, i.e. motherboard, processor, memory, video card, network and hard drive.

The latest version of Speccy can be downloaded from Piriform official website. It can be installed on the computer but, if users don't want to install it, then Speccy have a portable version also which allows the user to run the application from any removable device, for example, for a USB drive. There is no difference in the installed version and the portable version. It also has a paid version which provides high technical support.It costs $24.95.It has some additional advantages compared to the free version.
Installation
Installation of Piriform Speccy is very simple and quick.
1.  Run the setup.
2.  A welcome window will appear, the user can see license agreement, privacy policy here and select the suitable language.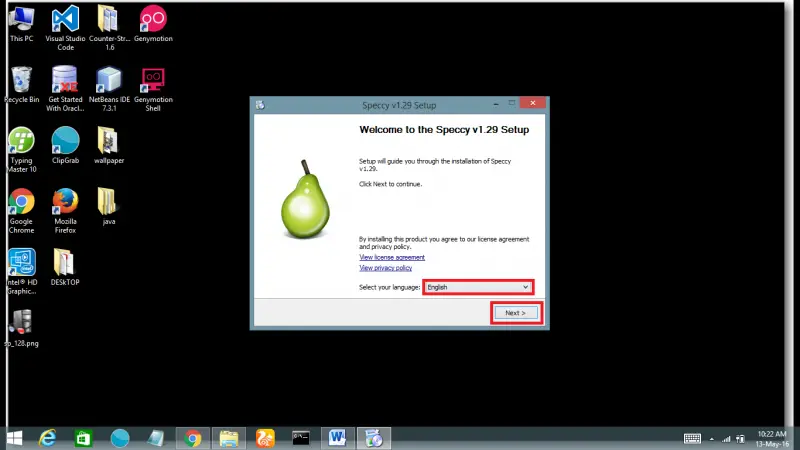 3. The user can select options of adding a desktop shortcut, start menu shortcuts and automatic updates. Then press "Next".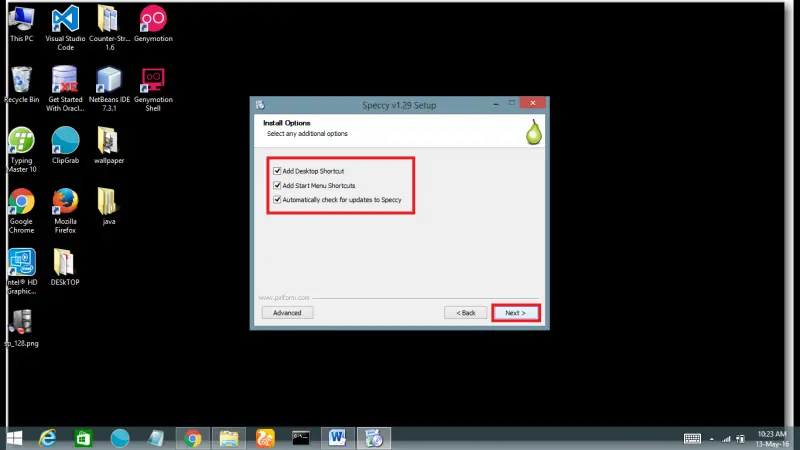 4.    Speccy will be installed on the computer. Click on finish to complete the process and open Speccy.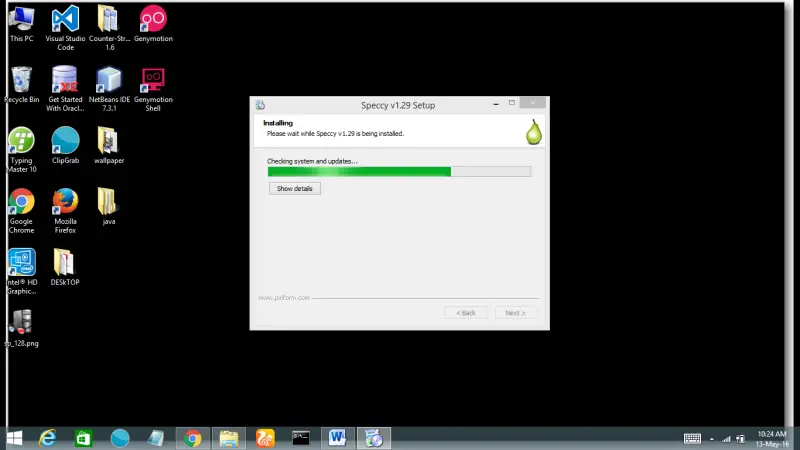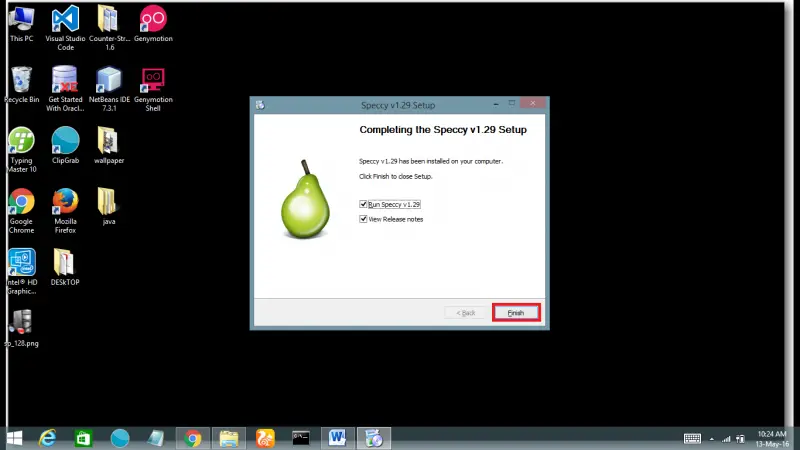 Speccy is successfully installed on the user's computer. Now, User can gather detailed information about the computer hardware.
Interface
Piriform Speccy have very easy to navigate interface. Speccy have two panes – Details pane on the right and Item pane on the left. Item pane is a collection of all hardware components which the program offers for analyzing. Details pane displays the detailed information about each component of the computer.
The menu bar has three tabs: – File, View, and Help.
Key features of the software
The hardware data is grouped into ten categories:-
  I. Operating System
This section gives detailed information about the operating system.  It gives you details of your computer type, Windows version, installation date, serial number, etc. You can also find out a lot of other details, i.e. antivirus, Windows updates, time zone, services, system folders, firewall, and much more as shown below.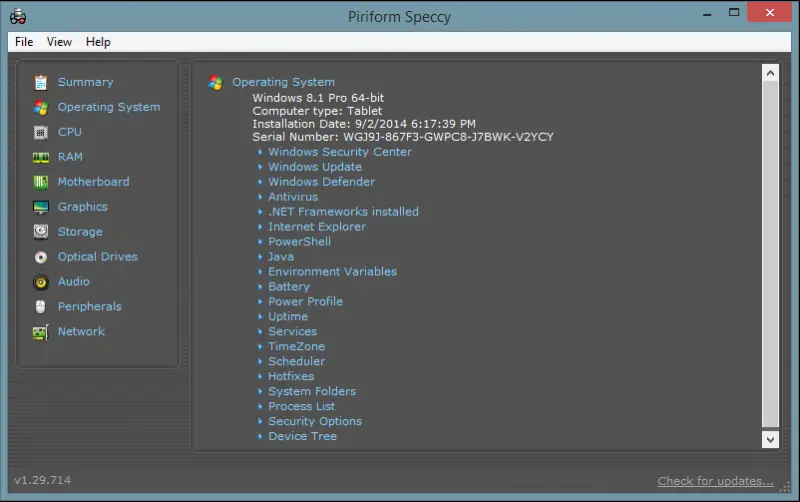 II. CPU
This section gives you info about your Central processing Unit, its name, package, the number of cores, code name, fan speed, caches, etc. The program allows you to see in real-time bus speed and temperature of CPU cores. You can also know if virtualization and hyper threading are supported in your CPU.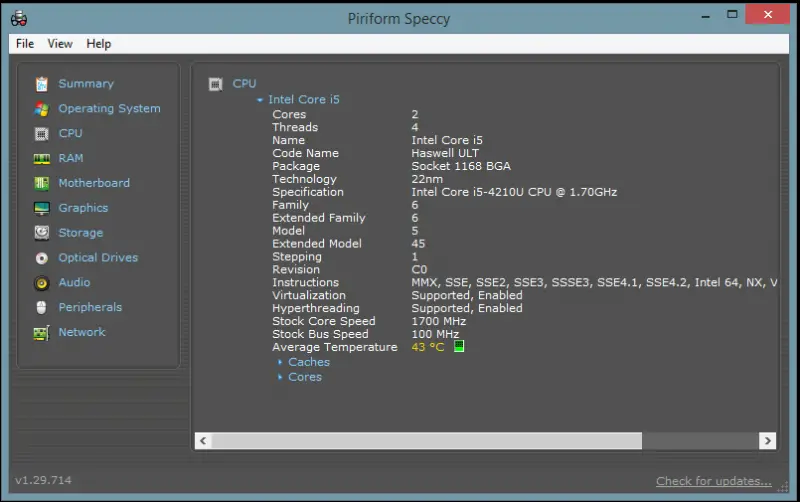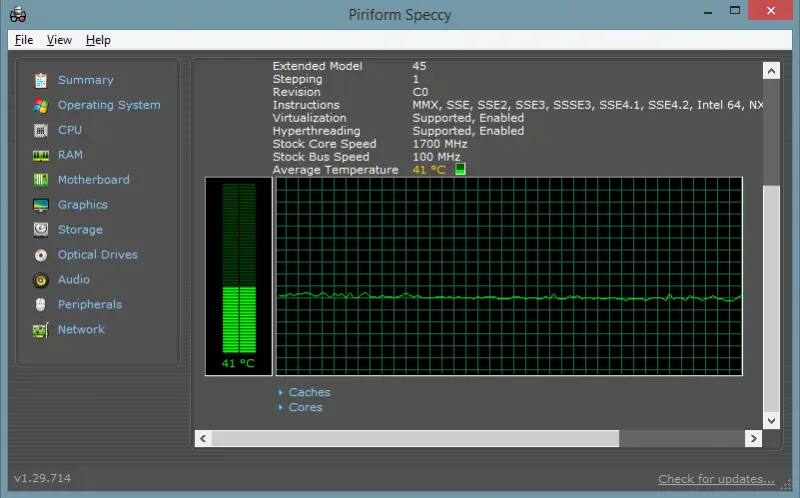 III. RAM
This section gives you the info about Random Access Memory. Details are shown in the program, namely, the total number of memory slots, size, memory type, channel, etc. It displays in the real time memory size in percent, total and physical memory, total virtual memory, and so on.
 IV. Motherboard
It is one of the most important parts of the system so we should give more attention on this. This program gives you detailed information of motherboard. The program shows its Manufacturer name, model, version, chipset vendor name, Chipset model, chipset revision, BIOS info, PCI data and it also shows the system temperature.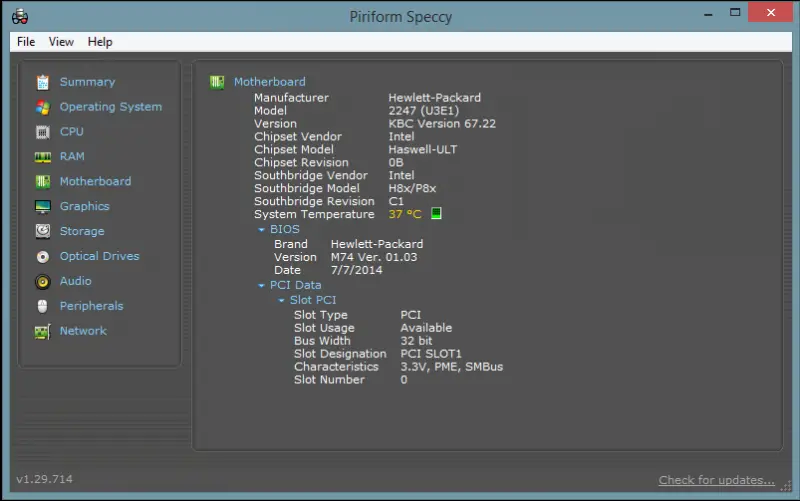 V. Graphics
This section gives information about the monitor. It displays information about Monitor, Inter HD Graphics family, ATI AMD Radeon R5 M255. You can also see the temperature of your graphic card as shown below.
 VI. Storage
This section shows all information related the hard drive. It shows Manufacturer name, heads, cylinders and much more information. We can see the temperature of the storage device.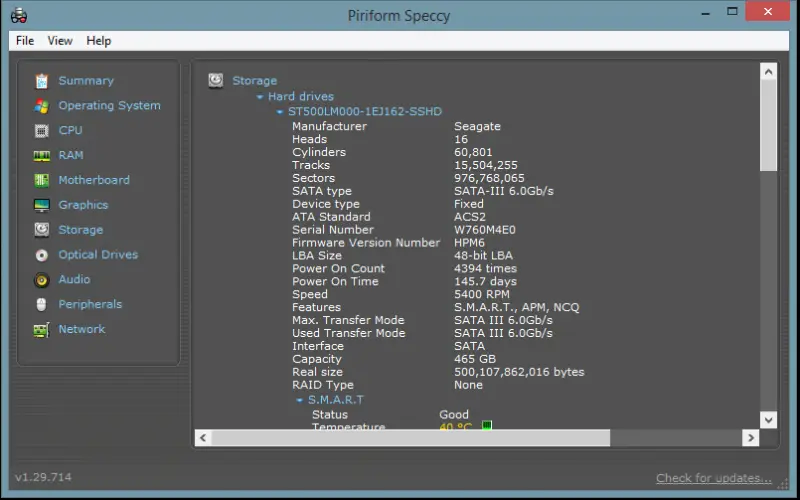 VII. Optical Drives
This section contains information about all the optical drives which are present in the system.
VIII. Audio
Information about all the recording devices, playback, and sound cards are displayed in this section.

 IX.  Peripherals
This section gives details about various devices connected to the computer via USB ports. Information of mouse, keyboards, and printers is displayed here.

 X. Network
This section shows information about the network. It shows information about the network, Remote desktop, WinInet, Wi-Fi, adapters, Network share and Current TCP connections. You can also see the link speed.

Speccy is an excellent software from which user can keep track on the system hardware and can troubleshoot if any error occur.