Hey, guys, can you imagine a day without your smartphones. I don't think so; even I can't be an hour without using my phone. Right from a 5year old kid to a 60-year-old it's been like a drug where you need it at every step of your daily life. It is like a friend who stays with you 24*7, helps you, guides you, entertains you, removes loneliness when you are alone.
After vast usage of your phone, a day comes where you get bored using it and starts thinking what's new. Hence to remove lifelessness of your phone, we start updating right so, here to make your smartphones using more comfortable a new version of Android 7.1 NOUGAT has been introduced and now in Google Pixel smartphone you can avail all new NOUGAT features.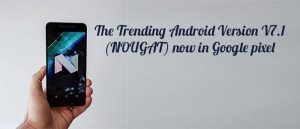 When you get to know about the new version you will start picturizing and surfing to find what's new in it.
 What's new:
Dual app using-
When you watch a video suddenly your girlfriend texts you and asks you to WhatsApp, then you have to sacrifice either one.
Here with NOUGAT, you can now experience split-screen mode where you can watch a movie and switch to WhatsApp as well and can enhance both at a time
Multi-language texting-
Stop typing your mother tongue in English and start writing in your language here NOUGAT provides more than two languages to text.
Along with you can explore your emotions with new emojis-
New version got 1500+ emojis with 72 new ones especially for women so as to promote gender equality.
Now play games more exciting-
For game lovers now you can enjoy games with sharper graphics along with Balkan API 3D graphic performance.
Power up with DOZE-
Battery is the most hectic problem with smartphones. You may feel dull when your battery discharges, and you can't carry a charger everywhere, to prevent it power up helps you to save battery in low battery levels and keeps your mobile alive.
Other Features In Nougat:
Changes the settings quickly:
Saves mobile data.
Better notification control.
Flexibility in changing display size.
Update of applications in the background.
Your private data and files are well secured.
Not only Google Pixel has got the latest Android version it also got the trending features to explore you the best experience an Android mobile can give.
Capture the colors of world now like ever-
Isn't it a fact that the people got addicted to selfies and pictures, if we go around for a trip or have come across a beautiful scenery, hanging out with friends, when we feel bored, we don't even miss a chance to take selfies.
Keeping this in count social networks like Facebook, WhatsApp, Instagram and much more pulls everyone to upload their pictures. Whatsapp have got the latest version in which your status is your picture; it will be valid until 24 hours only. Hence we have to upload the picture for every 24 hours.
For being updated and running with the World, you need to have the smartphone with the best camera. Google introduces its smartphone to use it for a reason, a new era in smartphone camera, with the best 89 DxOmark mobile score, you can now take brilliant pictures in any light(low/bright).
Google Pixel has got 12.3 MP primary camera and 8.0 MP secondary camera.
Combined hard and software:
Our smartphone is the combination of both hardware and software made Google itself, includes all your favorite Google Applications inbuilt in it.
Now ask everything to your Google Assistant:
You can ask each and everything to the Google Assistant and you can gain a lot of information around the world; Google pixel is the first Smartphone where Google Assistant is inbuilt.
Strong body and flexible grip:
We might have lost the display of mobiles by improper handling so to avoid damage of phones, it has got the Aluminum body, smoother surfaces and perfect edges hence it is easy to handle.
Flying colors in display:
Google Pixel display is made by amoled screen, with true black along with millions of colors which gives more pleasure of watching photos and videos.
Select the best of your choice:
Google Pixel is now available in two different sizes and colors, 5″ and 5.5″, black and silver colors respectively.
Mobile hanging is past:
When you are using various Apps at once sometimes your mobile get overloaded and starts hanging; Google Pixel is built With 4GB RAM, you can now handle your mobile faster without hanging.
So folks now get the best of Android phones, here Google Pixel provided you a fruitful sweet with the best recipe an Android can share. Now experiencing all these stuff will make you amazed and gives you a real experience of a smartphone GOOGLE PIXEL.