Review on the latest HTC Desire 816
After the launch of the large-screened Smartphone in 2011, there has been an increasing demand for larger display devices. Samsung has been the top seller because of their growing Galaxy Note releases.  Other manufacturers like Nokia, Sony, LG, Motorola, HTC and more have also been consolidating. Galaxy Notes are likely to be in the higher stratum in terms of pricing. As expected, not everyone is willing to  diverge the cash needed in purchasing a premium Smartphone. And this is the reason why the market for mid-range handsets with bigger displays was initiated. The HTC's new product suits into this criteria.
HTC Desire 816 was announced last February and released to the market in March this year. Prior to the latest HTC Desire 816, various mid-range products was not so appealing as they appear on paper. But this year, they had a major pace up on its product and offered more improved devices at reasonable cost. It is comprised with a large 5.5-inch High Definition display and powered by a 1.6GHz Quad-core CPU and Qualcomm Snapdragon 400 SoC chipset similar to HTC One Mini. The CPU is paired with Adreno 305 GPU and 1080p video resolution. It has a 13-Megapixel primary camera and a 5-Megapixel secondary camera without Ultrapixel sensor. The design is based from the previous high-end HTC products.
The HTC Desire 816 has a rounded plastic portion which looks good specifically in white color while it opposed to black bezel. The BoomSound speakers and bigger silver buttons add some knack to the design.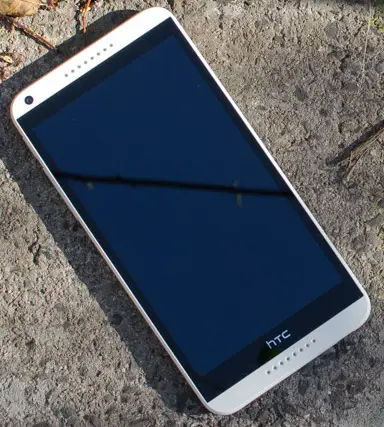 But regardless of the design which is actually nice, when you hold the Desire 816 in your hands, you will notice some inexplicable decisions with its design. The most significant and most irritating is the power button, where it's placed in the upper left portion of the device, which is obviously appropriate only for left-handed user.  This is a slight improvement in HTC's usual placement of the power button. It is always placed on the top edge of the device, and I wish that manufacturers will place it in a more comfortable position.

The 5.5-inch display size of HTC Desire 816 is extensively larger because of the ample bezel surrounding the display. HTC has done a great job in making this device larger. The sides of the Desire 816 are made of polycarbonate and the display looks very attractive. However, the back panel is made of a glossy cheap plastic which is kind of unsatisfactorily.
Moreover, the back panel leaves a small gap surrounding the plastic back, giving the user a hint that it is removable. From the camera module and the flash, the back noticeably groans when applying effortless pressure, which is very unlikely from a well-composed device. You can also see the nano-SIM slot and the microSD card slot in the upper-right portion of the device. The micro-USB port is also present on the bottom side while the 3.5mm audio jack stays on top.
The display is one of the vital advantages for getting better sales. But since we say that HTC Desire 816 comes from the mid-range list of devices, we cannot expect that newest and supreme display technology is packed into this device. HTC Desire 816 is comprised with a 5.5-inch TFT Super LCD2 capacitive touchscreen with 720 x 1280 resolutions, so expect a better color quality with appropriate contrast level making the images look vivid, precise and extremely exceptional.
HTC Desire 816 comes with a 1.5GB of RAM and 8GB internal memory, expandable up to 128GB through a microSD card. It is also integrated with an LTE modem of up to 150Mbps, Wi-Fi 802.11b/g/n and Bluetooth 4.0. HTC Desire 816 performs well with Android v4.4.2 Kitkat OS.  The UI is commonly smooth and loading apps are fast and receptive. And since this device runs with Adreno 305, running Android games at 720p is very proficient.
Overall, HTC Desire 816 did not deceive its standards. And it seems that, finally, HTC is making a move on slicing out their futile and senseless routine. And this is probably one of the best mid-range device from HTC.