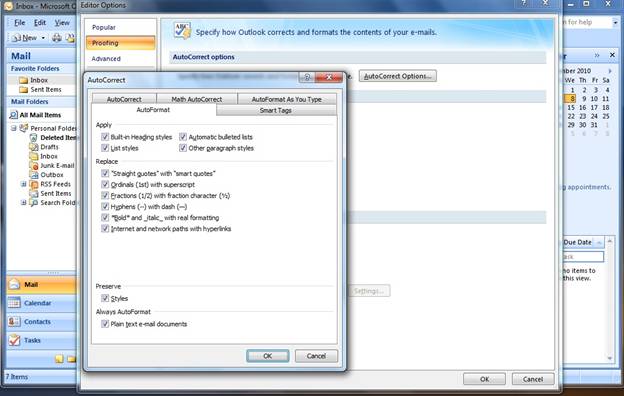 Outlook 2007 Mail Formats
Microsoft Outlook 2007 has evolved many new features with user-friendly options transforming this email-client application in many interesting ways. With the increasing use of internet and email-based communication, the importance of standards and formats are increasing very rapidly. This version offers alternative standards so users have many choices to select or modify the default formatting that enhances the standard of their company.
Mail Format option serves the users in this context. It can be accessed from the Tools under Options menu. The options window has Mail Format tab that contains all the accessories of email formatting. The screen shot below has been highlighted for better understanding.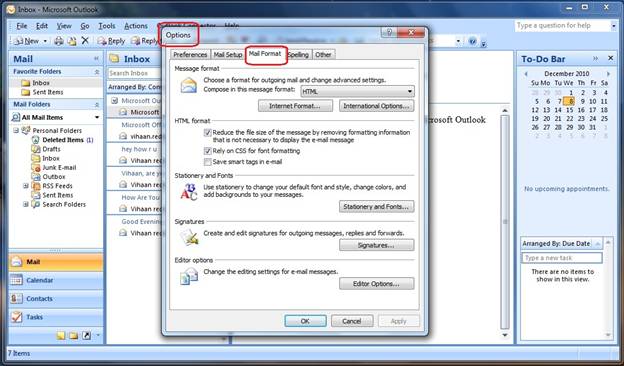 Message Format:
The first option under Mail Format tab is the "Message format" where users can choose the required format while composing emails.  Format conditions are used by the sender and the recipient of the email considering internet and bandwidth capabilities. Users may modify three options in this category that are further described below.
Select Format:
User may choose between HTML, Rich Text or Plain text format as per their requirement while composing email. This selection acts as default for new, replied and forwarded emails.
Internet Format:
As shown below, there is an "Internet Format" button in the message format. By using this feature, users can convert the written text into any of the message type (Outlook Rich Text options and the Plain Text options). It also allows text wrapping where number of characters to be wrapped can be set based on user's requirement as illustrated in the first two screen shots below. Moreover, the encoding option can also be applied to ensure the security of information while sending emails in plain text message.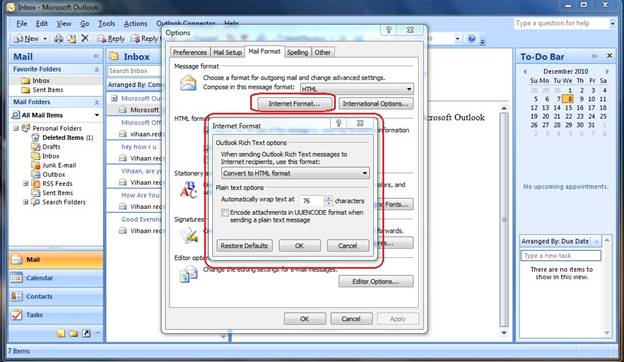 International Options:
After pressing the "International Options" button in Message Format, users see various further options such as the General Settings, Encoding Options, International Domains and the Internet Protocols as per requirement. This feature makes Microsoft Outlook 2007 to work with any international language with most appropriate options.
HTML Format:
As you can see in the given picture, the second option under Mail Format tab is "HTML format". Provided are three check-boxes such as "Reduce the file size of the message by removing formatting information that is not necessary to display the e-mail message," "Rely on CSS for font formatting" and the Save smart tags in e-mail".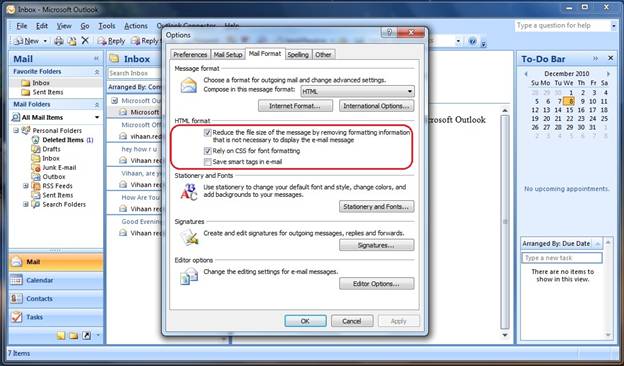 Stationery and Fonts:
This option allows users to apply theme and fonts related in changing formats. Both themes and fonts allow the email to look appealing and appropriate if they are used in correct manner. The options are further illustrated below.
Theme:
Users can select the themes from the list of built-in themes. Vivid colors, active graphics and background image options bring more innovation to the themes and they can be used or deleted from a theme as per requirement.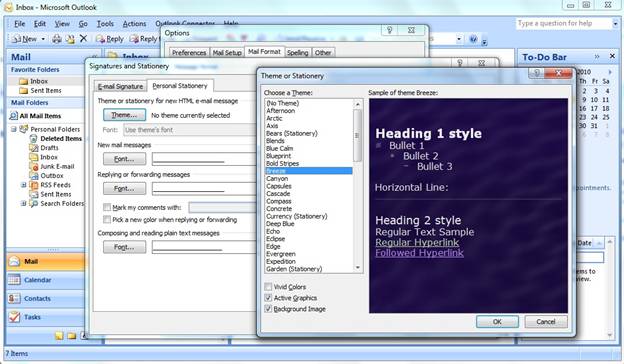 Font:
Font style and effect is one of the core elements of formatting. This feature allows users to select the font type, style, size, color, emphasis [e.g. Underline style and color], including effects from the available choices. Users can also make changes to character spacing as to requirement and style.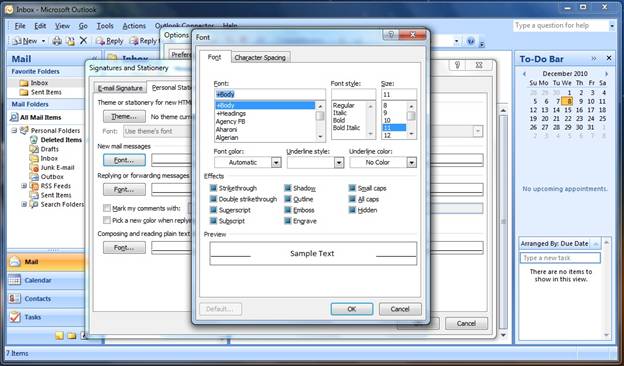 Signatures and Stationery:
Signature helps recipient to identify the contact number, email address and department of the sender. It is an important part of e-mail for both internal and external correspondence. It is automatically added at the end of each e-mail. Microsoft Outlook 2007 allows users to set different default signatures at a time i.e. for new, replied and/or forwarded emails as shown in the screen shot below.
Further, business cards, pictures, logos and fonts modification can also be done as per the requirement of the user. Moreover, users may add several signatures and use them as necessary. Basic formatting tools are provided for the user to perform this task.
Editor Options:
Microsoft Outlook 2007 allows users to make changes in the Editor Options from the available options to be able to apply the required changes to the interface and default options while composing emails. It further has three categories that are described as follows.
Popular:
Users can enable or disable the mini toolbar, live preview and developer tab. They can further change the default color scheme and they may apply screentip feature as per requirement that can also be disabled. Personalization of Microsoft Office suite can also be done from this tab as depicted below.
Proofing:
"Proofing" is one of the most significant features of Microsoft Outlook 2007. This feature allows users to apply correction and formatting through Outlook. Proofing window is further pided into three categories that are described below.
AutoCorrect Options:
As shown in the given illustration, the Auto Correct Options window has five tabs as follows:
Ø Auto Correct is the feature for applying correction options from the available variations. Each aspect is self explanatory and can be applied as per user requirement.
Ø Math Auto Correct is a feature that allows auto correction in mathematical equations in case any formulas are used.
Ø Auto Format as You Type is the feature that is applied while composing emails and helps the users to follow appropriate formatting standards. Users may make changes to this feature as per their requirements.
Ø Auto Format allows user to choose heading styles, list, bullet and other paragraph styles under the Apply tab. Likewise, user is provided various writing marks through the Replace tab. Further, commands to preserve styles or prompt for Always AutoFormat are available.
Ø Smart Tags are the keywords from addresses, contact numbers, email addresses, first or last names etc. Users may activate smart tags feature in order to identify the usage of smart tags as they are highlighted for the sender so that they may be used appropriately.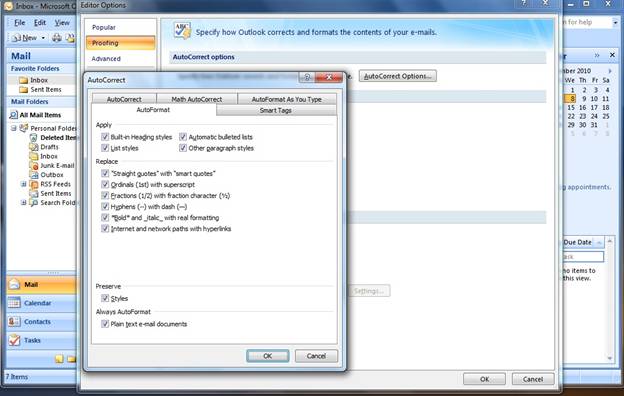 When correcting spelling in Microsoft Office programs:
This feature updates the editor to apply the correction parameters in Microsoft Office applications as per requirement and modify the commonly variant options to make the best use of these applications. It also allows users to add custom dictionaries of their choice and have the maximum experience of word processing applications. Users may add dictionaries of different languages and use them appropriately. The feature is further highlighted in the screen shot below.
When correcting spelling in Outlook:
This feature of proofing allows users to apply or modify the auto spelling correct feature to respond as per the user requirement from the available options. User's may select or deselect a certain feature at any instance by setting the relevant option check or unchecked.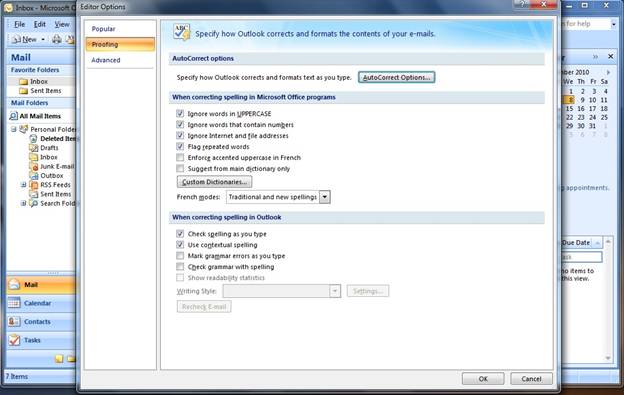 Advanced:
This feature allows the users to apply advanced customization to Outlook. Customization is done through three different categories given below.
Editing Options:
Users can customize editing options from the choices available and users are able to edit the email in their own convenient style.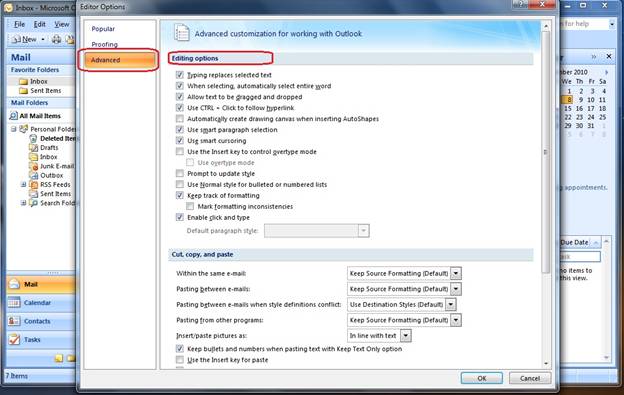 Cut, Copy and Paste:
Microsoft Outlook 2007 advanced customization can also be applied to cut , copy and paste options and they can further be modified according to the use or scenario.
Display:
In showing measurements in units, users may change the Display to inches, centimeters, millimeters, points or picas. These options vary as per the requirement of certain industry and this feature allows the industries to apply their own standards on display. Users can refine readability by selecting the option in case it needs to be updated.