Best 5 Free Hotkey Macro Recorder Utilities
In the era of technology, nobody has enough time to fiddle with things. People want everything at their fingertips and at their doorsteps. By keeping these things in mind, software developers are helping people at their best. Hotkey/Macro utility is one of the best applications developed ever. It is used to help people build or define their own customized hotkeys, shortcuts at the keyboard, joysticks or with other such input devices.
Nobody can remember all keyboard shortcuts, then this utility allows user to enter a macro for required hotkeys and they are recalled whenever needed.Hotkey/Macro Recorder utilities are used to record all keystrokes or mouse activity and then played it for reuse.
A set of scenarios occur when users use Hotkey/Macro recorder utilities. A user don't need to use Alt & Shift key combinations as users can do it with better option. A user should record macro and hotkeys for particular operations for example to open a Notepad File, a user may have recorded an "N" key for notepad. When it is required, a user only has to press window key plus N key. This operation will result in opening a new notepad document. There are many Hotkey/Macro recorder utilities in markets and on the internet, but here we will discuss best five Hotkeys/Macro recorder utilities.
1. Efficient Macro Recorder
2. Workspace Macro
3. Jitbit Macro Recorder
4. Perfect Macro Recorder
5. AutoMe
Efficient Macro Recorder:
Efficient Macro Recorder is a very advance utility which provides maximum functions and allows users to save their precious time while working in multi-task environment. This utility has very advanced graphic user interface which provides easy functions to record the macros. And after that, users can recall the macros whenever they are required to perform particular tasks.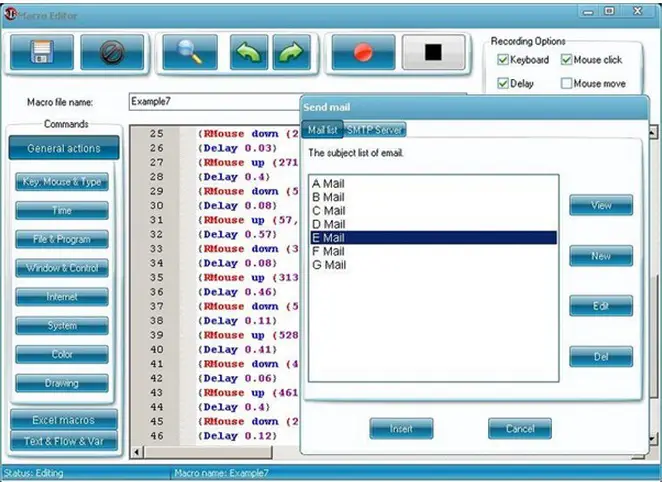 Workspace Macro:
This utility is used to make the workload very low. It is the best ever utility to record keyboard or mouse macros. Users can record macros with its smart macro technology and they can play it back when needed. It is compatible with all kinds of Microsoft Windows i. e. Win XP, Win 2000, Win NT and others. It saves the repetition actions which are usually performed by users. It has many functions like macro management, IE plug in, task scheduler, repeat options, password recovery and many more.
Jitbit Macro Recorder:
Jitbit Macro Recorder is used to record keyboard strokes and provides an efficient way to playback while working on repetitive tasks. It provides the best customized command system which is very easy to use. Jitbit Macro Recorder saves a lot of time. It provides facility to make anything automatic. On installation, it uses very low space on hard disk.
Watch this video for a tutorial on how you can download and install JitBit Macro Recorder:
Perfect Macro Recorder:
Perfect Macro Recorder helps the user to record their daily activities to save their precious time. Recording activities means all keyboard strokes and mouse events are recorded in Perfect Macro Recorder with its best and efficient technology. The recorded macros can be played on requirement to save time. It also provides the facility to make .EXE file of recorded macros which is a really intelligent method in replaying all macros by just one click. It also reduces the physical work on the user's hand, their fingers and their wrist by making everything automated.
AutoMe:
AutoMe is a user friendly and reliable macro recorder utility with best automation application for windows environment. It is used to record the mouse event and keyboard strokes and provides facility to run the recorded macros many times as per requirement. AutoMe provides the capability to automatically run the recorded or robot macro.