If you are a geek, the possession of these products will surely style you up. These tech toys are so cool that you can feel the hair on the back of your neck standing. They can be tagged as cute and portable lifestyle products. Not that you cannot do without them, but a little swag never hurt. And if you are willing to loosen out some big bucks, get ready to be called Mayor of Techie-town.
1)  Wireless key finder:
It is time to move past the last-minute hunt for car keys. If you are married, your wife probably takes care of this already. But if you single and a bit of a scatterbrain, this is your baby. It will track your keys at the press of a button  on the transmitter. You just need to put the receiver tag on the key beforehand and follow the beep while you look for it. It can also apply to many other small objects, wallets, remotes, etc. Many brands promise  a fair range of detection.
2) Plastic card

It is one chic piece of technology that will chase away all your shopping woes. This card is convertible to any of your numerous payment cards that you find cumbersome to manage. The magnetic strip on it will work everywhere. The device has a three step authorization to access information to any of your cards. Then you select your card and swipe away.
3) USB Drink Warmer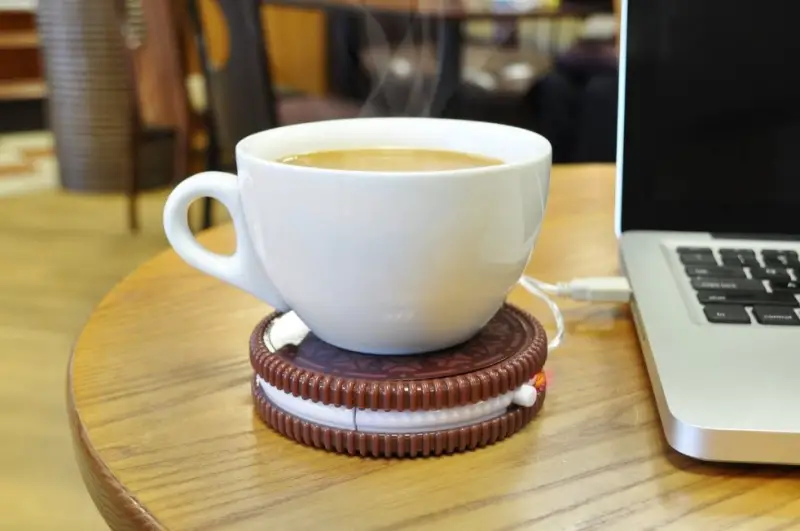 So, you are sitting in the café busy with the laptop and you totally forget about your coffee going cold. What do you do? Ask someone to re-heat for you. Well, say goodbye to that kind of time waste and say hello to the super cool USB mug warmers. Plug it in, heat it up or cool it down and when you remember, drink it up. They come in trendy styles now. Look at the one shaped like an Oreo, in that picture.
4) Power Pot USB charger 
It is the opposite technology of the USB drink warmer. It can easily be your hostel buddy, of course if you can afford it. This new tech product will cook you a meal and charge up your phone with the residual heat. No tripping of MCBs in the hostel while you are making  Maggi using one plug point and charging other devices using another. Just use your stove and this lightweight and portable power pot. It comes in handy during camps the best, though.
5) Robotic Printers
It is the easiest to use. It switches on/off like a toy, uses a rechargeable battery and connects to your device which holds the information to be printed, directly via Wi-Fi. It can be your phone or your laptop/PC. It walks across the surface of the paper that can be of any size and prints along. It is an innovation by the    ZutaLabs.
6) Calorie Counter Watches
These have become hit in the market recently. It is no surprise, considering the terror rise of the obesity- monster. They are wearable anytime. It has managed to motivate people by showing their activity levels. The one in the picture is the Vivo fit  2 by Garmin. It comes with voice alerts too, which can replace your personal Gym-trainer, who stops you from going off track. You can choose here whether you want to measure distance, time or number of calories burnt.
7) Portable Bluetooth speakers
Place this beast in the middle of the room, and it will spread music like an incense stick spreads fragrance. You can control what music to play using your phone's Bluetooth by staying in its vicinity. It has clear easy on/off buttons. The only thing, you just need to put your phone on silent, so that your notification tones are not coupled with the music that everyone in the room is listening. Above all, if there is no Bluetooth, it is connectible to any device like an ordinary speaker too.
8) Stylusflex
It is a new invention, a modification of the simple old stylus. It can be a selfie stand or a hook to latch your phone anywhere. It fits in your pocket without hurting your skin, totally seamless in there too. It's a modern piece of technology that will change the definition of the stylus because its functions are not limited to just poking the mobile screen to enable easy selections. It can bend and that makes all the difference.
9)  Lighty (HD Laser projector)
It is the world's first robotic projector, for the record. For all you lazy bones out there, it will fulfil your dream of being able to enjoy movies while lying down by- Cinema on the Ceiling!! Not just that it facilitates long hours of internet radio and gaming in any comfortable position. It has motion sensors to interpret gestures and function accordingly too; that helps a lot in presentations. And the best part- 360 degrees of panoramic rotation.
10) Smart Glasses
Smart phones, smart screens, smart refrigerators and now smart glasses. These are amazing wearable technologies. It is a computer screen in front of you ALL the time. You can wear it while cycling and display stats. You can use it to record data via its camera. Even though, Google  Glass did not hit the markets well, at least for now; there are a lot of other smart glasses that are gaining popularity.