No of visitors who read this post:
559
today I tried to install Autodesk design review 2012 in my system but when I started the setup the following error popped up. Can anyone tell how to resolve this issue?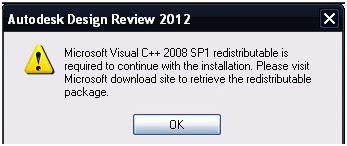 Autodesk Design Review 2012 Microsoft C++ 2008 SP1 re distributed is required to continue with the installation. Please visit Microsoft download site to retrieve the distributed package.