Mac OS X – right click for new file?
Asked By
0 points
N/A
Posted on -

09/18/2011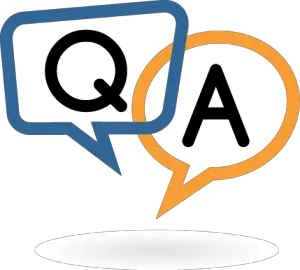 Hello!
I recently installed Mac OS X on an Intel PC that I own. (For those who say it is illegal to announce in advance before I bought this system disk in the future I thought about buying a Mac – now I face the financial problem – but it is certain that the next computer will be a Mac ).
So far I have not used 100% interface and the options you have, but there is an issue that bothers me. I find it very strange that there is no menu to create a new file (like in Windows, e. g.: text, spreadsheet etc.). There is a menu only for a new folder. I searched on Google and found a script and automatically implemented (I avoided the use of additional software in order to learn more about this operating system), but the problem occurs when I right-click on the desktop (there is a standard menu) and inside of finder in an empty area. The script that I use only works when I right-click on a folder.
I am interested in how I can change that standard menu from right-click on desktop or inside a folder with an AppleScript? (I do not care to delete; I am interested only to add a menu to create a new file)
Right-click on desktop: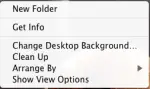 Right-click in Finder: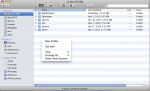 Thank you!