No of visitors who read this post:
3505
ITUNES, VERSIONS AND ALTERNATIVES
ITunes is a copyrighted digital media player software application developed by the Apple Inc Corporation. The iTunes application was developed for the first time in the year 2001. The iTunes application is primarily used to organize music and play videos. There have been several versions of this application since its' first release. Each version was made to incorporate a new feature or to solve shortages of the version that was before it.
All versions of iTunes from versions 1.0 (released on January 2001) up to version 8.2.1(released on august 28, 2009) are supported by all MAC OSX operating system versions. The versions that are supported by windows include the following; version 4.1 (released on October 16, 2003), version 7.2 (released on May 29, 2007), version 7.6 (released on January 15, 2008), version 9.0.2 (released on October 29, 2009) and the current version 10.1(released on June 2010).
The following are the features of the iTunes software:
Managing the media
The iTunes application let the user keep track of all the music on their computer. The user is able to do this by creating a virtual library which contains the media files. The user can also use iTunes to edit information about the media (for example the artist name, album name and the genre). The application also supports a very wide variety of file formats. The genius functionality of iTunes lets the application choose other songs that are similar to the selected song. The application also provides its users with a way to share their music library with others over a network connection. The application also has sound enhancing capabilities such as equalizers.
iTunes stores
This feature allows the users to connect to the iTunes server and download fresh music content for free or at some charge. This helps the users have new content and also makes sure that the user gets to legally download music. This also has another utility called iTunesU where people can deliver university lecture knowledge through the application.
Podcasts
Users can selected which podcasts they want to follow from the iTunes online stores. The users just enter the podcast URL and FEEDS. The users can manage these podcasts. The application also offers video podcasting services.
Interacting with other devices
The application also provides a way to connect with other devices such as mp3 players. This makes it possible for users to share content between different devices.
Internet Radio
iTunes have the capability to access online radio facilities. It users can user this service to listen to content from online radios.
iTunes alternatives
Trans Manager copying
This software that is for free and is used to transfer music and media files from your computer to an iPod, iPad or iPhones. Once installed on the computer it connects to the device that the files are to be transferred to or from and transfers the files. Below is a screenshot of the program.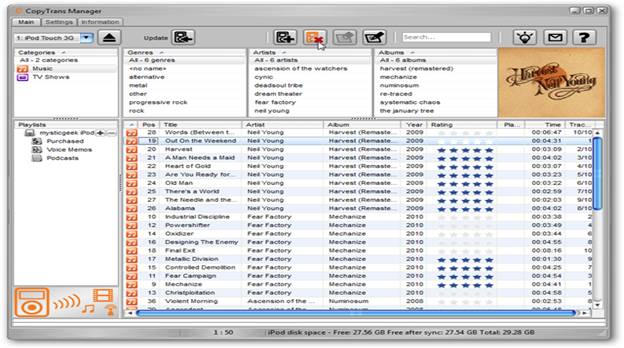 Foobar2000
Foobar2000 is a fully customizable player that does not require a lot of the system resources to run. It also provides mechanisms that enable it to share information and files with iPods.
Foobar2000 screenshot
MediaMonkey
MediaMonkey is a very good application that can be used to manage iPod content and media. This is available for free and there is another that requires a license. The application can play a large variety of file formats. Below is a screenshot of MediaMonkey Gold.
Songbird
Songbird is also another application that has evolved over the years to provide much better services. It has a very attractive look and has very nice skins. It provides a way to share and transfer media files between devices (computers and iPods).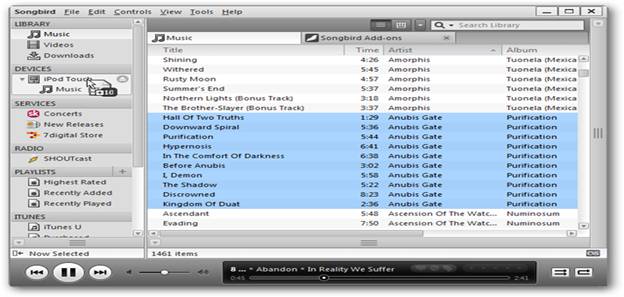 SharePod
SharePod is a very good application that is used to transfer data from computers to iPods and vice versa. The program has a very attractive user interface and it is easy to learn and use. Below is a screenshot of the program.