April 15th, 2014
Hello,
When I want to open this application this error appears on my desktop and it appears every time I click on shortcut to open the program. I never experienced such an error before and I don't know how to solve it. Can you guys help me to solve this? You know what can be the main cause?
Thanks!

RPC_S_WRONG_KIND_OF_BINDING
Error Code 1701. (0x6A5) The binding handle is not the correct type.
OK
Hi,
Using the Update Manager I found some available software updates. Now when I want to install them an error window appears and warn be about the errors. The Update Manager is the only way that I know how to make an update on everything. Please tell me why I have this error window and how I can install the updates properly?
Thanks!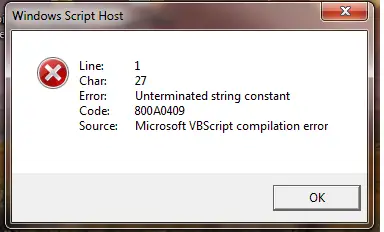 Windows Script Host
Line: 1
Char 27
Error Unterminated string constant
Code: 800A0409
Source: Microsoft VBScript compilation error
OK
Hello experts,
When I try to open Live Gaming with Halo 2 I am getting this error. I don't know now is not working because last time when I played the game online it worked just fine. I have reinstalled the game twice and I still have this game error. Can anyone tell me please why I have this error and how can I solve this so that next time won't appear again?
Thank you!

Cannot allocate required memory. Some other application has loaded where Halo needs to be located.
OK
Hi there,
After I made the update of my Windows 8 to Windows 8.1 I got this error on my desktop. If I click OK the error appears again and again. I don't have a solution for this and I also don't know why I have it. Can anyone in here help me to fix this? I have this error because of the update?
Thank you!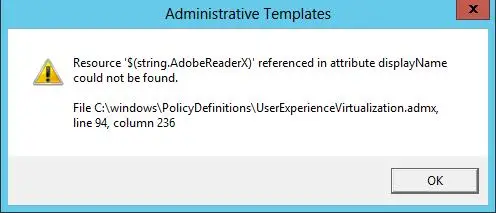 Administrative Templates
Resource $(string.AdobeReaderX) referenced in attribute displayName could not be found.
File C:\windows\PolicyDefinitions\UserExperienceVirtualization.admx,
line 94, column 236
Hi,
I have installed SegSvr 32 to install and register some DLL file on my Windows XP (X32) and when I want to run it this error message prompter on my desktop. I tried to reinstall the program, but this error continues to appear. Please help me to install this properly and tell why I can't install the DLL files without getting any error.
Thanks!
RegSvr32
The module "ieframe.dll" was loaded but the call to DllRegisterServer failed with error code 0x80004001.
Hi,
This morning when I opened my PC this error popped-up. I made some search but I found nothing, I tried to search for the missing DLL file but nothing found. The problem is that I have this error every time I open my PC. Can anyone please tell me how can I fix this? Why I have this error?
Thanks!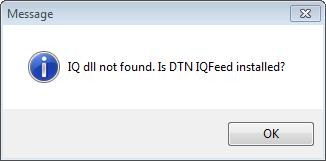 Message
IQ dll not found. Is DTN IQFeed installed?
OK
Hi,
Recently I added a new email account to Outlook and after I did all for the new account this window appear and I am stuck with it because I don't know what happened. I clicked Deny button because I am afraid that something will happen to my current account if I click Allow. I need someone to tell me what this means? If is bad or not and please help me to set up a new email account in Outlook.
Kind Regards!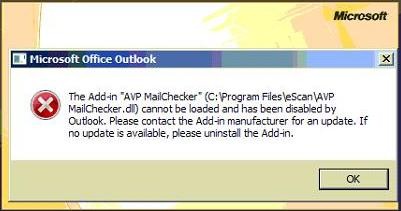 Microsoft Office Outlook
Hi there,
This is an unknown error for me. I have no idea what causing it, from where did it came from and why. All I know that it appeared suddenly on my desktop. Anyone can recognize this error? What is causing it?
Thank you!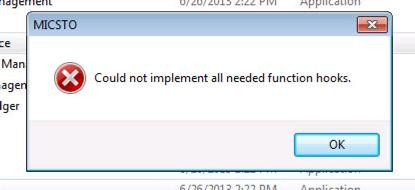 MICSTO
Could not implement all needed function hooks.
OK
Hello,
I tried to update my Internet Explorer and it fails. I reinstalled the old version 7 and now I have this error. My PC is full with error because I had a lot lately. Now I can't use my browser and I really need access to the Internet. Does anyone have any idea what is the solution for my error? It is possible please help me to make the update…
Thanks!

The ordinal 379 could not be located in the dynamic link library iertutil.dll.
OK
Hi,
I can't install McAfee Agent because of this error 1722. It seems like the installer package have errors so looked up to download from another servers. Always I have the same error 1722. Can anyone help me to install McAfee? What could be the problem?
Thanks!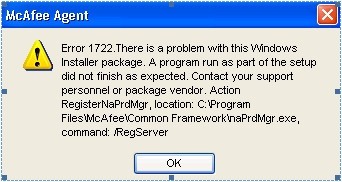 McAfee Agent
Error 1722 .There is a problem with this Windows
Installer package. A program run as part of the setup did not finish as expected. Contact your support personnel or package vendor. Action RegisterNaPrdMgr, location: C:\Program FiIes\McAfee\Common Framework\naPrdMgr.exe,