April 15th, 2014
Hi there,
While my PC was opening this error appeared on my desktop. I verified all my startup programs and the folder is empty. I made a small search on the Internet and nothing useful was found about this error. Does anyone have any idea about this error? How can I solve this, please help me!
Thanks!
LightsOut Client
Error
Error reading From File: C:\DOKUMEr~1\ALLUSEr~1\ANWEND~1fAF73Z4}FFLINE\92F156AO\AAOF66D4\NLogdll. Verily that the File exists and that you can access it.
Hello,
When I turn on my PC and everything is loaded this error appears without any reason. The thing is that I tried to make an update to my Windows XP but my PC turned off during the install. I start to think that this might be the problem. Anyone have any idea why I have this error? How can this be solved?
Thanks!
Windows Setup
Setup library wbemupgd.dll could not be loaded, or Function OcEntry could not be found.
Contact your system administrator. The specific error code is 0x7e.
Hello,
I have an error with Counter-Strike when I want to play with Steam. After this error, and after I have waited for 10 minutes, my steam is still busy to handle my request. It worked fine until today, so is my first problem with it, I never heard about such an error. Please tell me what is with this error message? Why appeared right now and can be solved?
Thanks!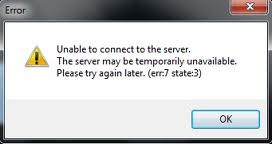 Unable to connect to the server. The server maybe temporarily unavailable.
Please try again later. (err:7 state:3)
OK
Hi there,
I uninstalled a program and after I reboot my PC this RunDLL error appeared. This error appears every time I open my PC. After some searches on the Internet I didn't find anything. I would like to know if I install the program again this error will disappear. How can I fix?
Thank you!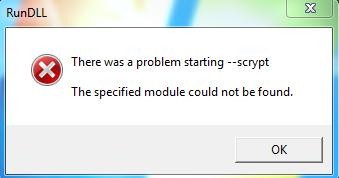 RunDLL
There was a problem starting --scrypt
The specified module could not be found.
OK
Hello,
This error appears when I want to install Wifi driver for my laptop. I have to install again the drivers because my Windows was repaired and I don't have any driver installed. Can anyone tell me now why I have this error? Is not compatible with my new Windows?
Thanks!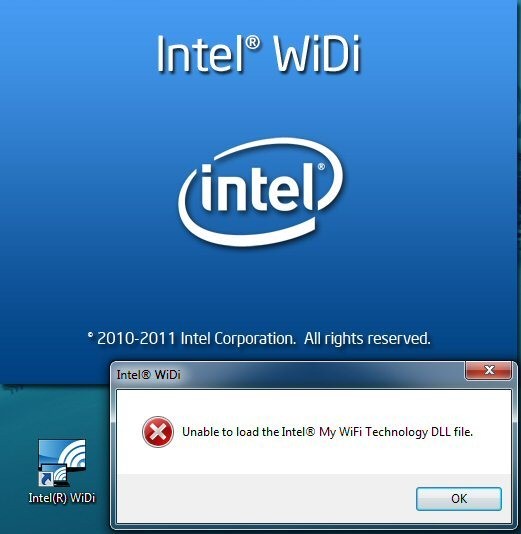 Intel WiDi
Unable to load the Intel My WiFi Technology DLL file.
OK
April 14th
I am not able to work in SQL Server Integration Service. Please find below error message.
April 13th
Hi there,
Maxthon gives me error when I want to open it on my Windows 7 (x64). I have this error after I did the updates to my Windows and it worked fine before. Now I can't solve this error and I tried some tricks that a friend told me. Does anyone can tell me how can I solve this puzzle?
Thanks!
Maxthon
An error has occurred. Please send the bug report to us after browser restart.
Fault address: 6EB506F9 01:0009F6Fg
C:\Windows\SysWOW64\mshtml.dll
OK
Hi,
Guys I have this error when I want to open a PowerPoint with Microsoft Office PowerPoint Viewer. Is this compatibility issue on my PC? I have this PowerPoint from college and on the teacher PC this viewer worked just fine. Can anyone tell me how can I open this PowerPoint document? Can it be opened without installing Microsoft Office?
Thank you!
Microsoft Office PowerPoint Viewer
This file requires the Compatibility Pack for the 2007 Office system to view its contents.
OK
Hi experts,
Even I have install SQL Server 2005 on my PC I still have this error. I don't understand why because I meet all the requirements to run this program.
Anyone knows why? What might be the problem and how can I solve it please?
Thank you!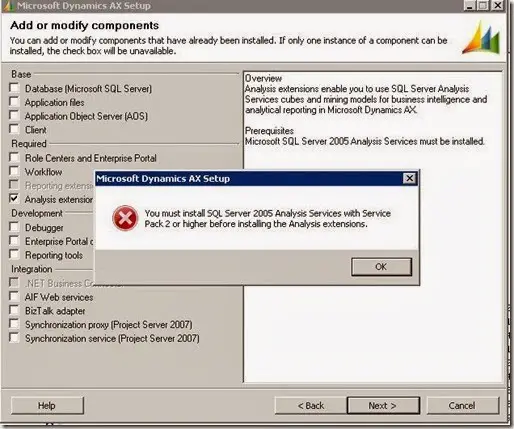 Microsoft Dynamics AX Setup
You must install SQL Server 2005 Analysis Services with Service Pack 2 or higher before installing the Analysis extensions.
OK
Hi,
I just installed a new game on my laptop with Windows 7 and when I tried to open it this System Error window appeared. I have uninstalled the game, rebooted the laptop and install it again, but I couldn't get rid of this problem. I really want to make this game to work so is there anyone who can help me to run this game and tell me why I have this error and how can I solve it.
Thank you!

The program can't start because xmogrt.dll is missing from your
computer. Try reinstalling the program to fix this problem.
OK