July 31st, 2014
Hi,
I have this SQL server error and I cannot solve it. Also I don't know what is causing it and I have it. I thought that is a good idea to call an expert from Techyv to help me with this. Is anyone available and also can help to fix this ? Please tell me how can this error message can be prevented ?
Thank you !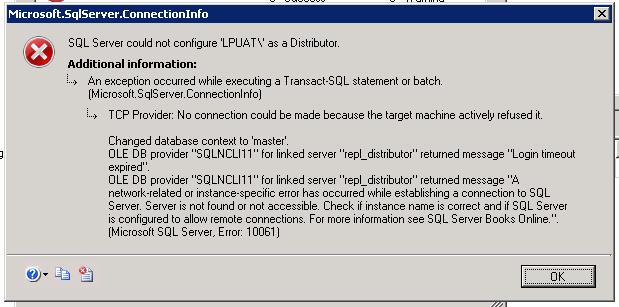 SQL Server could not configure 'LPUAT\' as a Distributor
Addition information:
An exception occurred while executing a Transact-SQL statement or batch.
I have an HP Wireless Printer 4500. It is directly connected to my Desktop.
Everytime I try to print its sends an error message "Communication not Available".
It is very frustrating because I already tried solutions like restarting,
configuring my firewall settings, and re-installing. Do you have any suggestions on how this
will work for me?
I am using a Lenovo T61 Laptop in the office. I always experience unusual heat , this annoys me because
aside from the intolerable heat condition once in a while it automatically shuts down and need to open again to continue working. Please advise on how will i be able
solve this laptop problem.
Hello,
During the install of R2 Data Protection Manager this error appeared and messed up my PC. Because of this error more errors appeared in my PC. Can anyone help me please to fix this error ? What I did wrong and why it messed up my PC ?
Thanks !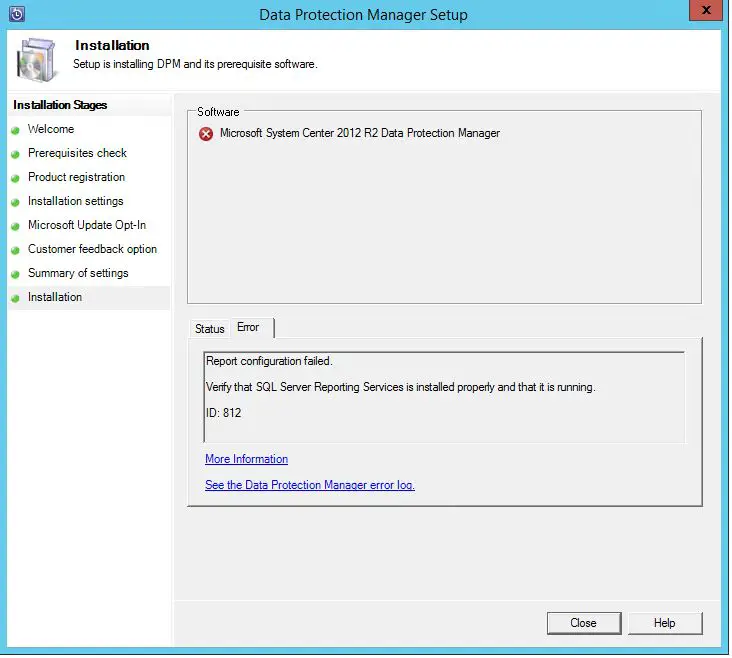 Microsoft System Center 2012 R2 Data Protection Manager
Report configuration failed.
Verify that SQL Server Reporting Services is installed properly and that it is running.
ID: 812
Hi,
Virtual Machine is giving me this error. It is not my first error from Virtual Machine but could manage them and I could continue the processes. It seems like I cannot solve this one and please is there any online expert that can help me with this one ?
Thanks !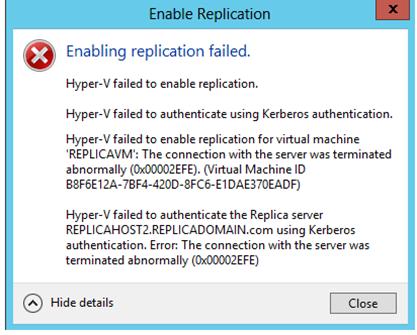 Enabling replication failed.
Hyper-V failed to enable replication.
Hyper-V failed to authenticate using Kerberos authentication.
Hello there,
Recently I bought Widows 8 Enterprise and I can't activate it. I have this message when I want to activate it. I tried to activate my Windows from Action Center and online on Microsoft website. Can anyone help me please to activate my Windows ? What could be the problem ?
Thank you !
Windows couldn't be activated
Go to Control Panel to learn about other ways to activate.
Error code: 0:C004F074
Hello experts,
This is the error that I have it when I want to launch the program. It worked just fine before the reinstall of my Windows and now I cannot solve this. Can anyone help me please to fix this error ? Why it doesn't work now ?
Thank you !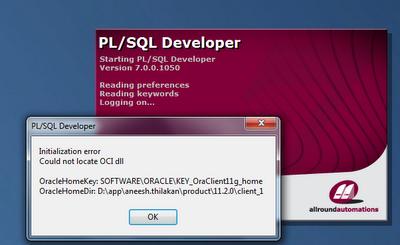 Initialization error
Could not locate OCI.dll
OracleHomeKey: SOFTWARE\ORACLE\KEY_OraClient11g.home
OracleHomeDir: D:\app\aneesh.thilakan\product\11.2.0\client_1
OK
Hello,
I have this error when I want to run Moldflow 2012. I meet all the system requirements and all the requests below and still I cannot run the program. Can anyone help me please to fix this error ? What could be the problem ?
Thanks !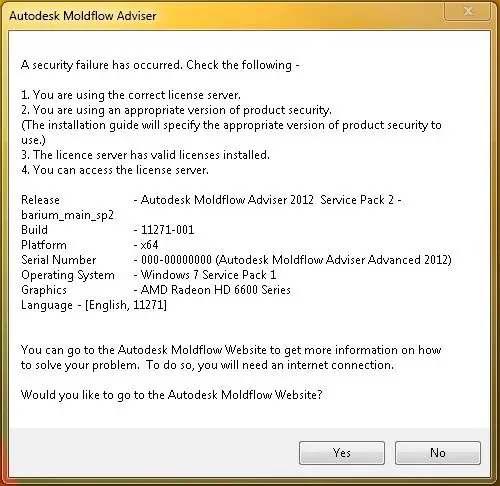 A security failure has occurred. Check the following-
You are using the correct license server.
You are isung an appropriate version of product security.
(The installation guide will specify the appropriate version of product security to use.)
Hello,
When I want to connect to another PC via Computer Management this error appears. I made the proper settings, I didn't miss anything. All the standard steps were followed, same result, same error. Can anyone help me please to fix this ? Can you tell me what I did wrong ?
Thank you !
A security package specific error occurred (1825)
OK
Hi,
When trying to install a program or launch the office product on the computer, users might annoyingly receive a message stating that "VBE6EXT.OLB could not be loaded". The weird thing is that this error might happen even if you have just reinstalled a fresh new program. What is going on and how to get rid of this error immediately ?
Thanks !
VB36EXT.OLB could not be loaded
OK Cancel