February 3rd, 2013
Outlook 2007 Error - Default Mail Client
This comes on a Windows 2008 x 64 SP2 Terminal servers. The error we were receiving while users explore outlook was:
also there is no failure to pay mail client or the latest mail client can not accomplish the messaging demand. Please run Microsoft Office Outlook and place it as the default mail client.
While you click on OK button, it next allows you into Microsoft Outlook.
Microsoft Office Outlook
I'm using Google Chrome version 10 on Windows Vista 64 bit. Is there any way I can enlarge Chrome icon size from 48x48 pixels to 256x256 pixels? The icon is too small.
Hi everyone
I want to create an email server software. That is why I need software email sender php code. Can anyone help me by giving me the code please.
I recently made changes in my registry on my xp 32-bit enabled PC and clip board just vanished. Now, I can't seem to copy and paste. It gives an error of "The ClipBook service is unavailable or is not started. Contact your system administrator to have this service started. (0x4000)".
Hi there
I am working as an SEO, I need some sites where I can submit a website name to be approved. And it may be fast approval free directory list. Cause I need it to approve the sites as soon as possible. Can you help me?
Hi to everyone,
I'm planning to get some certification. I already studiedhow to install, configure, operate, and troubleshoot . Does anyone here have ccna simulation examples. I really need to get on this.
Your suggestion is very much welcome.
I need help experts. A problem with my microsoft cpu viewer. This is probably annoying; can you give me some ways on how to troubleshoot this problem? The viewer uses most of the cpu load. It will overheat. I really need to get this done. Suggestion is very much welcome. Thanks.
Hi
How can I get better Microsoft Office Outlook 2007 and 2010 Inbox Email Messages with the Inbox Repair Tools (scanpst.exe) in the below state of affairs ?
When I try to use that I get the below error message. I am not sure why this causes.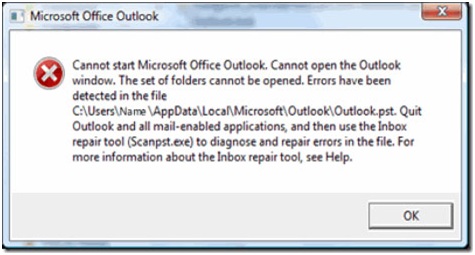 Microsoft Office Outlook
I'm using a 15-inch MacBook Pro with OSx Mountain Lion. I'm using MAMP that came with MySQL. The default MySQL port is 3306 but seems like MAMP is running on port 8889. How do I port in PHP 8889 MySQL?
I'm looking for a free remote desktop program for my IPhone 5 LTE 700 with iOS 6 so that I could access my home computer with Windows 7 when I'm on the go.
What is the best remote desktop software freeware for IPhone 5?
Any suggestion would be a big help.
Thanks