July 23rd, 2012
Hello friends
I have recently installed the mediacoder version 5220 on my system. I started encoding from MKV softsubbed to MP4 and I was successful but the hardsubbed fails every time I start the encoding process. First I was using the earlier versions of mediacoder. They were in fact version 5180 and 5200. The same problem was faced when I was using these versions as well.
I now tried to install mediacoder 5100 but unfortunately it wont install. I tried this by updating the codec pack and also installing avisynth 2.5 but still the problem persisted. The error which I get every time is attached below: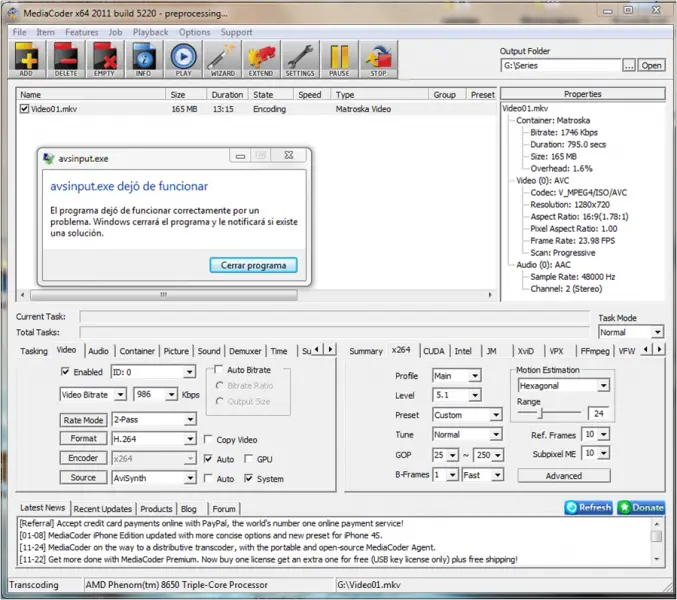 The message reads as:
Hello all
I am using PHPStorm 3 for the first time so I require your guidance. I am using the version 111.119. I want to configure phpstorm 3 and xampp and I also want to test the debugging. When I try to do so, I get the following message on my screen: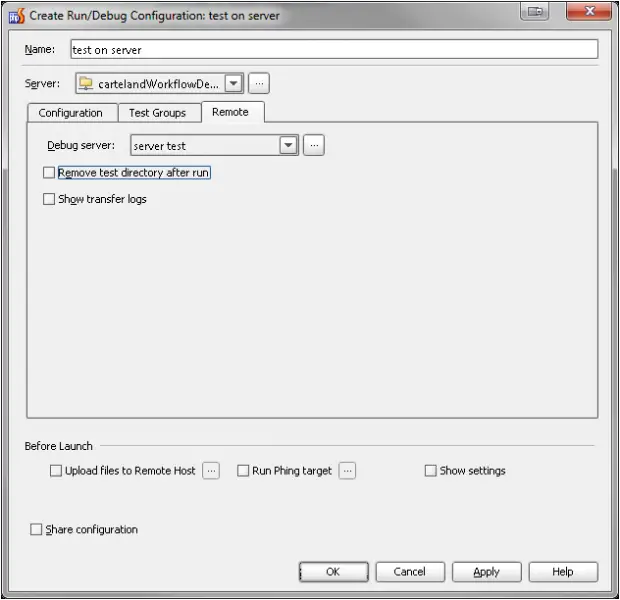 As you can see above when I press ok the debugging server is no more selected. I did not raised it from the phpunit test file but from the project directory.
Any help to fix this issue will be highly appreciated.
Kindest regards
Tom
Hello guys
I have a recently hosted FileMaker system set up that asks an external MySQL system for all records in Table X not already marked "processed" which means that there is no value in the processed column and then loops through them, writing column values back to our other system and then marking those records with a timestamp in Processed.
Actually it is done by updating matching records and creating new records for those whose matches do not exist. An ideal set of unprocessed records would be 175000 records out of a few million total in the MySQL table and It gets updated by an external process.
Hello
Recently I installed VSTO and tried to update a VSTO add-in for word. I tried doing this without launching the VSTO automatic update. Actually I didn't have enough rights to install it. I actually wanted to update it instead of installing it again.
When I installed it for the first time it was done with VSTO installation from VS publish folder with administrator rights. To update it I copied.
MyWordAddIn.dll
MyWordAddin.dll.manifest
Hello friends
I have recently started using rainlendar, the calendar program for windows. I am using the rainlendar pro version 2.9 (b111). I tried to sync it with the Google calendar but unfortunately I failed. Instead I got the following message on my screen that read:
Gooqle Error (Gooqle)!Unable to download the calendars.
Server returned result: (0) 400 Bad Request.
Inconsistent repeating query parameter
start-min
The screenshot of the error message is as follows: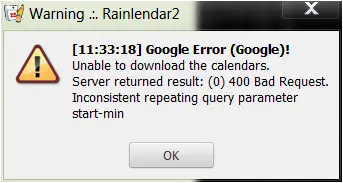 Hi Experts!
I am currently using Digital Audio Workstation (DAW) Pro Tools 9 on my computer and a Focus rite Scarlett 8i6 audio interface. I keep getting this alert recently:

Audio processing could not complete due to conflicts with other CPU
task or a potential clocking issue. If this occurs often, verify your
sync cables or tery changing the HW Buffer Size setting inthe
Playback EngineDialog. In most Cases, a larger HW buffer size will
prevent the problem.
(-9129)
Hello
I have recently purchased a Up3D printer but I am facing a problem with that. Whenever the printing task is given to it, the printing stops at a random point in the process. I upgraded it to version 1.15 but still the same problem occurs.
In UP I get the message "move error" in the status bar and the UP inspector gives me another error. The print screen of the error is attached below: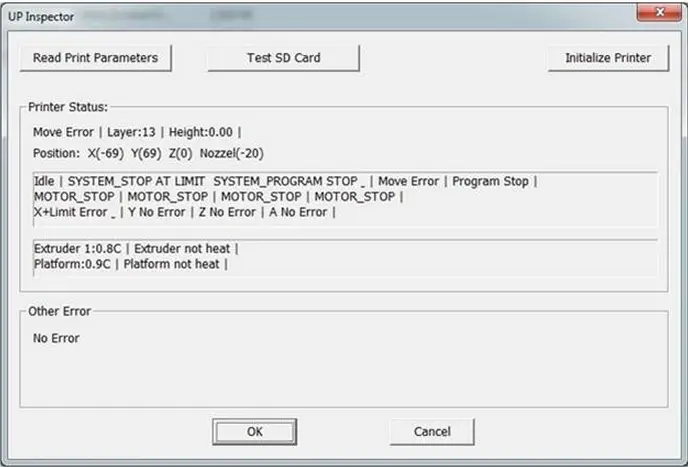 UP Inspector
Printer Status
Move Error | Layers:13 | Height:0.00 |
Position: X(-69) Y(69) Z(0) Nozzel(-20)
Dear fellows I use windows media player to listen to my music files but unfortunately my music files have been ripped from the cd. The majority of those files were mp3 @320. A few of them were in WMA-lossless.
Hello friends
I recently tried to replace the default SSL on a vCenter 5 u1 server. I tried to do it but I could not succeed. One of my friends got an SSL certificate using IIS7. After this we both processed CSR using Thawte where we bought a domain validation SSL SS123 cert.
We used open SSL to get the rui.key and rui.crt and copied them with the rui.pfx to all the necessary locations on the vCenter server. By doing so we exported the SSL with the private key into the pfx format. I successfully followed all the steps I found on the website
Hai,
Now i have nero 7 full version with me and i would like to burn my movies ( .AVI , .MKV , MP4 , FLV ) to a DVD cd.
And it must be playable on Standard dvd player. Seeking help from experts.
I searched all over the internet and cant find the right information on burning movie files with nero 7.
Thanks in advance.