The Internet connection in some parts of India was disrupted due to the recent cyclone that hits the country. A cyclone named Vardah caused severe damage to Bharti Airtel's Undersea Cables and other Internet providers such as ACT, BSNL, and YOU Broadband. Because of this, many localities are experiencing a slowdown of Internet speeds. According to Airtel, one of their international undersea cables got damaged due to the cyclone and it partially impacted the Internet traffic. But what are the undersea cables and how does it affect the Internet?
Undersea cable or also known as the Submarine Cable is a cable lying on the ocean floor amidst the land-based stations for transporting telecommunication signals. This undersea cable system transports the majority of the international data and communications, forming a backbone for the data centers that empowers the World Wide Web. The very first undersea cables were laid in the 1850s for transporting telegraphy traffic. The next generations of cables were for transporting telephone traffic, followed by the data communications traffic. Presently, they are using optical fiber technology for transporting digital data such as private data, telephone, and Internet traffic. More than 99 percent of the internet traffic around the world depends on these high-quality fiber optic cables. Only small part of the overall internet traffic passed through satellites.
In India, there are ten undersea cable landing stations; three in Chennai, four in Mumbai, one in Cochin, one in Digha, and another one in Tuticorin. Tata Communications has landing stations in Mumbai, Cochin, and Chennai; Reliance Globalcom is the owner of the Versova Cable Landing Station located in Mumbai; Bharti Airtel has three landing stations, one in Mumbai and two in Chennai; Sify Technologies has landing station in Mumbai; BSNL connects India and Sri Lanka through their international undersea cable, and their landing station is in Tuticorin. These port cities connect the land cables with the undersea cables. There are eight undersea cables that connect India to the whole world. The following are:
SMW3W or the cable that connects the South East Asia, Middle East, and Western Europe. Overall, there are 39 landing stations and it first touched Mumbai and connects to other Asia countries through Cochin. Tata owned the Mumbai landing station.
SMW4 or the cable that connects the South East Asia, Middle East, and Western Europe. Overall, there are 17 landing stations and touches Mumbai (owned by Tata) and Chennai (owned by Bharti Airtel).
SAFE stands for South Africa Far East Cable or the cable that comes from Melkbosstrand, South Africa. This cable connects Durban, Mauritius to Cochin. Tata also owned their landing station in Cochin.
FLAG or Fiber Optic Link Around the Globe is a cable that passed through Suez Canal and links to the Middle East and touches Mumbai. This was owned by FLAG Telecom, which was acquired by Reliance Company. Tata also owned their Mumbai landing station.
i2i is owned by Bharti Airtel and SIngTel. The joint company is handling the Singapore-India undersea cable network. The Singapore to Chennai cable is 3100km long.
TIC stands for Tata Indicom India SIngapore Cable, which links Singapore and Chennai. VSNL owns it and their landing station is in Chennai. Their landing station in Singapore is in Changi. The Singapore to Chennai cable is 3175km long.
Falcon is a cable that connects Europe, Middle East, and India. Their landing station in Mumbai was owned by Reliance Company.
India-Sri Lanka Cable had a landing station that links Colombo and Tuticorin, Sri Lanka and was owned by BSNL.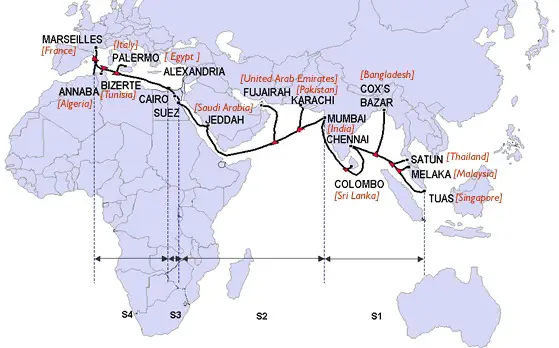 Due to the massive amount of investments, those cable networks were being managed and handled by the governments and huge companies. The network size held by those companies varied according to three tiers:
Tier 1 Network:
Tier 1 consists of companies that have global networks, which links several cables worldwide. They can provide access to any terminus on the Internet without needing to pay anything. Tier 1 networks can be able to reach other networks on the Internet without paying for any IP Transit or settlements. However, not all Tier 1 networks are transit-free; others who paid for peering or agreed to settlements are also transit-free. Tier 1 serves as the backbone of the Internet.
Tier 2 Network:
Tier 2 are the companies that have regional networks. They are normally connected to one or more than one Tier 1 networks. These are Internet Service Providers (ISP) that pays IP Transit to attain some part of the Internet. Tier 2 find it easy to acquire transit from a Tier 1 network than do peering and attempt to become a Tier 1 carrier.
Tier 3 Network:
Similar to Tier 2 Network, they are usually described as networks who exclusively acquire IP Transit from other networks to get to the Internet. Tier 3 needs to pay a fee to get access to the larger backbone.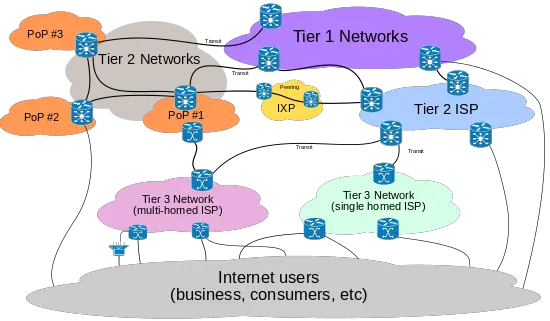 For better understanding, please watch the animated map that shows how the undersea cables empower the Internet: