Augmented Reality (AR) is an emerging and highly trending technology of recent times. Smartphones that support Apple's ARKit and Google's ARCore are flooding the market since many companies that produce interactive media constantly implement AR in their products. Augmented Reality merges real-life environments with virtual projections by making the visual experience immensely immersive. Augmented Reality has made its way into the market primarily through the mobile gaming industry. Niantic leads the AR market with the highest number of AR games released. It had also released the first AR mobile game in 2013. Given below are the Top 10 Video Games with Augmented Reality.
1. Pokémon Go
Pokémon Go, developed by Niantic, Nintendo, and The Pokémon Company, is one of the most popular mobile games with Augmented Reality. It was released in 2016 and broke multiple records within months. It works on iOS and Android. By using GPS and a camera, Pokémon Go provides an immersive, real-world experience of capturing and training imaginary beasts called Pokémon.
2. The Walking Dead: Our World
The Walking Dead: Our World, based on the popular American television series "The Walking Dead," is an augmented reality mobile game released in 2018. Next Games developed it. It allows players to battle zombies in real-world locations based on Google Maps. The player needs to walk around to enjoy the game's AR-based gameplay mechanisms.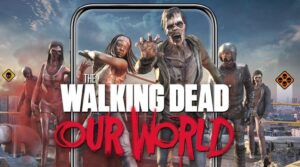 3. Harry Potter: Wizards Unite
Harry Potter: Wizards Unite is another game developed by Niantic in collaboration with WB Games and licensed by Portkey Games. It gets released in 2019 for iOS and Android. It is an augmented reality mobile game based on the magical world of Harry Potter created by the famous novelist J. K. Rowling. Players can cast spells and make various magical discoveries in real-world locations. Despite being one of the most popular AR games, Harry Potter: Wizards Unite will get discontinued on January 31, 2022.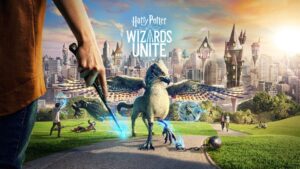 4. Knightfall AR
Developed by Milkroom Entertainment & Spectral Games, Knightfall AR is an augmented reality mobile video game. The strategy-action match gets based on the story of Knight Templars. The user can experience a world of action in real-world locations through AR. In the AR mode, players can place virtual characters in natural areas by using GPS and a camera.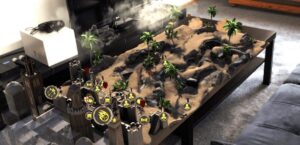 5. Ingress Prime 
Ingress Prime is one of the earliest video games that used augmented reality. Niantic developed it, which is known for creating games that have AR as a distinct feature. Ingress Prime was released in 2013 and 2014 for Android and iOS, respectively. It is one of the most downloaded and popular video games. Like any other AR game, it uses GPS to give tasks to players in their real-world location.
6. Zombies, Run!
Unlike other video games in the list, "Zombies, Run!" is an exercise game developed by British studio Six to Start. It gets released in 2012 for Android and iOS devices. The game's story got written by the famous novelist Naomi Alderman and notable writers like Margaret Atwood and Andrea Phillips. The competition promotes exercise by giving running missions to players in an apocalyptic AR environment set in real-world locations. "Zombies, Run!" has an immersive storyline that promotes exercising by making it a fun experience through AR.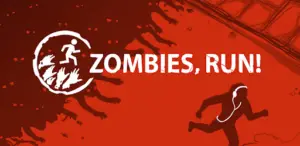 7. Angry Birds AR: Isle Of Pigs
Angry Birds: Isle of Pigs is a video game developed by Resolution Games in collaboration with Rovio Entertainment for iOS and Android. Though it is a slingshot shooter game like other Angry Birds video games, it introduces a 3D perspective by placing the target pig buildings in a real-world environment with the help of its AR feature.
8. Jenga AR 
Jenga AR imitates the gameplay mechanics of an actual classic Jenga game. It is a simple, free-to-play augmented reality video game for iOS and Android. It projects the Jenga blocks in a real-world space making the gameplay appear immersive. The game also applies motion control graphics and targets Jenga enthusiasts and families.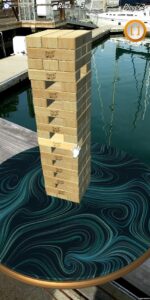 9. Jurassic World Alive
Jurassic World: Alive gets published in 2018. It is an augmented reality game developed by Ludia and based on the famous Jurassic World franchise. It gets released on both iOS and Android platforms. Jurassic World Alive is a location-based video game that uses GPS and a camera to provide an immersive adventure experience in the prehistoric world of the dinosaurs.
10. AR Sports Basketball 
AR Sports Basketball gets developed using Apple's ARKit. It is an Augmented Reality sports video game that requires a user to put basketballs into hoops in different interactive game modes. AR Sports Basketball is only available for iOS. A generic basketball simulator provides an AR environment to the players.