Wave a good-bye to the tight jars and containers that you have using a Jar Opener. Below following is the top 10 checklist of the best-selling jar openers in the market. You might need one in the long-run, so take a look at them here:
1. HAMILTON BEACH OPENER:

The durable and long-lasting Hamilton Beach Jar Opener is ideal for all size jars. With the single press of a button, its twisting power loosens your jar's lid. The compact design fits into your kitchen drawer. The battery-operated Hamilton opens more than 250 jars with a single set of batteries. It even opens glass jars with a screw in diameter of 1-4 inches.
2. OXO: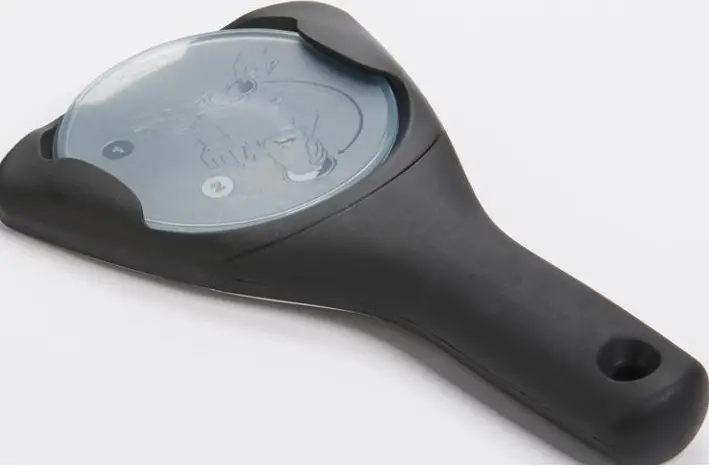 Oxo Jar Opener's base-pad reduces the force of opening and gives a tight grip to open jars. Put the base pad and slide the opener over the lid; by twisting it clockwise, it loosens your jar's lid. The device comes with stainless steel and sharp teeth for holding the jar firmly. The non-slip base pad is ideal for beverages.
3. GILHOOLIE:

Gilhoolie opens all types of jar lids and caps, and also helps in resealing the crowns of bottles by crimping the caps. The opener is from durable chrome-plated steel. You can even use it for flip-top lids, by unscrewing it first to remove the inner seal.
4. ONE-TOUCH:

One-Touch Jar Opener is a safe and automatic single-touch jar opener. It holds firmly and clamps onto the lid, opening any jar lids. Its high-torque and the powerful motor will give up to 25 lbs force for loosening jars. The battery-operated opener is adjustable with any lid size and opens 1-4 inches diameter lids.
5. METRO FULFILLMENT HOUSE:

The battery-operated Metro House Opener is automatic and works with a robotic technology that is easy-to-install and to replace batteries. The automatic jar opener is ideal for the ones who have hand impairments and arthritis. Metro House is powerful enough to open even factory- sealed jars.
6. KUHN RIKON:

Kuhn Rikon Jar Opener slips open a lid with its Swiss Engineering. The tough plastic construction tightens the cap even after it loosening the cap. It opens both smooth and groove lids that come with 1-3.5 inches diameter. The hole in Kuhn Rikon makes it act as a handle for hanging.
7. BLACK AND DECKER:
The quick and convenient Black and Decker Jar Openers are ideal for vacuum-sealed lids. It opens a cap in a second from the touch of a button. Lift its handle, place the jar on a surface, press and hold the on or off button until the lid loosens. You can even use it for baby food jars, thin and huge jars, and plastic lids. The device is collapsible and makes it easy to store.
8. EZ OFF:

The EZ off is easy-to-install with a peel and stick adhesive suitable for offices and homes. The jar opener is one of the best options to open medicine bottles, nail polish bottles, and, also your kitchen jars. EZ jar openers are even suitable for hospitals, commercial kitchens, and dental labs.
9. EVRI HOLDER :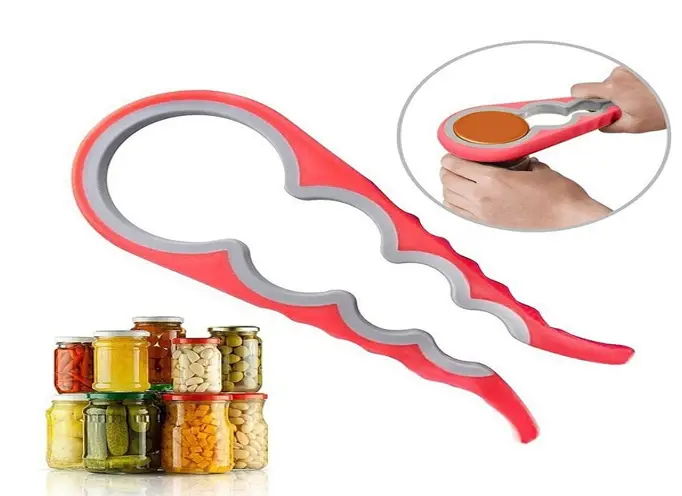 Evri Holder Jar Opener has a rubber gasket to hold onto a lid strongly and firmly while opening its jar. The jar opener is compatible with all sizes and lid types. The simple and simple design is excellent for use even by kids and the elderly.
10. KICHWIT:

Kichwit is designed especially with an ergonomic design, and the materials in the device ensure durability and longer life. The opener uses a ratchet mechanism to grip your bottles, and by a simple twist, you can open lids instantly. The high-quality stainless steel body and the superior plastic handle makes it easier for arthritis affected individuals to open jar lids comfortably.