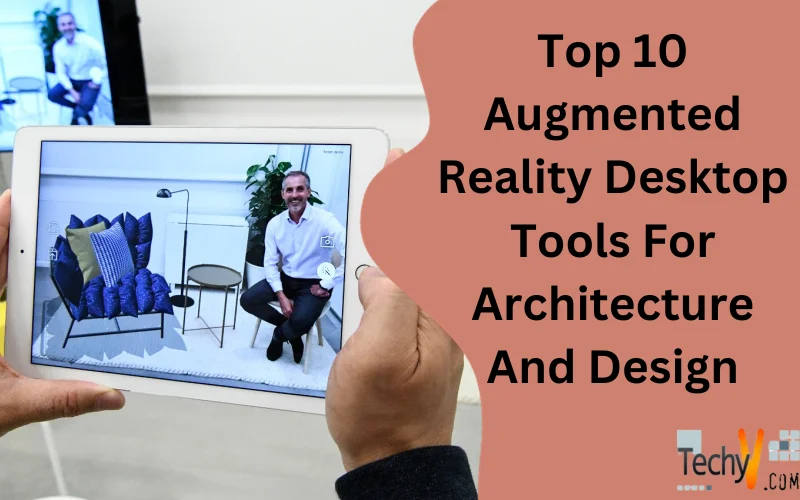 If you want to step into Metaverse designer or just an architecture who needs 3D software for construction building models or a learning designer just exploring the world of AR and VR (Augmented and Virtual reality) or just a person exploring new tools and fields in technology then you have come to the right place. In this article, you will learn about the top 10 augmented reality software designing applications available in the market. You will know how each tool can be helpful for you in developing AR building architectures for construction sites and or for preparing models for games or applications. Other than that, some of the software in this list lets you implement MR (Mixed reality was created to make user experience both physically and visually available in reality) into your applications or design. MR is not much known to people but will surely be a popular term in the future.
1. Adobe Aero
Adobe Aero is one of the best AR design software. It excels in almost all fields, as Adobe is known for creating software that is best in class for art and design. It lets you design from 2D images, which could be directly imported from Photoshop and Illustrator or any other 3D models from Adobe Substance 3D Stager and other third-party tools like Cinema 4D to create incredible designs. It is available in Mac and Windows OS, and you can try it for free on any iOS device.
2. Tvori
Tvori is another best-in-class AR design software that can be used to create story prototypes, shape XR apps, and full-scale animation videos. You might find it difficult in the beginning, but you can start using it with no prior knowledge of 3D content creation. It comes with a library that contains a good amount of shapes, props, and effects which can help you begin exporting the Editor. You can import images, 3D models, videos, and sound to projects. A few of the pros of Tvori are its affordable and beginner-friendly interface.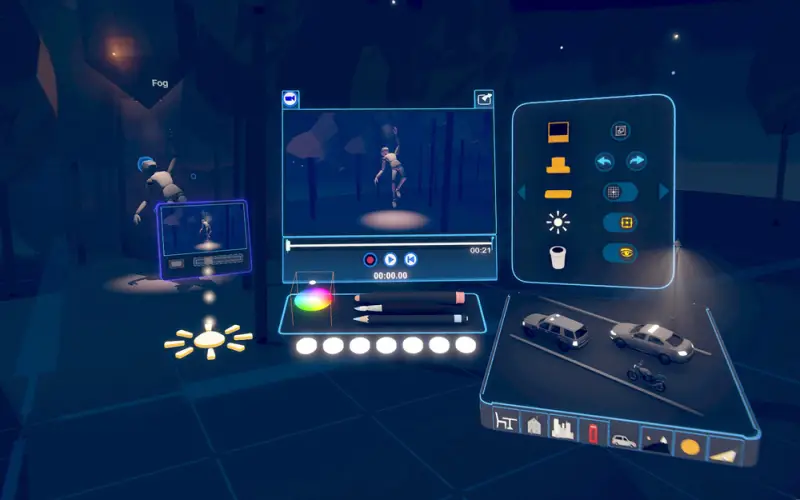 3. Masterpiece Studio Pro
Masterpiece Studio Pro, as the name suggests, is a best-in-class all-rounder software available for 3D modeling in VR. It allows you to draw models, optimize, skin, and animate directly inside your Editor in 3D and VR with a PC and headset. After completing the development, you can export the project directly to other game development engines and animation software for video creation. It provides auto rigger and auto skin functions, which lets you create entire 3D models with just a click. It also includes mesh processing tools, texture painting, retopology, stamps, kitbashing, and advanced AI, which simplifies 3D model creation.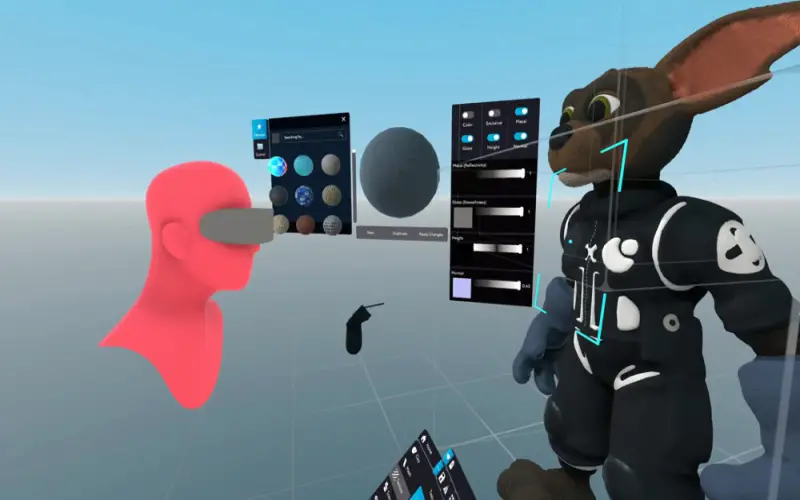 4. Vuforia Engine
Vuforia Engine is one of the most popular SDKs to develop augmented reality applications. It was first introduced by Qualcomm, and it lets you create 3D product demonstrations and applications. It is preferred by over 800,000+ developers worldwide just because of its performance, advanced computer vision, and cross-platform availability to develop reliable native apps for iOS and Android. If you are not so techy and not into coding then you can opt for Vuforia Engine. It has a user-friendly interface and can work online or offline.
5. Unity 3D
Unity 3D is the world's most buzzed platform for crafting 3D projects and has been game devs, animators, and visual artist's trusted pick for years. It's a complete VR creation tool and has a massive asset store of 2D and 3D designs and templates that you can directly bring into the dev environment. It's backed by a large community of devs constantly working to better the quality and speed up the dev process. Combined with a high-optimization rendering pipeline, stereo instancing, spatial audio, authoring tools, and the rapid iteration abilities of the Editor, it's easy to see why Unity is one of the world's best 3D dev platforms.
6. ROAR Editor
The planet of augmented actuality contains no application more beginner-friendly than ROAR Editor, made for non-technical users. Dragging and dropping videos, images, buttons, text, and models create engaging experiences. ROAR holds all the features required for testing, playing, and delivering incredible AR. Coding is unnecessary, and technical skills unnecessary; ROAR simplifies and makes it accessible. Works on iOS, Windows, Web, and social media too. Doubtless, ROAR is the most straightforward app most easiest to use for AR design.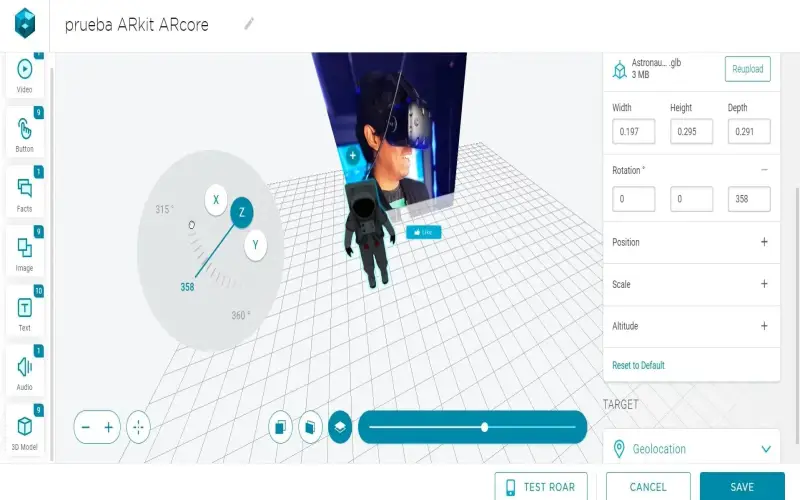 7. ARki
ARki is a real-time architectural model augmented reality visualization service. By providing 3-D models with various levels of interactivity for design and presentation purposes, it incorporates augmented reality technology into architecture. Any iOS or Android smartphone can be used with ARki. It merely superimposes 3-D models over pre-existing 2-D floor plans; in addition, it offers a number of other interactive features, such as material selection and real-time shadow analysis. With a few taps, users can record and capture unique views of models in both movie and 3-D still formats, then share their work via social media or email.
8. IKEA Place
IKEA places unique maps and measures furniture's destination. The app scales the 3D furniture fitting room's dimensions. Squeezing the virtual chair fitting alcove means the actual chair fits too. IKEA states Place, built with Apple's ARKit, renders furniture with 98 percent accuracy. More than sparking purchases, place handles interior design practical problems. This makes it a premier app today for interior 3D rendering.
9. Storyboard VR
Storyboard VR offers free prototyping and visualization for architects, AECs, artists, and creators. Users pull, arrange, scale, and animate 2D assets. Designers Artefact built it by prototyping their VR projects quickly and efficiently. Upload drawings and maps from sketch tools into Storyboard VR. Select assets and create a storyboard. Ease shares ideas and gathers feedback early in design. Storyboard VR uses slides, sequential scenes, and a VR PowerPoint.
10. Fuzor
Fuzor connects real-time rendering and Revit using tech from Kalloc Studios games. Bidirectional live link moves, visualizes, notes, and inspects BIM data while syncing changes. It has a bi-directional live link with Revit and was created by Kalloc Studios specifically for game design. Users can navigate around with it. Connection instantly updates Revit file modifications. Supports measurements, clash analysis, lighting, color and visibility filters, cross-section rendering, and walkthrough videos with embedded BIM.