In today's world, one of the greatest and best developments in technology is the development of apps. There are applications for everything, like payments, shopping, gaming, chatting, etc. People think that the development of these applications is very difficult, and yes, it was, but with the advancement in technology, now it is very easy to build applications according to our requirements, and one more best thing; without having much knowledge of coding, anyone can create an app in just a few steps. And it is possible with the help of application development platforms available online. That's why we are also going to enlist the top 10 app development platforms to let you know.
1. AppyPie
AppyPie is one of the best & popular app development platforms, making application development more accessible. You can build an app today without technical skills & coding knowledge easily with AppyPie and give your business an edge. From mobile app building to chatbots, from graphic design to automation, it has the best business solution for all scales & budgets.
2. Quixy
Quixy helps remove manual processes and quickly transforms ideas into apps, making business more creative, ideal, productive, and transparent. With Quixy, you can build the application the way you want just by dragging & dropping 40+ form fields, such as an e-signature, rich text editor, facial recognition widget, QR-Code scanner, and much more.
3. Google AppSheet
The fastest way to develop applications and automate work. With AppSheet, you can build powerful mobile & desktop applications without the need of coding knowledge to customize to your business requirements. It also provides you with the functionalities for customizing the applications with excellent features, such as GPS & maps, barcode scanners, signature capture, image capture, and many more.

4. Zoho Creator
Zoho Creator is a low-code application development tool or platform that assists you to design, develop, and run any of the business software you need. It brings artificial intelligence to your business applications in just a few clicks without coding algorithms. Zoho creator also provides drag & drop elements on the web to build applications with the exact same features you require and get native iOS & Android applications automatically created.
5. iBuildApp
iBuildApp provides everything you may require to build a mobile application. This application building platform allows the development of applications in minutes, without any coding needed. You just need to pick a template as it offers 1000+ templates, alter anything you want, add your images, texts, videos, etc.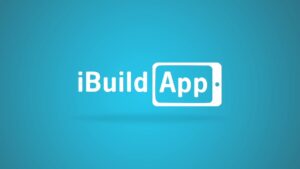 6. Caspio
Caspio is another best option for application development. It enables you to build custom business apps without writing code. With Caspio, you can build apps as per your unique requirements, exclusive workflows, and specific business objectives. And, till now, it has empowered about 15,000 customers in 150 countries.
7. Shoutem
Shoutem is also one of the excellent app development platforms. With Shoutem, you can create high-end mobile applications that are fully compatible with Android & iOS platforms. App building with Shoutem involves four steps, including picking a free template for your mobile application, branding your application, importing content to your application, publishing your application to Google Play & Apple Store, and it's done.
8. AppInstitute
AppInstitute will permit you to build applications for several industries, such as beauty salons, coffee shops, radio stations, sports & fitness, etc. It has an easy-to-use drag-and-drop application builder. AppInstitute also provides proper guidance for launching, further promoting, and marketing your applications.
9. GoodBarber
GoodBarber is one of the best no-code application builders. It lets you build an application that completely fits your requirements without any technical knowledge. GoodBarber has numerous helpful features, including beacons, loyalty cards, CMS, couponing, chat, etc.
10. Swiftic
Swiftic is an industry-leading DIY (do-it-yourself) application development platform. This amazing & unique platform empowers you to quickly & easily build custom mobile applications and websites for all major mobile devices (iPhone & Android) with very minimal cost and no coding necessary. Swiftic will provide you with all the essential features you may need during application development.