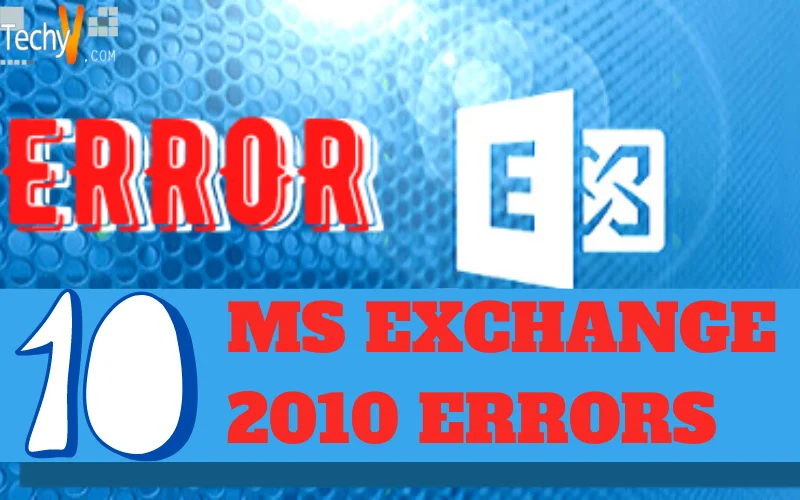 10 MS Exchange 2010 Errors
Microsoft Exchange 2010 is a software that runs within the Windows Server 2008. It is used for email management, calendaring software and can even be integrated with your phones. Exchange – though useful – can also prove to be highly frustrating to new and experienced users alike. Below are 10 common errors that can be easily fixed:
Cannot Activate Database Copy
An Active Manager operation failed. Error: The database action failed. Error: An error occurred while trying to validate the specified database copy for possible activation.
This error usually occurs when the catalog index files are in a fail state. This is due to an outdated index to the Exchange database. To fix this, simply update the index files by copying this into the Exchange command line: C:>Update-MailboxDatabaseCopy "Mailbox Database 01EX1" -Catalog Only
Registry key has subkeys and recursive removes are not supported by this method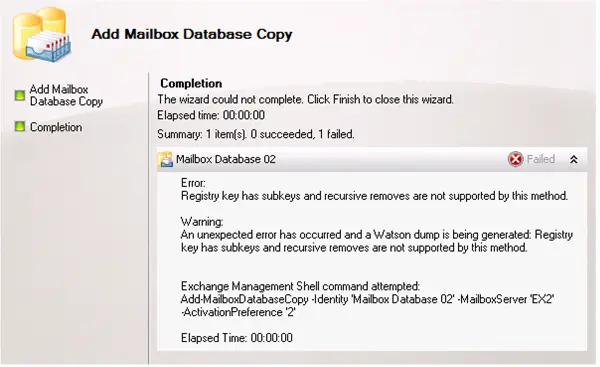 Registry key has subkeys and recursive removes are not supported by this method.
On Exchange 2010, when upgrading to SP1 on a DAG (Database Availability Group), you may notice that you receive an error while adding or removing database entries on a DAG. And while this occurs while both adding and removing, when removing entries, the action is completed despite the error, while adding is not completed successfully.
To fix this error, you must remove a problematic registry key by first running the Get-MailboxDatabase command line to view the GUID:
C:>Get-MailboxDatabase "Mailbox Database 02" | fl guid
Once you know the GUID of the problematic registry key, you can remove it manually by running the following command:
C:>Remove-Item HKLM:SoftwareMicrosoftExchangeServerv14ReplayStateYour_GUID_number_goes_hereDumpsterInfo
Error ID – 2114
This error may be brought upon by a multitude of things, any of which may cause Exchange to stop working. First, check to make sure that you have the proper permissions within your Exchange Server and check to see if IPv6 is enabled. If the previous is true, then check your Exchange servers within the default Exchange Servers. If all the default Exchange Servers have been removed, then re-add the Exchange Servers to the default group and reboot.
The Active Directory Schema Is Not Up-To-Date & Ldifde.exe IS Not Installed On This Computer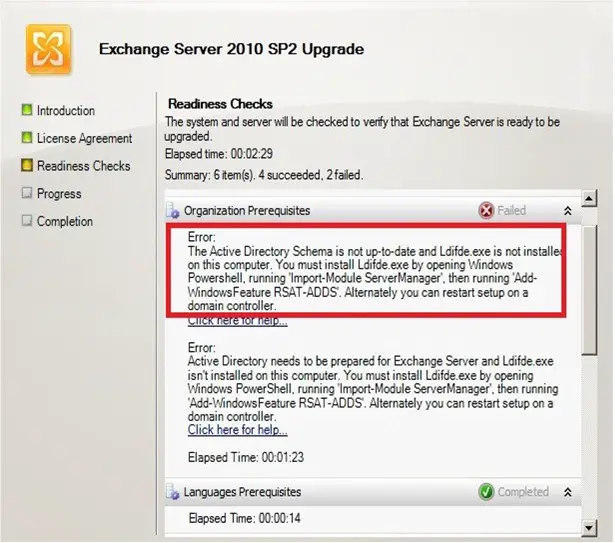 The Active Directory Schema is not up-to-date and Ldifide.exe is not installer on this computer. You must install Ldifde.exe by opening Windows Powershell, running 'Import-Module ServerManager'. Then running 'Add-Windows Feature RSAT-ADDS'. Alternatively you can restart setup on a domain controller.
This error is commonly received when trying to upgrade from Exchange 2010 SP1 to Exchange 2010 SP2. This is due to the SP1 was installed on a different Exchange server, resulting in the inability to update to SP2 on the current server due to the lack of the proper AD admin tools. To fix this, install the AD admin tools and reboot the server computer.
Mailbox Move Request Error property expression isn't valid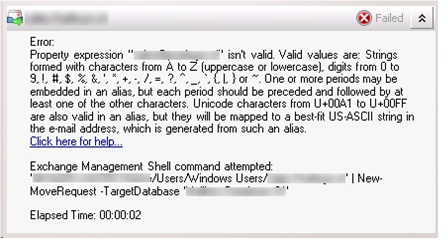 When migrating an Exchange 2010 server, you may notice this error come up while the first mailboxes are being moved to a new datacenter. To correct this issue, first start the Exchange Management Console, go to the Recipient Configuration and go to Mailbox to find the current user. Check the Properties Page in the Alias field for invalid characters. Now, delete these characters, and click OK to everything (you will be prompted that you will be upgraded to the current version of Exchange).
Public Folder Database Cannot Be Removed
The public folder database "PF-BR-01" contains folder replicas. Before deleting the public folder database, remove the folders or move the replicas to another public folder database.
When trying to delete a Public Folder Database from an Exchange 2010 Server, you may receive this error. This is due to replica folders still remaining inside the PFD. To remove these, first run the following command:
C:>cd $env:exchangeinstallpathscripts
Then after determining what folder replica(s) is/are left in the PFD, you can choose to delete it/them if no longer needed, or move it/them with the following command:
.MoveAllReplicas.ps1 -Server esp-br-ex2010 -NewServer esp-ho-ex2010a
Keep in mind; this may take some time, depending on the number of folders moved/deleted and their size.
The ActiveSyncDevice Cannot be Found When Performing a Remote Wipe
When performing a remote wipe of the ActiveSync devices, you may receive this error. This is caused because the two cmdlets – Get-ActiveSyncDevice and Get-ActiveSyncDeviceStatistics – are returning mismatching identity strings. To fix this, you must specify the correct identity strings in the shell; a detailed walk-through on doing this can be found here
MS Exchange Transport Failed To Reach Status "Running" On This Server
You may run into this issue when the IPv6 is unchecked within the TCI/IP properties in the NIC settings. To fix this, simply check the TCI/IP properties to see if IPv6 is unchecked, and if so, check it. Then, re-run the setup and everything should work fine now.
Install Error – Could Not Find Part of the Path
If you've run Exchange on your computer previously as an admin, and deleted the computer account, it may not have removed the old AD data. If this is true, then an attempt at reinstalling Exchange on a different account will cause you to receive this error. To fix this, you must remove your computer's account from the domain and rejoin it. It may take some time for this to take effect however, so you must be patient.
Initialization Failed
This is a common error that is caused when the current Exchange Server hosted on a Hyper-V server has not synchronized its time correctly with the domain controller. To fix this, first clear the Time Synchronization option within the Exchange Server(s) and then run net time /set. This should sync the times correctly with the domain controller. Then restart the domain controller and everything should work fine again.
Microsoft Exchange 2010 proves to be effective and useful to businesses and large network administrators everywhere. However, because it is widely used does not mean it is without frustration. The 10 above errors are just a common few of the hundreds of potential headaches for network admins everywhere; fortunately, like the above errors, there may be an easy fix. For additional information on fixes, first check above for your error, and if it's not listed, visit the Microsoft website and download the Error Look-up Tool