No of visitors who read this post:
855
When I launched the Inbox Repair Tool to repair my Outlook PST, I received a Fatal Error and the repair suddenly stops. When I attempt to do the repair again, I got the same error until I could not be able to access my .pst file. I was unable to repair it and now I cannot open it anymore. What can I do now?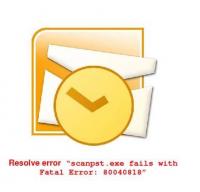 Resolve error "scanpst.exe fails with Fatal Error: 80040818"