No of visitors who read this post:
1445

Hello to all,
I am getting the Google installer has stopped working popup every time I start my computer. The Internet Explorer also stops working occasionally and then restarts. The screenshot of the error is as follows: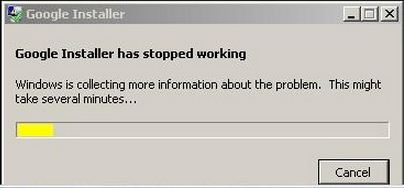 Google Installer
Google Installer has stopped working
Windows is collecting more information about the problem. This might
take several minutes...
Cancel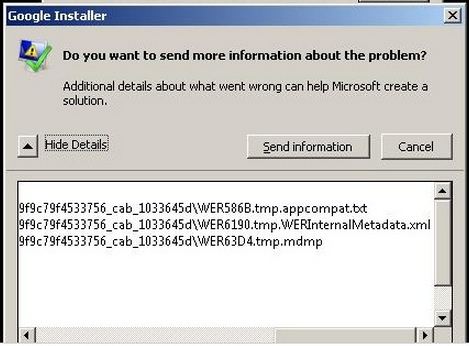 Google Installer
Do you want to send more information about the problem?
Additional details about what went wrong can help Microsoft create a
solution.
Hide Details Send information Cancel
9f9c79f4533756_cab_1033645d\WER586B.tmp.appcompat.txt
9f9c79f4533756_cab_1033645d\WER6190.tmp.WERInternalMetadata.xml
9f9c79f4533756_cab_1033645d\WER63D4.tmp.mdmp
I have tried various antivirus including Malware bytes and also found some viruses but still I can't get rid of popup. Has anyone else also encountered such a problem? Please let me know if you have any solution for this.
Waiting for your ideas.
Regards,
Hunter