In today's technology, everyone needs a recreational activity; and what more than plunging to one's headphones and listening to some soothing music can serve that purpose. But for a memorable musical experience, one needs to have an efficient music player, which can provide ample features to have a musical venture that suits one's preferences. Below are some of the best music player apps that anyone would love to have in their Android devices:
1. Poweramp Music Player: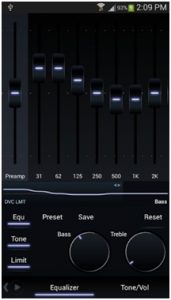 This player rules the world of music player applications with its bundle of features. Although, the full version comes with a paid option, it is worth for its attributes. Although it has a complex user interface, it supports a wide range of extensions. It is built with crossfade and dynamic queuing facilities. There is a musiXmatch plug-in, which enables lyrics to simultaneously appear while the song is being played. Theme variation and customization options are available and provisions for adjusting bass, treble and equalizers make it ever topping the charts.
2. BlackPlayer Music Player: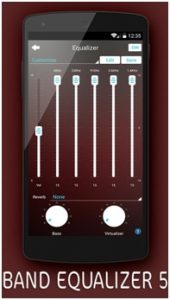 Black is the colour that emotes an emotion rather than any other colour, and the developers of BlackPlayer Music Player have been well aware of this fact. They have designed this player with a stylish black interface, which instantly impresses the users at first sight. BlackPlayer supports all file extensions ranging from mp3 to ogg. One of the most attractive characteristics of this player is the bassboost and 3D surround virtualizer, which gives a virtual three dimensional amplification of music while being played.
3. Shuttle Music Player:
Although the Poweramp and BlackPlayer are efficient, they don't support the guidelines, which Google Play apps require and the Shuttle Music Player excels in this perspective. It provides users a smooth experience and uses the media capabilities, which Android generally inherit. It supports flac extension and gapless playback, embedded lyrics, etc.
4. Rocket Music Player: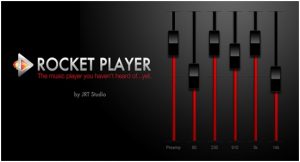 The Rocket Music Player has an extensive attribute set. It does not occupy much of the space although the features it provides might sound decisive. It provides support to both m3u8 and m3u playlists. This player can play videos and the UI provides lockscreen support, album management, and a 5-band equalizer. One of the added advantage of this player is that, it has a cloud storage provision. This makes it to store the songs under the cloud account provided to the user.
5. Stellio Music Player:
The Stellio Music Player isn't popular in the market. Yet, it has certain specialities. The transitions between screens, the animations, and visuals are so appealing to the users. It supports crossfade, 12-band equalizer and has nearly 13 audio effects which include bass, treble, echo, reverb, etc. This player supports m4a audio formats. It has sleep timer features, which automatically switches off the app even if we dose off.
6. Phonograph Music Player: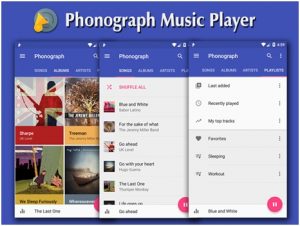 Phonograph Music Player is one of the very few players that fits the regulations of Android Music Player capabilities. It offers one of the best user interface designs. A vivid colour display, along with cool transitions makes it not to be missed among the users. It has an easy switching between albums and songs just by mere swipes. It is a free app unlike other music players which are paid applications.
7. Pixel Music Player:
The Pixel Music Player is one of the budding music players in the market. It looks the same as the BlackPlayer Music Player and seems like a modified version of the former. The queue management is one of the highlights of this player. Just a swipe in the right direction on the "now playing" screen, lands one into the queue screen. It comes in with an additional feature of controlling the headset buttons.
8. n7player Music Player:
The n7player Music Player is one of the most innovative music players in the market. It brings in a new menu list, breaking the conventional items. It all works on the zooming mechanism to transit from one screen to another. Just pinching the screen inwards would land one into the songs screen from the "now playing" screen. It has the ability to add custom effects and timer facilities to control its execution. This player also supports the DLNA feature and music visualizers.
9. Google Play Music: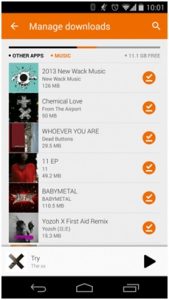 The Google Play Music is the host music player. It comes in as a pre-installed application in all Android phones today. It also provides cloud features upon upgrade and an easy user interface. However, it has a poor implementation of a good user interface. If one needs a basic music player with the commonest of features, then the Google Play Music is the apt one to have.
10. Musixmatch: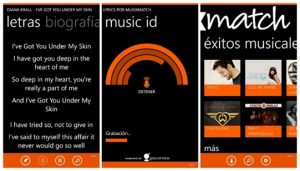 Musixmatch was known for its inbuilt lyrics support. It became an instant hit once it was introduced to the market. The lyrics beautifully pop up in a non-hindering manner. But the limitation is that, if it could have the lyrics of the songs one has heard already, as backed up in some storage, it would be a great feature. But it expects an internet connection to load the lyrics every time a song is played. It also has some cool transitions and playbacks which still makes it a most-wanted app among the users.