No of visitors who read this post:
379

Hi There,
I have Widows XP SP2 Professional Operating System on Acer Aspire 4253. I recently installed Microsoft office 2003 on the system. However when I try to use MS Access I encounter quite a few hiccups. Currently experiencing a runtime error as show below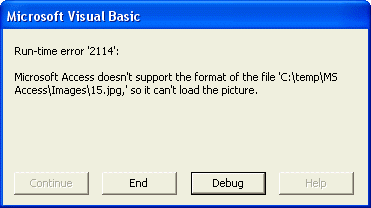 Run-time error 2114.
Microsoft Access doesn't support the format of the file 'C:\temp\MS Access\Image\15.jpg,' so it can't load the picture.
I really have no clue how to fix this issue.