No of visitors who read this post:
407

I receive a lot of SSL errors more often while logging in in any websites, and now it gotten worse. it can't even recognize itself. I have an anti-virus and its updated so i don't think its because of viruses,
can anyone please help me solve this problem?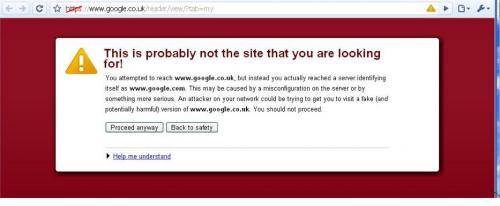 This is probably not the site that you are looking
for!
You attempted to reach
www.google.co.uk
, but instead you actually reached a server identifying
itself as
www.google.com
. This may be caused by a misconfiguration on the server or by
something more serious. An attacker on your network could be trying to get you to visit a fake (and
Proceed anyway Back to safety