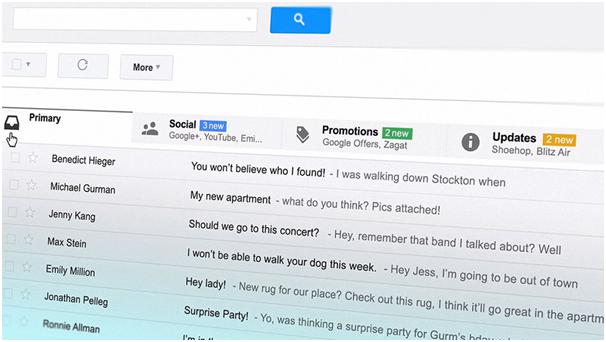 Top Tips for Email Marketing with New Gmail Tabbed Inbox
On 29th may Google announced that Gmail inbox will be introduced to a tabbed system. This system divides your emails into five categories- primary, social, promotions. These are the three main ones. Apart from these, the other two optional ones are called- updates and forums. Google explains itself by saying that through these tabs; the users can see what is new at a glance and then decide which ones they want to read.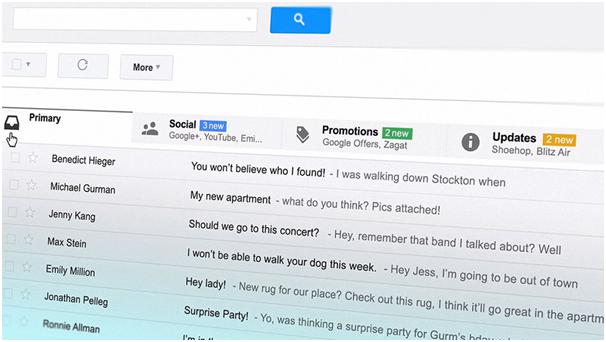 Are Changes Always for the Better?
Now, as simplified and less complicated this step might appear to some, marketers definitely do not seem thrilled about it. It is safe to assume that many of them are worried that their messages will directly be put under the promotions category. This will give the user a chance to completely ignore them. The other effects that the marketers might have to look forward to could be:
Creative and Interesting mails will be required : Since the marketers now will not be able to make their emails a part of a user's whole list of mails, it will be crucial that the mails now sent are more interesting and creative. This will help when the user opens the mail even once and is impressed; there is a chance that he/she will always open it even if it gets side-lined to the promotions category.
Uncertainty of the user's mind : Now, even if the marketer's mails are creative and catchy; the amount of time that a user might take to even notice and open the mail cannot be known for sure. It could be weeks till the user even thinks of opening an email in the promotions category. And there is also a chance they might never open it.
Patience will be the key : The marketer will have to be ready for the user to open the mail after weeks it was sent. Initially, marketers expected users to open the mails within hours of them sending it to the users.
Negative user experience : Many promotional mails have an expiry date of a day or probably a few hours. In the new tabbed system, this might prove as a curse since it will generate a negative user experience and would further push them to not to open the mails from such marketers. It will be difficult to say that users might treat the promotions category as a box full of spam mails.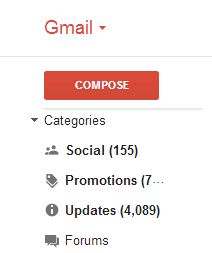 Although the marketers need to take into consideration the fact that most users open their mails with Apple mail or Outlook mail. These applications do not have the tabbed interface. This allows them to read all the mails being separated into categories. This is a silver lining among the dark clouds of users completely ignoring the marketers' mails. The facts mentioned below are a proof for the same.
A latest research on 5.5 million opens reveals the below statistics in this regard :
While 15% Gmail opens happen on desktop email clients, 66% of them happen on mobile devices, with merely 19% in a web browser.
The built-in mail program of the iPhone is the biggest client, accounting for nearly 34% of the total Gmail opens. This is followed by Android at 20% and Gmail's webmail interface at just 19%
Tips to Perfect Email Marketing with Gmail's New Tabbed Inbox
Even though along with the negative impact that the new tabbed system Gmail will cause the marketers, there are a few things they can be happy about. Having said that, it still does not completely diminishes the chances of all the ways in which it will affect the marketers badly. And to avoid those, there are a few things that a marketer can do in order to not lose the user's attention and get deleted being thought of as spam. There are still a few ways through which the marketers can fight their way back into the primary section of the inbox.
Generate response from your audience. It is necessary to start a consistent and straight forward engagement from your audience.
Realize your audience your worth and request them up front to move you into the primary section of the inbox. But in this process you have to make sure you keep up your standards and do not disappoint your users. You have to prove it to them that it was not a bad decision because it will not take them long to stop ignoring your mails and not considering your mails at all.
To make your mails more appealing it is vital that you write better subject lines. Non-advertising subject lines always have a better effect and the chances that the user will open the mail and consider reading it are more.
No one likes being pestered around. So, it is crucial that you only send an email when it required. Unnecessary mails will not benefit anyone, besides, there is a strong chance it will irritate your audience more.
You can also try to take another look at your lists and decide how to segment it further for hyper-target messaging.
In many cases, the audience does not even want to miss your mails in the first place. So, it becomes your responsibility to help your users out by telling them what all they can do in order to ensure that they do not miss your mails.
And lastly, the most important thing is that your content is so impressive and worth reading and considering that your users take a look at your mails despite any lists or categories. It is completely in your hands that you can build and retain your audience no matter what changes come across your way.
Having said all of that, experts are saying that it is way too early to jump to any conclusions about this new system. It is better that it is given at least 12-15 month to analyze it perfectly and come up with better conclusions. But till then, there is no harm in leaving no stone unturned for your users' attention and your own business.