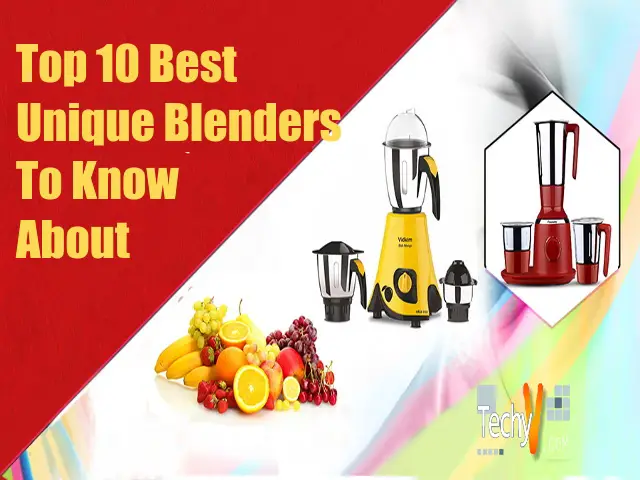 The technology of blenders and mixers are trending nowadays. So many customers have taken cooking to the next level using good brands of blenders that make their process easier and quicker. This way, let us know about the top 10 unique and best blenders that are present.
1. WONDERCHEF NUTRIBULLET:
Wonderchef Nutri Bullet blender is one of the best mixer grinders in the range of bullet blenders. Wonderchef is your choice for making juices and milkshakes. The blender is compact and takes less space to occupy. The superfast motor rotates 20,000 times per one minute. You can also detach the parts while cleaning. It comes with two stainless steel blades to dry and wet grind. Wonderchef Nutri Bullet comes with a non-skid rubber foot.
2. LA VITE:

La Vite blender comes with 3-jars and 2-blades and a compact and sleek design. The mixer has a powerful 380-watts copper motor. The uniqueness of the product is that it has no buttons to operate, so by connecting the blender with power, you twist it and use it. The device gives free recipes to prepare smoothies, chutneys, and juices.
3. BALZANO:

Balzano is a 900-watts bullet blender with 800, 500, and 350 ml jars to mix, chop and grind. The cross blade of the device is useful for grating, blending, and chopping and the flat razor blade is for whipping creams and grinding hard foods. The durable copper motor runs for a long time. Its metallic body is vibration-free when operating. The silicon foot stabilizes the mixer while running.
4. LEE STAR:
Lee Star blender comes with a stainless steel body and 400-watts motor for blending. The mixer includes 500 and 300 ml unbreakable jars. The blender is perfect for grinding coffee beans and blending toddler foods. The product is affordable also.
5. SPHERE SPICE MAX:
The Sphere Spice Max is a multi recipe maker and a bullet blender with traditional features of mixer grinders. Its multi-function system allows you to mince garlic, grate cheese, and chop onions just in 3 seconds. The high-speed 400-watts motor reaches the speed of 22,000 rotations per minute. Push start and lock system make it easy-to-use.
6. NUTRI BULLET PRO 900:

The ergonomic high-torque power Nutri Bullet 900 is fast and efficient to blend tough ingredients in a short time. The product's pro extractor and cyclonic blades are sharp enough to chop fruits and vegetables finely. The rotational speed of this Nutri Bullet is 25000 RPM. The device is not suitable for mixing hot foods.
7. MAGIC BULLET MB4-1049: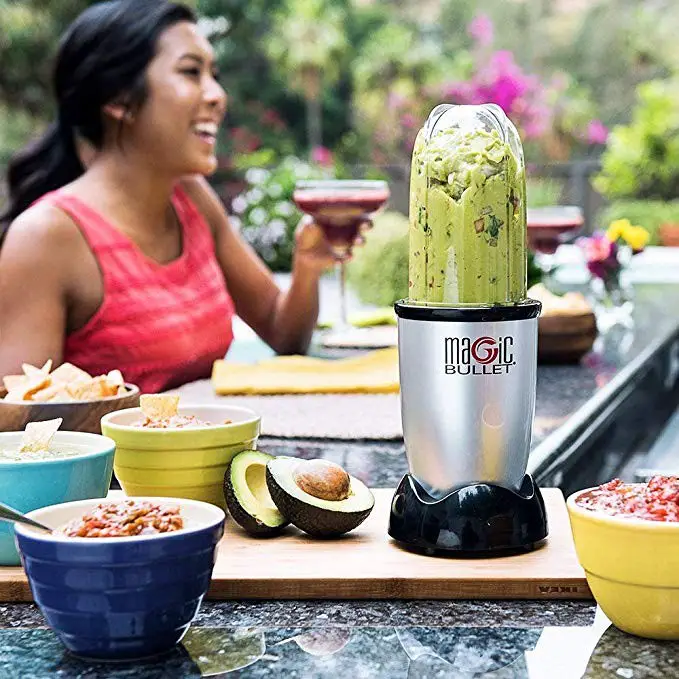 The silver color Magic Bullet Blender is the best smoothie mixer to have. The 532 ml Magic Bullet comes with a powerful 400-watts motor, cross blade and flat blade for grinding and chopping, and with two cups and lids of 355ml and 532 ml. Just connect. The parts of the product are washable and even safe for the dishwasher.
8. NUTRI BULLET NBR 1212 M:

Nutria Bullet NBR 1212 M comes with 12 parts to provide the facility to shred, grinds, chops, and blends. There are two small jars with one big jar that has a capacity of 700 ml. The six-wing blades are cyclonic and blend smoothly in seconds with its hard quality blades.
9. WHIP SIP PERSONAL BLENDER:
The lightweight and compact Whip Sip Blender is portable and has a 350-watts motor for giving tasty smoothies and shakes. The four-leaf stainless blades are sharp and blend foods finely. There are three different sized jars available with leak-proof lids.
10. BMS LIFESTYLE BLENDER: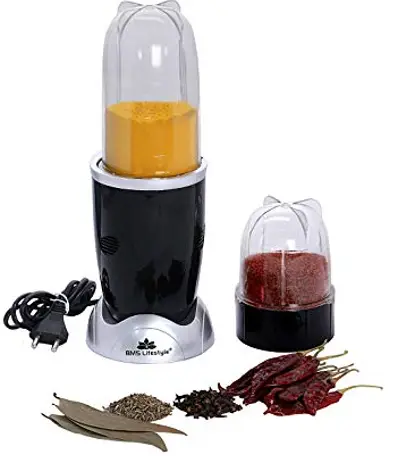 As the BMS Lifestyle Blender is lightweight of 1.2 kgs, its storage space is less than the other blenders. The powerful 400-watts motor provides a fast and a fine blending. The jars of the product are durable and washable. You can even crush ice powdery with this device.