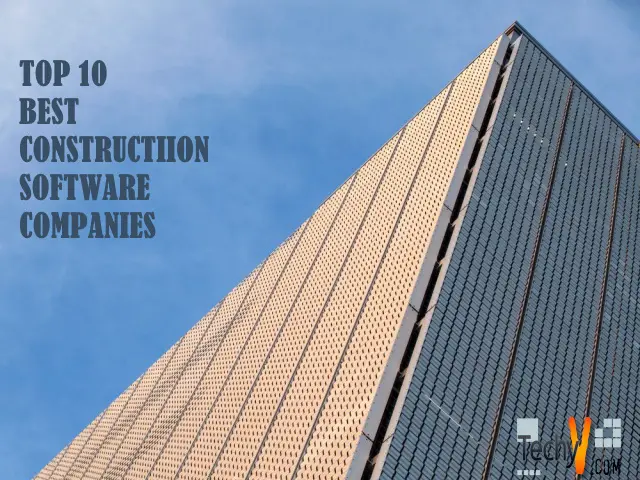 Construction software companies deploy various software which helps the ground level staff in any construction process. From contract management to scheduling, everything has software. Here, let's discuss the top 10 best construction software companies.
1. Procore Technologies
Procore Technologies is a construction project management company founded by Tooey Courtemanche in 2003. They provide products for preconstruction, project management, resource management, training management, analytics, and financial management. They sell their products in three bundles. Some features provided are unlimited users, unlimited documents & data, and unrivaled support.
2. PlanGrid
PlanGrid is a construction software company founded by Tracy Young in 2012. Their headquarters is in San Francisco, USA. Their product provides features like BIM, punch lists, sheet compare, tasks, field reports, security, and admin console. They have three types of pricing options with extra features like unlimited projects, photos, and documents.
3. CoConstruct

CoConstruct is a company founded by Donny Wyatt in 2004. Their product provides benefits like client communication, job log, budget tracking, invoice clients, jobsite activity tracking, single-entry estimating, streamline bidding, and order tracking. They have four pricing options.
4. Houzz Inc.
Houzz Inc. is a design company founded by Adi Tatarko and Alon Cohen on 2nd June 2008 in California, USA. Their product mainly focuses on design & renovation and home improvement. Their website is an online community for professionals in the field of home design. They have over 17 million users.
5. MOCA Systems
MOCA Systems is a software development firm for the construction industry founded in 1999. They provide services like planning & programming, owner's representative, project controls, and technology & software. They have worked on projects like California Capitol Annex, Wyoming State Capitol, Canyons School District, and Spanish Fork Life Center.
6. Autodesk
Autodesk is an American company founded by John Walker and Dan Drake in 1982. Their products range from architecture to entertainment. Their Auto CAD software provides features like drawing history, blocks palette, cloud storage, quick measure, purge redesign, shared views, and revision clouds. The software is available in monthly and yearly plans.
7. HCSS
HCSS is a construction software company founded in 1986. Their products are HeavyBid, HeavyJob, HCSS Safety, HCSS Telematics, HCSS Cloud, and HCSS Intelligence. They have a software in the field of estimating, bidding, operations, and fleet. They have monthly and yearly plans for their products.
8. Esticom

Esticom is a company that provides project management and estimating software. They have their footing in trades like electrical, HVAC, security & fire alarm, painting, plumbing, fire sprinkler, and structured cabling. They have three bundles with additional features like unlimited projects, documents, and support.
9. ExactLogix

ExactLogix is the company behind Acculynx software founded in 2008. Their product provides features like CRM, estimating, aerial measurement ordering, lead API, project management, customer portal, and reporting.
10. RedTeam Software
RedTeam Software is a software company founded in 2006. They offer services like business development, project management, field management, financials, collaborative console & metadata, and team management. They have a yearly plan with some extra features like platform and accounting integrations.