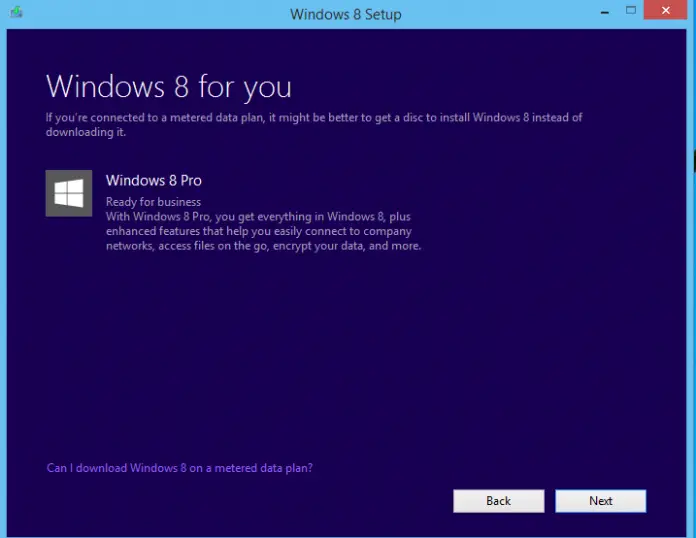 Don't have an MSDN or Technet account? Are you one of those who want to update to Windows 8.1 on multiple machines? Here is a simple tip that you can use to avoid downloading the update on each system. With this, you can just download the update once.
This tip is to create your own installation media for Windows 8.1. This way, you will just connect the USB stick to each machine without having to re-download the same update process over and over again. Also, while you have the chance to make downloading easier for you, you can also use your Windows 8 product key to get the Windows 8.1 Update.
To do this, do the following steps below:
1. Go to Microsoft website to download Windows 8.
2. Click the "Install Windows" button below.
3. Enter your Windows 8 product key. Ensure that you will choose the bits based on the version that you purchased. And click Next.
4. You will be prompted with the similar screen below:
5. Once the download process started, close the Installer Assistant by clicking on the X button.
6. Go back to the link mentioned in step 1 and then click the "Install Windows 8.1" button and download the latest Installer Assistant and run it. You will receive an error that stating that the "Download is interrupted". Just close the error message and then run the file again. The Windows 8.1 will now start downloading.
7. When done with downloading, you can select to install the Operating System or you have the option to "Install by Creating Media". This will let you make your own USB or DVD Install media in ISO format.
8. Then, select the USB Flash Drive from the list if you want to install it on USB stick or you can also choose to install it on a blank DVD.
9. Click Next until you finish the process and once done, you can now use the USB stick to install the Windows 8.1 Update.
This tip won't work for Windows RT 8.1 Update since Microsoft already pulled the said update from the Windows Store. Also, the steps above can also fix the error shown below:
Insert media
Some files are missing. Your Windows installation or recovery media will provide these files.
There is no install media provided from Microsoft when they released the Windows 8.1 Update, so users won't be able to refresh or reset their machines. But since they can create a USB install stick for Windows 8.1 Update, users can use this to fix the "Insert Media" error. This media will let you Reset your PC. Just boot into setup and then Repair your computer and follow the instructions on resetting your computer. This is very useful since Microsoft did not provide any ISO files for their paying customers.