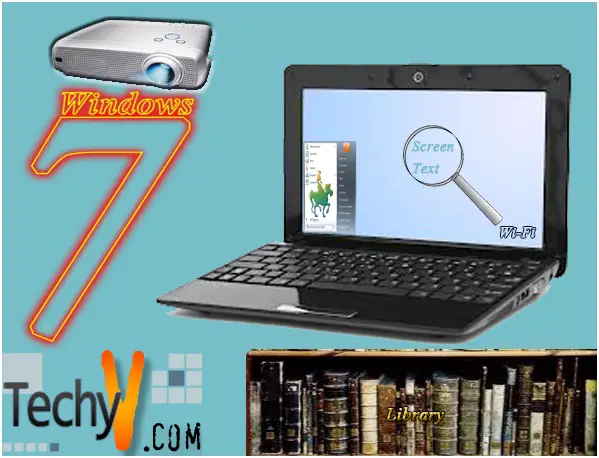 Windows 7 Tips Life is nothing without technology, and when it comes to technology the computers are at top. Windows 7 with all versions are currently being used by major part of computer users. Windows 7 tips are used to save the precious time of users, it provides the efficient and quick way to manage Windows 7.

A tip provides very good solution for small queries and problems of users.
There are many scenarios when users have options to use Windows 7 tips. Command prompt is basic function of every operating system, and so in Windows 7. In other Windows, users have to use "run" command or regular way from start menu accessories, but now with Windows 7, users are able to open command prompt in every folder. Following are the best ten tips for Windows 7:
Switch to a Projector
Calibrate Your Screen
Enable Virtual WiFi
Fault Tolerant Help (FTH)
Create New Libraries
Add Videos to Start Menu
Pin Control Panel to the Taskbar
Open Command Prompt in any Folder
Adjust Screen text with Clear Type
Customize the Power Button
Switch to a Projector:
This tip of Windows 7 allows the users to switch their display from one monitor to the other monitor or a projector. There is a shortcut for this activity, users only have to press Win+P or they may run it by using displayswitch.exe command. This tip will prompt the users to choose the best display.
Calibrate Your Screen:
Every computer users like to have the best look of their desktop including its colors, brightness, and screen resolution. Normally, colors effects directly depends on monitor quality but with Windows 7, users are able to set colors, brightness effects, its contrast and much more by using wizard of display color calibration.
Enable Virtual WiFi:
This is a new feature included in Windows 7, WiFi virtually works with this operating system. It provides a router which works as a software and enables the users to connect PC with any WiFi enabled device for transferring the data.
Fault Tolerant Help (FTH):
This is new and very intelligent tip or feature of Windows 7, it is used to check and look all kind of unstable processes. Fault Tolerant Help detects all unstable processes and then fix it with appropriate actions. It is really helping to keep running the Windows 7 with good health.
Create New Libraries:
As every Windows has some default libraries, so Windows 7 do have too i.e. Videos, Music, Documents, and Pictures. But Windows 7 tip for libraries provide the easy way to create new libraries as per user's requirements.
Add Videos to Start Menu:
This tip is useful to add all kind of videos in start menu of Windows 7. Users may give the links to videos or may create shortcut to videos by using Add Videos to Start Menu tip.
Pin Control Panel to the Taskbar:
Now users can pin control panel with the task bar by using Pin function. As there is no other way to pin control panel with task bar. User can do it by opening control panel then with right click on the task bar and again click on "Pin this program to taskbar".
Open Command Prompt in any Folder:
Windows 7 is only operating system which provides the facility to open command prompt in any folder. While working with Windows 7, user can see this option by right clicking in any folders Windows. This gives the easy access to command prompt.
Adjust Screen text with Clear Type:
This tip is used to have clear type tuner for Windows 7 desktop. It provides the best and neat look to desktop screen or monitor screen. Users can use it by running "cttune.exe" command.
Customize the Power Button:
In some scenarios users have to restart their PC many times in a day, it is usually happened with System Administrators as they have to install and re-install different software and hardware which usually required restart to get effected. So, in this case user can choose and change power option from shutdown to restart.