10 Common Windows 8 Errors
Windows – for years – has frustrated users with error messages that usually not only do not provide the proper information to troubleshoot errors, but rarely provide enough information to describe the error. Below are 10 common errors you may receive in Windows 8, as well as steps towards fixing the issue at hand:
Error Code – 651
Error 651: The modem (or other connecting device) has reported an error.
The error code 651 was a well-known bug that existed in Windows 7, and is also present on Windows 8. This error is received when you attempt to connect to the internet via a PPPoE connection.
To fix this error, simply replace the raspppoe.sys file located within your Drivers folder in the System 32 folder with this one. Simply navigate to the folder by opening the system drive (usually C:), open the Windows folder, double-click the System 32 folder and open the Drivers folder. Before replacing the raspppoe.sys file, you should back up your current file by renaming it to raspppoe_old.sys, copy the downloaded file, and restart your computer.
Error Code – 0X800F0922
Windows could not start the Network Policy Server service on Local Computer.
Error 0x80072afc: The requested name is valid, but no data of the requested type was found.
This "rare" error code seems to be plaguing a lot of Windows 8 users right now. It is an error received while trying to install Microsoft .NET framework 3.5 or other versions of the .NET framework. The two major underlying issues include a virus-contaminated computer or registry errors.
First, try installing the .NET framework via Windows Update. If this doesn't work, you should run a virus scan to determine whether your PC has a virus that may be causing this issue. For more information on how to remove a virus, please go to the following website: https://www.wikihow.com/Remove-a-Virus.
If your scan brings up no results, or doesn't fix this issue, then next scan your registry for errors. CCleaner, a freeware utility that cleans your PCs junk files, also has a built-in registry scanner. You can find an overview, review and download for CCleaner at the following link: https://filehippo.com/download_ccleaner.
Error Code – 0xc004c008
The following information was found for this error:
Code:
0xC004C008
Description:
The activation server determined that the specified product key could not be sued.
This is an error that first occurred in Windows 7, which occurs when users try to use an upgrade disc on the same OS that is installed on the computer to upgrade to a different version. In Windows 8, this error is back, but with a very simple solution.
First, press the Windows key + X, select the System option from the list, and click on the link titled Get more features with a new edition of Windows from the Windows Edition section. Click on the I already have a product key option and enter your product key. This should then complete the upgrade process.
You can also choose to activate your product key by phone. First, open Run (Start Menu -> Run) and type inslui.exe 4 and select your country from the list. Once selected, a window will open with the phone number you need to call to activate your copy of Windows.
Error Code – 0x0000005D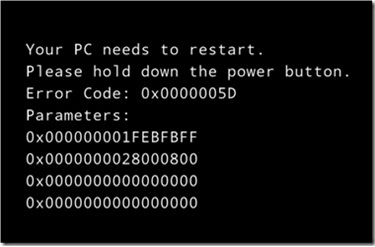 Your PC needs to restart.
Please hod down the power button.
Error code: 0x0000005D
This is a common error that is received when trying to install or run Windows 8 on older computer systems. This is mostly on computers with Pentium 4 processors, which indicates the issue lies within the age of the processors.
Because Windows 8 is newer – and therefore requires newer hardware – computers with Pentium 4 processors are not able to run Windows 8. The "solution" – since there is no work-around for this issue – is to either downgrade to Windows 7 or buy a new processor or computer.
Error Code – 80246003
Windows 8 seems to have many issues when it comes to the Windows Update feature. Some users may experience this error when trying to install updates, in which usually no updates are installed. There is, however, an easy work-around – tedious as it may be.
First, open your Start Menu and search for updates, choose Settings and select Install optional updates, or alternatively click Check online for updates from Microsoft Update and select Review important updates to see which updates are needed. Now, visit the Microsoft website and search for your updates. For each update, you must install them individually and restart in-between each installation. Tedious as it may be, this is the most effective work-around to date for this error, as well as many other Windows Updates errors.
Error Code – 0xC004C4AA
Windows couldn't be activated.
This is a common error received when users are trying to upgrade their Windows 8 to Windows 8 Pro with Media Center edition via the Add Features to Windows 8 app. This is due to the fact that you can only active this upgrade on PCs that had Windows pre-installed, or if the OS was acquired via the Windows website or retail store.
To fix this error, simply reinstall Windows 8 with the genuine product key. If you did not receive a disc and product key with your computer, it may have been emailed to you at the time of purchase.
Error Code – 80096002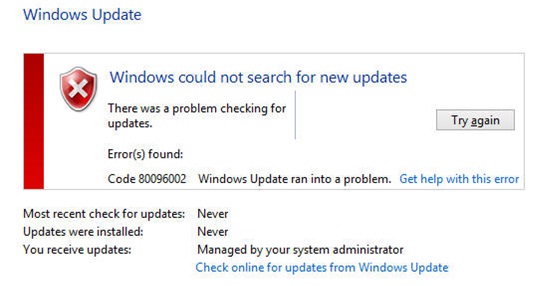 Windows could not search for new updates.
When trying to update Windows 8, you may receive this error message. This is caused by a missing Knowledge Base (KB) Article, in particular, KB 2734608. It seems that the Windows Server Update Services (WSUS) sometimes don't automatically download KB 2734608, even when WSUS is set to automatically update.
To fix this error, simply download and install the KB. You can find the offline installer, as well as directions and more specific issues relating to this error and KB at Microsoft's website
Error Code – 0x800F0906
Windows couldn't complete the requested changes.
Sometimes when turning on Microsoft's .NET framework 3.5 in Windows 8, you will receive this error message. It seems this may be caused by a corruption within the .NET framework from the installation disc.
This can easily be fixed by mounting or placing the physical copy of the Windows 8 installation disc into the disc drive. Then, open the Command Prompt, running it as an administrator, matching the drive letter of the ISO or DVD disc and typing the following command:
dism /online /Enable-Feature /FeatureName:NetFX3 /All /Source:E:SourcesSxS /LimitAccess
Once completed, your .NET framework 3.5 (as well as 2.0 and 3.0) should be enabled. To verify this, open the Windows Features window to check and see if it worked.
Error Code – 0x80073cf9
Something happened and this app couldn't be installed. Please try again. Error code: 0x80073cf9
This error can be received when downloading apps from the Windows Store, resulting in the inability to install said apps. The dialogue box only contains options to Try Again or Cancel installation, meaning no in-OS support from Windows.
The solution may be to just fully restart your computer, or the issue may go deeper. If a restart doesn't work, make sure your App licenses are synced, try reinstalling the app, download and run the Modern UI Apps troubleshooter, or if all else fails, a fresh install of Windows 8 may be in order.
Boot Error – Code 0xC000000E
Windows failed to start. A recent hardware or software change might be the cause.
Commonly caused by a corrupted Boot Master Record, this issue can be quite complicated to fix, depending on what is causing the issue. The first step you should take is to unplug all unnecessary peripherals from your computer (so everything but your mouse, keyboard and monitor). If this solves the issue, then plug each additional device back into the computer to find out which device is malfunctioning.
If the above steps do not work, then you could try to update your chip-set driver, by visiting the manufacturer's website and downloading the latest driver, or by using DriverEasy, which will scan your computer for all drivers – including the chip-set driver – and scan the internet for updates.
If you are still experiencing the error, you can use the Windows 8 Start-up repair to try and fix the Master Boot Record. If this does not help, a system restore from the WinRE (Windows Recovery Environment) may be necessary or a rebuild of your BCD