Windows Mobile OSs
Hi,
I received an error on my Smart Phone device.
The story is that I have DPI aware app. All my binaries have resource CEUX/HI_RES_AWARE with value 0x0001.
But while installing cabinet on a WM6 device it keeps saying the following error: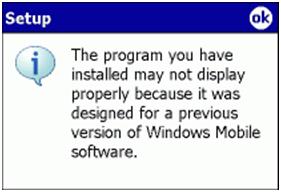 The program you have installed may not display properly because it was designed for a previous version of Windows Mobile Software.
What I have to do to get rid of it?
1059

views

2

answers

20

votes
Hi guys,
I am using windows XP home edition and I have an imate KJam windows mobile phone. I just formatted my C drive and did a clean install. After that I'm unable to connect my mobile with my PC. It was working just fine before the re installation, hence there is no fault in mobile / connectivity cable.
I was using active sync version 4.5 in previous windows installation and using the same this time. Whenever I tried to connect my mobile with the data cable attached to the system, it gives me the following error.

Microsoft ActiveSync
1610

views

1

answers

20

votes
Hello all,
I am new to mobile customization and installation of applications in symbian s60 devices. I attempted to use hello-osx, I signed this application with opda 27 capability certificate. And installed it into my mobile.
Then i tried installing nokia ovi suits but still I am getting error certificate not valid error. Error is same like this error but on my Samsung i8910.
Installer
Certificate error.
Contact the application supplier.
2027

views

3

answers

24

votes