Anti-Spyware
I'm quite fond the world of viruses and spyware from a few weeks ago.
The thing is that I would like to install a keylogger on my friend's computer, right now, but I am not sure if this is legal or not. Is this legal?
I think it is legal because otherwise there wouldn't be this kind of software.
494

views

1

answers

0

votes
Hi guys,
I bought this PC LEnovo G40 recently and now my PC is infected with Malware and rootkits how I don't know. But the problem is to remove malware I downloaded Anti spyware software which is Spyhunter but when searched on web I came to know that Spyhunter is itself a virus software which cannot be trusted. And once it was declared as a bug by microsoft. Please help me what to do now.
682

views

1

answers

0

votes
Hi guys,
Yesterday my PC was infected with malware to which I found solution on Microsoft site to install Spyware 4 and I did install it when I run a scan through it showed 76 bugs I mean threats on my Pc. My PC is just a week old how can it get so many threats in one day. So my question is will spyhunter remove all this threats or it is just fake software?
817

views

1

answers

0

votes
Hi guys,
I want to know that installing anti spyware alone will keep my PC safe from all kinds of virus or I need to install anti virus and anti spyware also. I'm really confused with this regard please suggest me a solution to keep my PC away from all kinds of virus,malware and spyware.
607

views

1

answers

0

votes
Hi friends,
I'm really confused about this problem my PC is getting virus and malware though I don't use internet a lot but still my PC is infected so please tell me which should I have in my PC anti virus software or Anti spyware or can I download both for security concerns. Please help me
625

views

3

answers

0

votes
Hi there,
I meet all the system requirements from the error message below and still it doesn't want to work. I don't know what to do anymore so can put this on work. Any solution ? Can anyone tell me please why is not working ?
Thanks !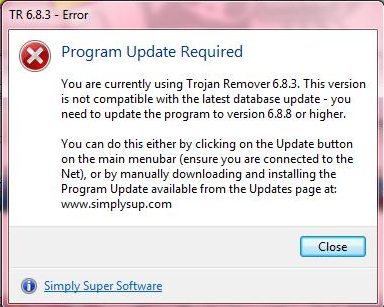 TR 6.8.3 – Error
Program Update Required
You are currently using Trojan Remover 6.8.3. This version
is not compatible with the latest database update – you need to update the program to version 6.8.8 or higher.
You can do this either by clicking on the Update button on the main menubar (ensure you are connected to the Net)
573

views

1

answers

0

votes
895

views

3

answers

0

votes
Hi
I am not able to update MalwareBytes Anti-Malware. Updating gives the error 'This program is blocked by group policy. For more details information, contact your system administrator'. When the automatic update failed, I tried a manual update from the main window. But this too failed. I checked my policy settings and found that I am the only user with administrative privileges. I also tried re-installing the software and updating again. But again I face the same problem. Please can anyone help me out? Thanking you.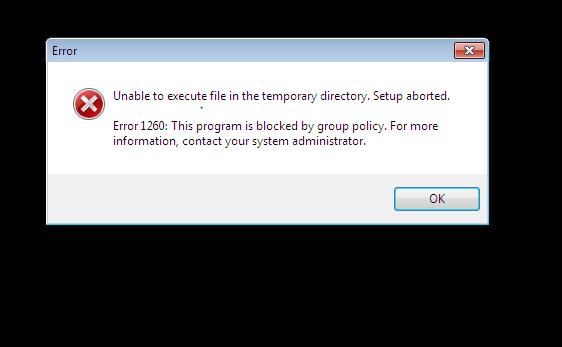 Unable to execute file in the temporary directory. Setup aborted.
1144

views

2

answers

0

votes
Hello Experts,
I am not able to use MalwareBytes Anti-Malware in compatibility mode. Whatever software I try to use in compatibility mode throws the exception given below. I am using windows 7 on my computer. Is this is a compatibility issue? I tried uninstalling all Norton products. But this did not help. Does anyone know if MalwareBytes is incompatible with Emsisoft anti-malware? I have a trial version of Emsisoft installed on my computer. Please help me resolve this issue and also suggest an antivirus to use with MalwareBytes. Thanks in advance.
711

views

1

answers

0

votes
Hi,
I just bought a new MacBook Pro and would hope to keep it running in good shape. Anyone with any advice on things I can do to avoid inadvertently getting malicious software? Which browser is the best? Any recommended extensions? Free or cheap anti-virus software I can get. Programs or websites I should definitely avoid etc.
758

views

2

answers

0

votes