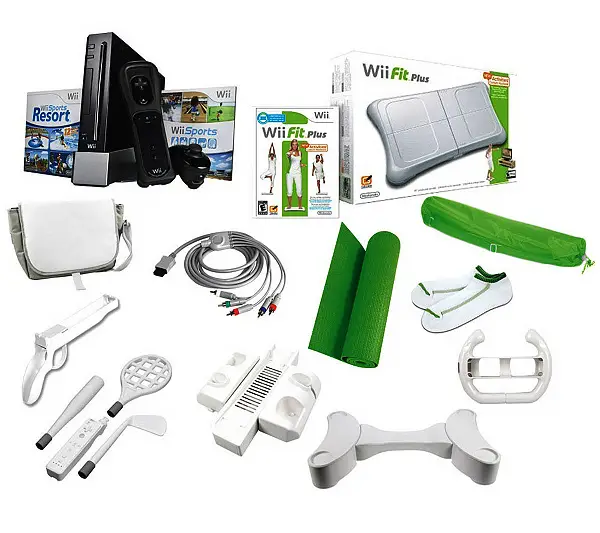 Top 13 New Features of Nintendo Wii Fit Bundle
The Nintendo Wii Fit Bundle is a fitness device that comes with the following new features:
1. Wii controllers- playing together are all what Wii entails. The bundle contains 2 Wii remote plus which has the latest motion. A single controller set allows only one person to play the game at a time, but two sets will allow several members of your family to play together.

2. Silicon protection cover for fit board- Wii fit sleeve is responsible for protecting your balance board and cushioning your feet to prevent accidental slips. The silicon protection cover keeps your board clean giving it an impressive look.
3. A balance board- this makes the exercise fun since it's compatible with many Wii fitness, sports and action games. For instance, you can play dancing games, do yoga, and walk on a tight rope and others. It also allows you to control on-screen actions with body movements.
4. Remote charge station and two rechargeable batteries- every Wii remote uses two AA batteries that last almost 16 hours. The charge station offers batteries equivalent to 4000. This eliminates the need for replacing batteries and makes sure that your remotes are always ready to use.
5. Wi-Fi connection- Wii Nintendo allows you to connect over the internet and browse as you play around. With an internet connection you can chat via social media, share and send photos and messages, watch TV shows and movies online and buy and download other games from the Wii shop channel.
6. Wii fitness- a feature that helps you in achieving and maintaining the health of your family. It is expensive to pay gym membership fees so Wii Nintendo brings personal fitness programs and gym in your own house.
7. AV Component cable for Netflix or HDTV- a third party HD cable which gives the sharpest and colorful image for Wii games and movies watched through Netflix. This cable allows you to watch movies and TV shows with the highest quality of video display.
8. Wii fit plus- a feature that brings a combination of fun and fitness suitable for all ages. It is a great way for keeping you active throughout the year and making your family members always engaged.
9. Wii U game pad controller- a new feature in Nintendo Wii fit bundle that includes over 20 games to play. This game pad controller is used in controlling and playing all these games. Get entertained with the Nintendo Wii Fit game pad controller.
10. Fitness multiplayer- a feature that allows you to share the Wii balance board with your friends as you play around. It enables you and your family members to have fun together as a group which makes it more entertaining.
11. Notice: TV Hogs-your TV Hogs should not change your ways, however it can't stop the Wii Fit U. This feature allows you to use the gamepad's screen in performing some of the exercises without a TV.
12. Nintendo TVii- this is a totally integrated entertainment for you and your family. It allows you to enjoy video streaming services and have personal entertainment. It supports all types of dish carriers and satellite.
13. One year warranty- Nintendo Wii Fit Bundle Comes with a free one year warranty making the console to be covered over that one year. If it becomes defective over the same year it was bought, you can get repair or replacement free of charge from the supplier.