Music player software is vast in number. Music is what everyone loves listening to. Many people listen to music while doing their work. Listen to more music while doing your work and get relaxed. Hence, if you are looking for software to use the Windows operating system, then let's take a look at the ten best software that you can use.
1. Spotify

Get access to a world of free music and podcasts you love. Discover new music, and listen to your favorite artists or create a playlist with the latest songs to your mood. Listen to the album, playlist, or play music by an artist on shuffle mode. Spotify gives you personalized music experience and amazing sound quality. You can browse the playlists, discover new music genres, and find out what music is top trending by country, language and, artists. Listen to the music from the free version and use premium features where you can download and play music for offline listening.
2. Winamp

Winamp is a media player software that works in various operating systems like Windows, Mac, and Android. Play music and import music from audio CDs. Burn music to CDs. Winamp is customizable and supports many plug-ins. The various skins available change the look and layout of the player. Using certain plug-ins can add lyrics to the player. Though the free version of Winamp is available, its premium feature has unique features like CD-ripping and many more. Synchronize this music player to iPods. Play various music formats using this player. View the information of the artist in this player. If you're using other applications, you can still listen to music using this software.
3. Dopamine

It is an audio player, which organizes all your music and makes listening to music very convenient. Get to select your preferred language for this player. Select the theme and appearance for this player. Maintain a collection of all your songs. You can rate the songs and use tray controls to control the music. Get notifications about the song that is playing. You can change the size of your player to a micro player or nano player. Sort your songs by album for easier access. You can also sort by date added or created.
4. MusicBee

MusicBee is a music manager and player. Play Podcasts using this. Integrate with SoundCloud. It is a simple and powerful player. The auto-tagging feature is available for you to clean-up your library. Fine-tuning of sound is possible with the 15-band equalizer. Use DSP effects for balancing sound and utilize the high-end audio cards. Listen to music without interruption. Adjust volumes using logarithmic volume scaling. WinAmp plug-ins are supported here to give better music. Synchronize with various devices and this player can convert formats if your device does not support them. Use less storage space for this player. Get music recommendations from the Groove catalog.
5. AIMP

AIMP music player is a free player developed for Windows and Android. Play music in multiple formats. Hear the best quality music using its 32-bit audio processing. Get to listen to internet radio. Various skins are available in their catalog, and its standard skin transformer has 4K and high DPI support. Use its 18-band equalizer with sound effects to listen to great music. Mixing options allow you to cross-mix sounds. The music library allows you to organize your music, and the smart playlist filters your favorite music from all. Multiple playlists allow you to work while it's playing. Search files in this player set an alarm clock for the start time of the selected track. Sleep with music as this player allows auto-shutdown of the computer at the selected time.
6. Foobar 2020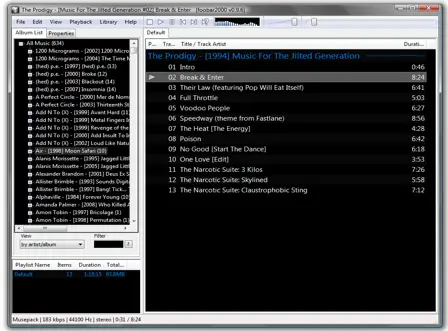 Foobar 2020 allows you to support various audio formats. Easily customize your user interface layout. Perform secure ripping of Audio CDs. Convert music easily as Mp3 using the converter component. High-speed conversions are possible without any malware or virus attack. The simplicity of this player allows you to integrate it with third-party developers to create better functionality of the player. Keyboard shortcuts are customizable with full replay gain support. Its setup dialogue box has a quick appearance and converter settings to make preferable changes. An equalizer window is also available to make changes to music frequency. Select your required colors and fonts.
7. MediaMonkey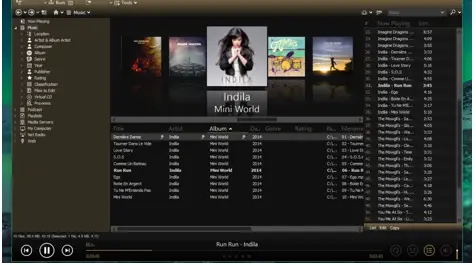 Manage all your media files in one player that is MediaMonkey. Store all your movies and music here and search your music easily. Identify tracks with missing information and fix them using an automatic lookup. Auto-tag add-ons are available to connect to various music sites. Tag your music easily with MP3 tag editor and various other available tag editors. Organize and rename your music in a logical hierarchy for easy searching. Manage playlists by dragging and dropping them into to mix mp3s. Update the changes in your hard drive using file monitor automatically. Download music and podcasts and have a great experience in listening to new music.
8. VLC
The VLC media player is a free platform that plays most multimedia files. Run it on any platform like Windows and Mac. Create your skins with a VLC skin editor. You can even install extensions to customize your player. It is entirely secure as no spyware can attack you, and user tracking is not possible. It has fast hardware decoding on most platforms. Use its advanced control features like video and audio filters. Subtitle synchronization is also possible. Play files even when they are downloading using the peer-to-peer network. You can easily install VLC using a USB or run it directly from it.
9. iTunes

iTunes contains advanced features like following your favorite artists using Ping. Get news on the new release of albums and follow your friends to enjoy music together. Purchase music you want and enjoy them. Auto syncing is available to detect all Apple devices and download that content to your devices from iTunes. Smart playlists are available for you to create a playlist based on genre or rating of a song. Get new songs automatically added to your playlist using a Smart playlist if it matches your parameters. The home-sharing feature allows you to share music between several computers in your home. You can also download movies and videos.
10. Windows Media Player

Windows Media Player allows audio and video playing along with variable speeds. See the visualizations of music while music is playing. It supports various formats. Windows Media Player Mobile is also a new feature. Disc burning and ripping are possible through this player. Connect and synchronize data with all portable devices making this very accessible. Shell integration feature is available to add files to the now playing list. Use its extensibility feature to choose the color themes up to your choice. Online features are available to integrate online music store with this player. Media streaming is also possible by fetching media from another network and sharing it.