Infographics software allows one person to create a graphical visual representation of information. Infographics allow one to present information quickly in an easy manner. Infographic is a collection of images and charts with minimal text. This type of design helps to give an overview of a topic easily. It also helps to engage everyone in what they are reading.
1. Venngage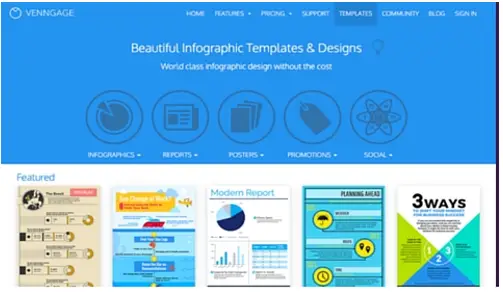 Venngage is an infographic maker that helps you to present your data interestingly. Create your infographics in three simple steps. This software helps you to make processes and data memorable by using infographics. Many professional infographics templates are available in this software. Choose one of these templates and start presenting your data. Add charts and visuals to enhance infographics. Customize your design by making changes to fonts and colors.
2. Canva

Canva is an infographic software that allows you to create stunning designs. You can create a team on this software and collaborate with them from any device. Invite your team members and choose the access permission for them to start creating your infographic. Create multiple teams for different projects. Give texture to your designs. Use photo filter and transparency options in your design. It is easy to crop images too. This software is available on mobile devices for free.
3. Infogram

Infogram is an infographic software that allows you to create engaging designs. Create reports in minutes using this software. This visualization tool is intuitive and allows everyone to create beautiful designs. Download what you create and share it easily. Publish your work online too. This software contains many templates that you can use to create your work. Include animations and charts in your design. Restore an earlier version of your work from the history in this software.
4. Vectornator

Vectornator is an infographic software that allows you to make complex data into a simple form. Understand visual details using infographics. View the videos on the website of this software to learn how it works. It has many features like a pen tool, isometric grid, masking objects, Boolean operations, and many more. Learn how to use this software using the manual.
5. Creately

Creately is an infographics software that allows you to collaborate with your team to work on any design. Sketch your concepts and analyze processes using infographics. Create diagrams to think visually. This software contains thousands of smart shapes to include in your design. Apply to format and make changes quickly using the toolbar available. Use themes and styles available in this software. Export and share your documents in multiple formats.
6. Animaker

Animaker infographics software allows you to make different types of video infographics. Animaker is the right tool to make your infographic as it contains features like animated maps, diagrams charts, and many more elements. Many templates are available in this software. Choose one of the templates or you can combine two or more styles to make your design. Export your videos on any platform like Youtube or share it on Facebook.
7. Easelly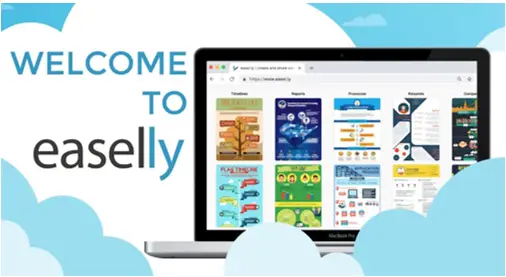 Turn your text into information using Easelly, which is an infographics software. Create reports that everyone will read and make your presentations engaging using such software. Make others understand your product through your design. Make resume more interesting. Customize the library of this software to contain icons and charts. Upload your images and swap visuals using the drag and drop option. Download your infographic in any format and embed it into any webpage.
8. Design Wizard

Design Wizard allows you to create infographic videos and images in minutes. Resize your design, upload fonts and photos using this software. Customize color palettes and personalize your work using this software. The content of this software will inspire you to make incredible designs. The library of this software contains many illustrations and graphics. Watch the demo video on how to use this software. The video and image in the library of this software are licensed and protects you from copyright complications.
9. Piktochart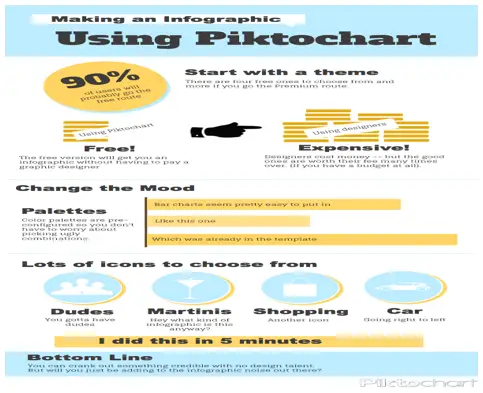 Picktochart is an infographic software that is an all in one visual content maker. Start working on this software for free and get a demo on how to use this software. You do not require any training to use this software. Start using a template and get a professional-looking presentation. Drag and drop a screenshot into your design and customize your color palette.
10. BeFunky

BeFunky infographics software allows you to create amazing visuals. It helps to simplify complex ideas. The infographic templates available in this software are customizable. Design infographics using four simple steps in this software. Select a template and customize your theme. You can add images and design elements to your design. Personalize the text and layout. Save your project and export it to get your final design.