Financial risk management implies identifying any type of risk in advance, analyzing the risk, planning the precautionary measures, and lastly, implementing them to make your financial life more simple and effective. For example, you can't consider the fixed deposit as the risk in the financial domain. But, the risk can be considered if you invest in any equity. There are a large number of risks occurring in financial management and investment. The risks include market risk, liquidity risk, concentration risk, credit risk, reinvestment risk, inflation risk, horizon risk, longevity risk, and foreign investment risk. There are several financial risk management software tools. The following are the top ten software for financial management with their features.
1. D&B Credit:

D&B Credit is one of the top financial management software tools used widely for managing financial risks. D&B in the D&B Credit stands for Dun & Bradstreet. This application is very smart in keeping an eye on accounts, credit risk monitoring, portfolio monitoring, The features of the D&B Credit include charts and graphs for risk monitoring, building relationship with the right partners, a modern interface, advanced analytics, world-class data, a multi-language platform, customizable alerts, regular updates, intelligent assessment, easy-to-use analytics and scores, relevant information, enhanced of concepts, and many others. This application can work smartly in making credit-decisions, tracking accounts, and monitoring portfolios.
2. FactSet:
FactSet software tool for financial risk management is one of the flexible and robust applications used across the globe. These application assists users in making smart decisions by analyzing risks. The features of the FactSet software include integrating risk analysis in the investment process, aligning risk models with the investment process, decomposing risk, creating optimal portfolios, pinpoint vulnerabilities across all portfolios, maintaining compliance with shifting regulations, answering complex questions with unique data, focusing on risk; rather on data processing. Factset is an award-winning solution to financial risks. Additionally, it also enables users to identify investment opportunities, stress test investment ideas, and build resilient high-performing products.
3. RiskAlyze: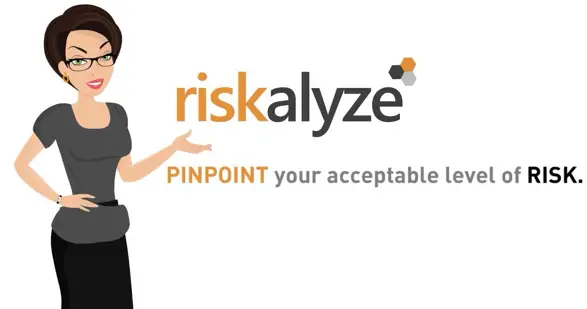 RiskAlyze is yet another fully-featured and award-winning solution for managing financial risks. This software tool is used and trusted by more than 20,000 advisors and investors throughout the world. The features incorporated in this application make the risk management process more simplified and easy. The RiskAlyze software includes features, like risk assessments, portfolio risk, retirement maps, stress tests, meeting, check-ins, lead generation questionnaire, investment policy statement, risk or reward heatmap, mobile-friendly, RiskAlyze GPA, various scenarios, detailed portfolio statistics, individual security analysis, timeline, advisor marketing kit, retirement plans, and asset synchronization. This tool comes with three plans, RiskAlyze Select, RiskAlyze Elite, and RiskAlyze Enterprise.
4. SmartRisk:
Another popular and one of the most trusted applications for financial risk management is SmartRisk. This software is best suited for financial advisors to answer better solutions to their clients. It is combined with marketing advisors and experts that make your business more simple and productive. It is a cloud-based application. So, users can use it anywhere from any device. The features of the SmartRisk include market risk management, portfolio management, portfolio modeling, reporting, risk analytics, stress tests, etc. This application comes with the training module. It incorporates webinars, documentation, and live online assistance for training. The price of this software is $49.99 per month for each user.
5. FARIN Foresight:

FARIN Foresight is another financial risk management software tool that provides the best solutions to many businesses by experts and advisors. The features of this application make the process of identifying the risk, analyzing it, and taking precautionary measures more simple and easy. The features incorporated in it are high assessment levels of risk exposure, budgeting, and planning tool, unlimited chart of accounts, graphing capabilities, extensive reporting, income at risk, market value calculations, ramps, and yields curves, develop contingency funding plans, stochastic analysis capabilities, data extracts accepted from various sources, and many others.
6. MX.3:
MX.3 is a fully-featured risk management software tool used by many businesses and financial advisors. This application is ideal for Start-ups, SMEs, enterprises, and agencies. The MX.3 application offers investment management, project management, risk management, and many other management tools. It is easy to use, has a user-friendly and mobile-friendly interface. But, it is compatible to install on only Android devices and not on iPhones. However, it does not offer any free trial period for new users. For more than 30 years, this software has been used by more than 50,000 users in more than 60 countries. It comes with a training module for beginners. It includes webinars, documentation, in-person assistance, and live online sessions.
7. Kyriba:
Kyriba is especially known as an enterprise financial risk management software tool. It is a cloud-based application with advanced features. This application is a fully-featured tool that provides advanced solutions for identifying the risk, analyzing it, and taking precautionary measures. It enables users to take data from any resource, run data integrity analysis for ensuring the accuracy of data, and easily examine FX exposure and risk. Without using the hedging method, this software enables users to save their valuable money and reduces risk easily. The features of this software include end-to-end automation process, intelligent cost, optimized hedging, automating corporate FX, activating liquidity, etc.
8. Experian Credit Risk:
Experian Credit Risk is another one of the popular financial risk management software tools. It offers the best solution for many challenging business problems. It involves various features in it. They are customer acquisition, customer management, risk management, fraud management, debt recovery, consulting services, regulatory compliance, etc. The risk management feature includes managing risk, verifying applicants, minimizing risk, and managing portfolio risk. It offers the best strategies to lower various types of risks. Additionally, it offers application screening and credit card verification tools for verifying applicants. There is a scoring model that helps users to identify revenue opportunities, accelerate application processing, and boosts collection strategies.
9. AuditGenius:
AuditGenius is another most trusted software tool for quality control and risk management. This application is web-based automation software for effective risk management and quality control. The features of this software include robust reporting, customizable dashboards, analytics, indexing documents, completing checklist items, alerting users, etc. This application also audits and tracks loans, produces flexible reports, identifies loan-level errors, and many others. The reports are made on pre-closing or funding, pre-closing or pre-deliver, collateral, due intelligence, and regulatory compliance. It is more flexible and is the best SaaS risk management platform solution.
10. Openlink Findur:
Openlink Findur is the best trading and risk management software tool. This application is specially developed for large organizations and enterprises. It engages large organizations in capital markets, minimizes risks, and carries out business processes more smoothly by reducing cost. This application is nimble, scalable, and comprehensive that meets today's business requirements. The features of this software include business process automation, risk reporting, credit, and risk monitoring, reports and dashboards, collateral and margin management, document management, accounting, integration tools, treasury management, etc.