Use data wipe software for deleting all data on your hard drive. This method overwrites the data to destroy all electronic data in a hard disk. It makes the original data unreadable. It helps protect your company data as no one will be able to retrieve the data and use it. You can reuse the original hard drive that saves you cost. Verify that removal of data is successful using Data Wipe Software. This software can erase hidden areas in your hard disk and provide you with a defect log list. Identify the bad sectors that you cannot overwrite.
1. BLANCCO DRIVE ERASER

Delete information stored on hard disk drives using BLANCCO. You can even delete information from PC, laptops, desktops, or servers. It is possible to remove viruses from Windows installations. You can even erase data from virtual machines and solid-state drives. Recommend this software for business and organizational uses. Get a digitally signed report to show your erasure reports, and get certification from third-parties. Some of the functionalities include user authentication and license harvesting. Use the global technical support they provide if you need help. Regular software updates are also available for this software. This software is capable of erasing data in live environments without any downtime.
2. DISK WIPE

Disk Wipe is a free Windows application for the destruction of data. Erase all your disk data and prevent recovery of it. If you plan to throw away your hard drives and want to permanently erase your data from it so that no one recovers it, you can use this software. Disk Wipe uses powerful algorithms to fill the volume with useless rubbish binary data to prevent data recovery. This software is free of viruses and portable, as you do not need to install it. It works with portable memory devices like SD cards too. Maintain the privacy of your information as there is no possibility to send it over the internet to steal information. Thus, you can use this software to protect all your data.
3. KILLDISK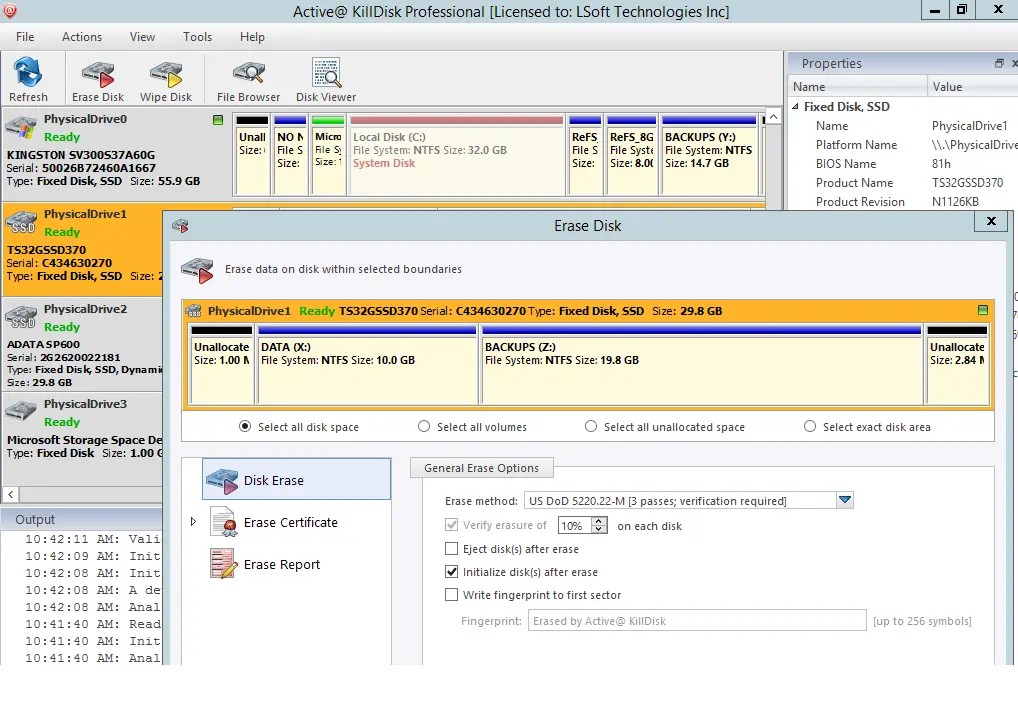 KillDisk is easy to use the software. It helps to permanently erase data from Hard Disks, Memory Cards, and many more storage devices. You can erase two disks parallel at the same time. Use One Pass Zeros destruction method to wipe out unused space on all disks. Disk inspection tools will provide you with an overview of your hard drives. Save a report of your work results as PDF and export it to XML. This software will detect and displays information about all partitions and Memory Cards connected to your computer. It even displays hidden zones in your Hard Drive. This software supports large-size disks too.
4. CCLEANER

Automatically wipe off your data while cleaning using CCleaner. You can manually wipe your data with a drive wiper. Scan and delete useless files to free your disk space. Erase your private data like browsing history and recently opened files. Get to select the type of data you want to delete. You can erase the cache files in other browsers like Chrome. Delete Graphic driver installers that consume a high amount of space. Select options to not automatically clear the browser cache as it may slow down your browser page's loading process.
5. MINITOOL PARTITION WIZARD
Destroy all information in selected disks permanently using Minitool Partition Wizard. Ensure the user's security by maintaining privacy as this software prevents someone from recovering your deleted data. Get rid of unwanted data and clear your disk. Choose one of the five wiping methods available. Choose the wiping method that costs more time to get higher security for your data. This software has an excellent user interface. Install this software online to get your data wiped. Use this software with Windows operating system. It has free and paid versions at different costs. Use its other features like data recovery and space analyzer to get benefitted.
6. PCDISKERASER

Get PCDiskEraser software for free to erase your data in hardware permanently. You can burn this software into a disk or transfer it to a USB to use it. Professional data erasing standards are also available in this software. This software runs before computer boots up. Select the disk you want to erase and immediately start the shredding of data. Reuse your hard disks with the help of this software. If you are planning to sell away your computer, then this software will make sure all your files get deleted.
7. CBL DATA SHREDDER
Eliminate the chance of retrieval of your data stored in the hard drive by anyone through CBL Data Shredder. Use the instructions in the guide to learn how to use this software. Different levels of security are available for different erase operations. Define your method to erase a drive using this software. Clear your drive simply and quickly. Select a bit patter to clear your drive and the number of times to repeat this pattern. Get this software in any version of the Windows operating system. Use any one of its three Disk Operating System packages available.
8. ERASER

Eraser is free software that works with various versions of Windows. Use this advanced security tool to remove sensitive data from your hard drives. You can overwrite your hard disks several times with selected patterns. You might have saved some data on your computer for easy reach. However, when the time comes, you will have to delete it to maintain privacy. In such situations, use Eraser to delete your data permanently. You can erase files and folders using this software. Refer to the video available on its website to learn how to erase your files using this software. Delete your unused space too. Schedule your data destruction with Eraser.
9. SUPER FILE SHREDDER

Super File Shredder is a free desktop application to destroy unwanted files. Choose between five different shredding algorithms. Maintain your files confidential as you can permanently delete them. The restoration of data is also impossible. Use this simple and powerful program to maintain user privacy. Use files with random series of binary data multiple times to overwrite the details. Though the process of overwriting may take some time, it is safe to use this software. Drag and drop the required files to delete into this software to operate. You can manually add the files too. Use a clear button to remove files you add by mistake.
10. WINDOWS 10 BUILT-IN HARD DRIVE WIPER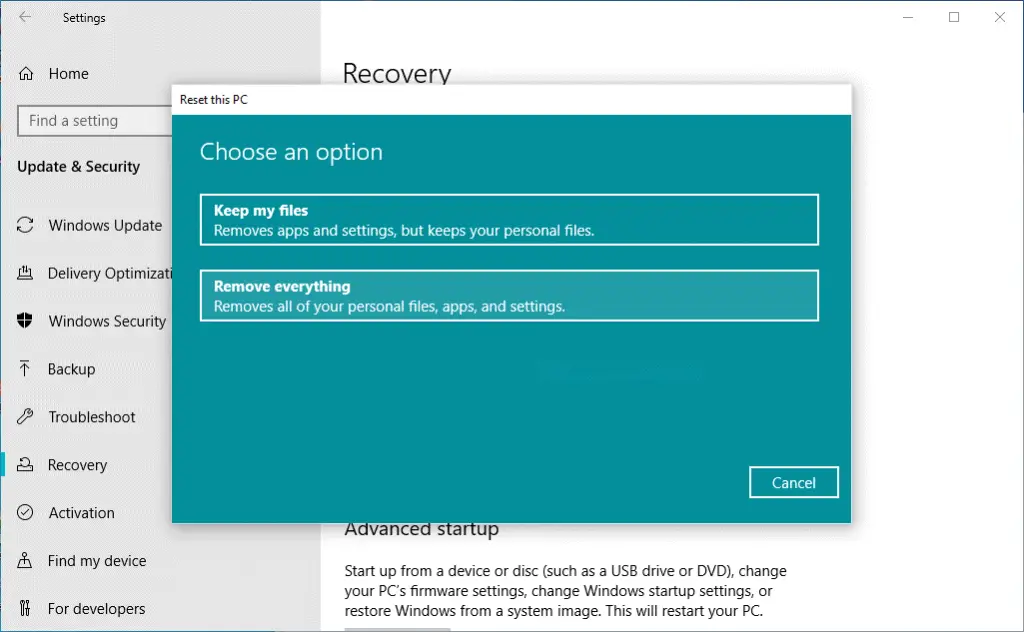 Wipe the drive and reset your PC using the recovery tool in Windows 10. Go to settings and search for updates and security options. In that, click the recovery setup to reset your PC. Before you dispose of your old computers, it is essential to perform this disk wipe process to maintain your privacy. This setting will help you wipe your hard disk easily as you do not need to install software to perform this function. You even have the option to keep some of your files or remove everything. Files are guaranteed to be unrecoverable.