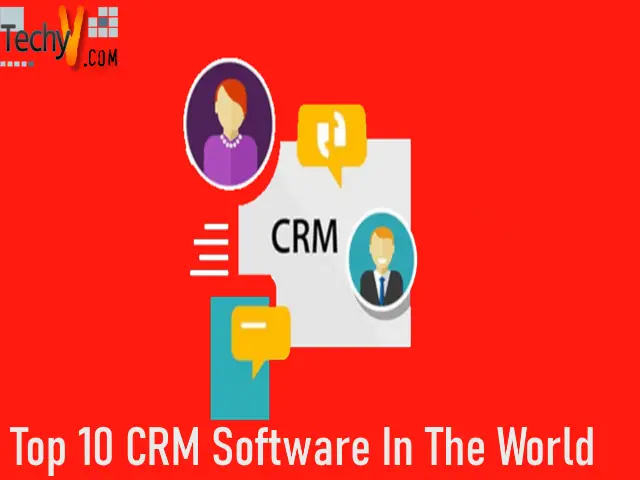 1. Monday.com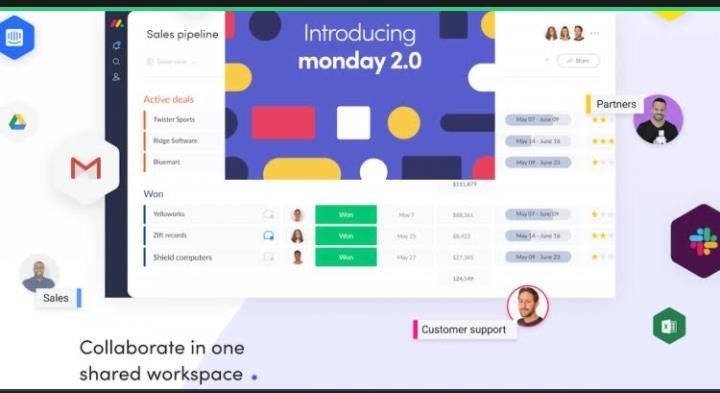 Monday.com is a famous CRM software founded by Roy Mann and Eran Zinman in February 2012. Its headquarters are in Tel Aviv, Israel. This software is used in companies to manage tasks, projects, and teamwork. It helps organizations to simplify their work through various facilities.
Features:
This CRM software helps in the synchronization of data. It gives a platform for teamwork. Monday.com is cost-effective. This software provides a single platform for handling both customers and projects easily. It is mobile-optimized.
Monday.com provided excellent customer support. It stores all the sales history. CRM software also keeps track of the employees' work. It helps organizations to manage their teams efficiently. This software provides various task management and organization tools, thus making the work effortless. It is friendly and versatile.
2. User.com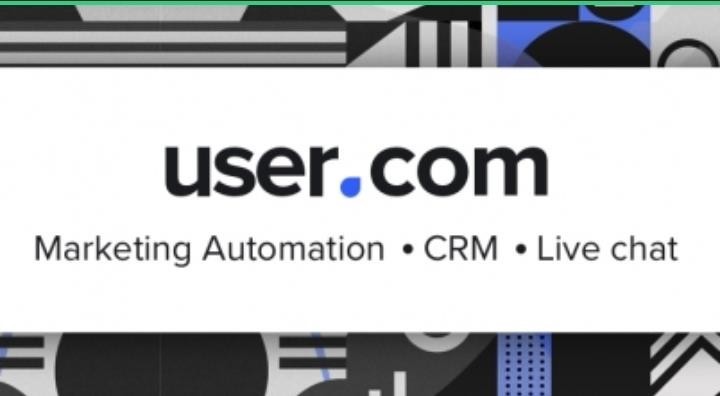 This CRM software was founded by Greg Warzecha and Mike Korba in 2016. The main motive of this software is sales optimization.
Features:
User.com CRM helps in retaining established customers. It provides improved customer service. This software keeps all the transactions transparent, which is appreciated by the customers. The ease of communication, organize data, and customer service are the features of CRM. Automation of business tasks and improved teamwork efficiency is achieved through this CRM software. User.com is cost-effective and is accessible on Android and iOS.
3. Salesflare

It was founded by Jeroen Corthout and Lieven Janssen in 2014. Its headquarters is in Antwerp, Belgium. This software is ideally suited for small and medium-sized businesses. Shakespeare is used by thousands of organizations and fast-growing companies around the world.
Features:
Its features include cataloging, customer support tracking, a self-service portal, email response control, and much more. It provides integrations with many specialized tools. Salesflare helps in organizing your e-mails and other information in a simplified way. It keeps your sales activities up-to-date. The customer support provided software is appreciated worldwide. This software is accessible on mobile phones, which is very convenient for users.
4. CRM Creatio

Its founder is Katherine Kostereva. It was founded in 2002, with its headquarters in the United Kingdom. This software was developed to provide an excellent platform for marketing sales, service, and operations.
Features:
The software provides various tools at a low price. It manages products and processes orders. It is a user-friendly software that provides great customization. This software helps to keep track of the employees' activities, which has seen an increase in their efficiency. Great teamwork is achieved through the software. Creatio provides improved customer services and customer satisfaction which have increased the company's sales. This software is cost-effective. It has the facility of internal chat integration and marketing automation integration.
5. Microsoft Dynamics 365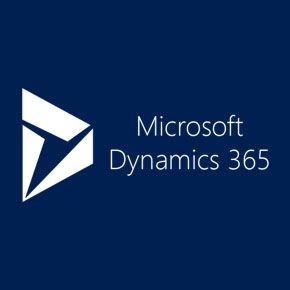 Microsoft Dynamics 365 CRM was developed by Microsoft in February 2018. This software is available in many languages. This software is used for managing a company's interactions with customers.
Features:
Its main features include organization, automation, and synchronization of sales, marketing, customer services, and technical support. It is user-friendly software. This software is customizable and easy to use. Microsoft Dynamics offers services for free up to 6 months. This software has the features of sales forecasting, sales force automation, and sales analytics. New marketing strategies are adopted to increase sales. The personalization of customers is done through this software, which keeps the customers satisfied. Data updates and improved ease of access is provided with the software. This software is available on mobile devices, also for easy use.
6. HubSpot

It was founded by Brian Halligan in June 2006. Its headquarters is in Cambridge, Massachusetts. It increases the productivity of sales by providing various tools.
Features:
Hubspot has many features such as contact management, deal stages, daily dashboard, task management, automated data capture, reporting, and much more. This software makes it easy to track every detail of your business in a short period. It saves you time. It has great customer facilities. It responds to all its customers individually, which makes them feel important. HubSpot assures the safety of your data. It keeps the record of all the activities in one place. HubSpot also offers email and calendar integration. It is available for free but offers more features in its premium version. It has the features of Gmail, Google Drive, and calendar.
7. Salesforce

It was founded by Marc Benioff and Parker Harris in 1999. It's headquartered in San Francisco, California, USA. It is a cloud-based software that specializes in customer relationship management (CRM).
Features:
Its features include contact management, opportunity management, lead management, email integration, sales forecasting, reports, and dashboards. It helps in marketing, sales, commerce, and teamwork. This software improves the relationship with customers, thus increasing the company's profit. It is easy to use. This software provides new ways to help and solve the issues of customers faster. It is accessible on mobile devices. Salesforce is absolutely free. It is popular on social media as well, which increases the company's profit.
8. SugarCRM
This software was founded by Clint Oram, John Roberts, and Jacob Tylor in 2004. It is headquartered in Cupertino, California, USA. It is available in various languages, which are English, German, Spanish, and French.
Features:
Its main features are supporting automation, sales automation, and forecasting, marketing lead management, call center automation, Sugar exchange, cloud deployment, and Oracle support. It has good customization. It provides centralized storage for more workflow. It is appreciated for its unique customer relationships and delivering high-quality customer service. It makes the work effortless. SugarCRM is available at an affordable price. It is very impressive and helpful software. It can be accessed on mobile devices too.
9. SAP CRM
It was developed by SAP SE. Its headquarter is in Waldorf, Germany. It was released in 2008. It supports various languages. It is integrated on-premise CRM software. It is a part of the SAP business suite.
Features:
Its main features include lead management, sales force automation, contact history, contact management, document management, sales reports, time tracking, and pipeline management. It provides various tools. It provides customers with a smooth and personalized experience. The software helps improve your sales, thus increasing the profit. This software is accessible on smartphones and tablets. It promotes teamwork. It makes business processes easy and profitable.
10. Zoho CRM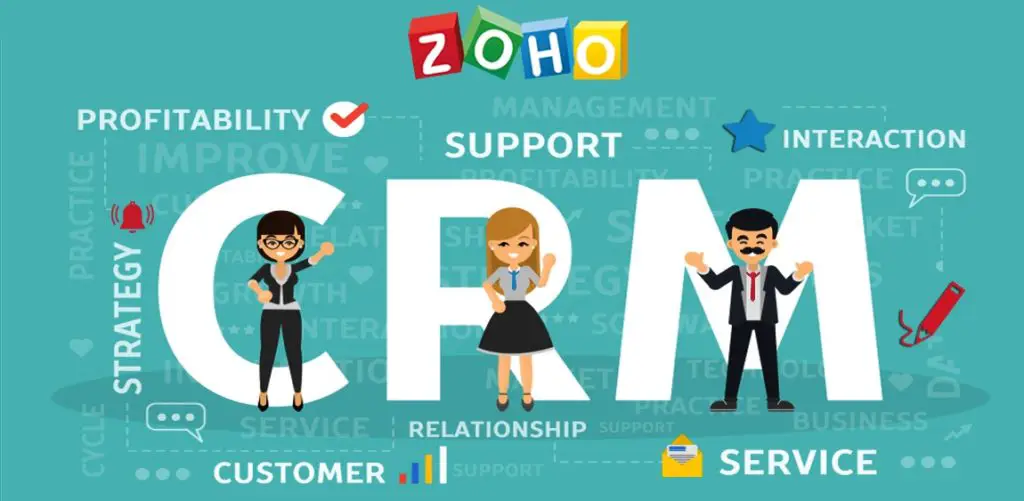 The software was founded by Sridhar Vembu and Tony Thomas in 1996. Its headquarter is in Austin. It is available in 26 languages. It is the best CRM for small businesses. It is cloud-based.
Features:
It is an affordable software with a large number of features and customization options. It has many features, which include analytics mobile app, artificial intelligence, CRM analytics, CRM with e-mail, call customization, and email workflows. It is used to establish long-lasting customer relationships. It helps to connect with their customers for an impressive experience. It provides the facility of live chat, emails, video calls, and much more to communicate with the customers. An internal chat feature is available to facilitate smooth and effective teamwork. This software is completely free up to 3 users; more than three users require a premium version of this software.