Campaign Management Software allows an organization to automate the services provided, like tracking, delivery, and reporting. Integrate customer data sources and parse through the data using analytic searches. Campaign management involves the development of the pricing and sales strategy to maximize profits. This software is sure to reduce the time and enables coordination and monitoring of marketing campaigns. Marketing software used to take weeks of planning to be executed. However, campaign management software introduces automation and completes the planning in hours.
1. Adobe Campaign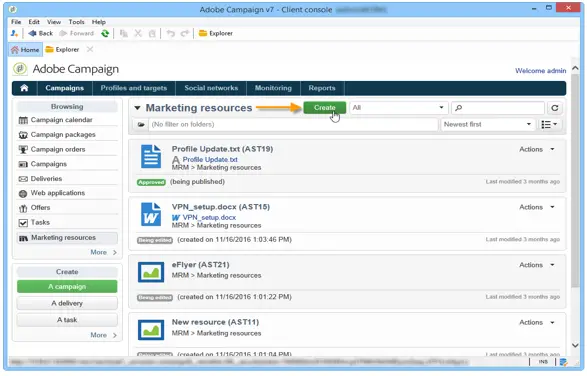 Adobe campaign simplifies processes to manage data. It's simple and intuitive interface allows you to campaign easily. Capture the attention of others by sending contextual messages according to the preference of the customers, which improves the customer experience. Manage multiple campaigns with automation. This software is convenient to use to get into a link with different audiences across all channels. Make emails personal as they are AI-powered. It creates personalized and responsive emails. Create customized reports on a delivery. Mobile marketing is made much easier through this software. Connect with extensive databases easily and create better integration of software. Use customer profiles for the segmentation of data and personalized reporting.
2. Wrike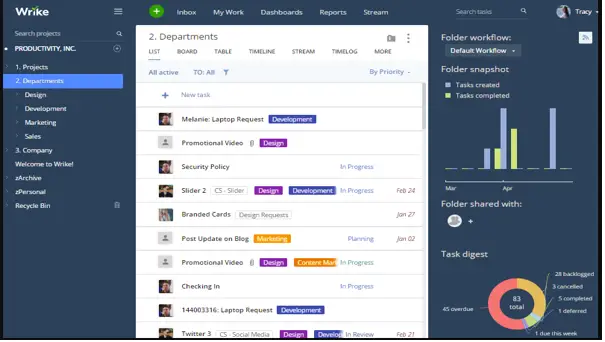 Wrike allows you to consolidate all projects to give an overview of them to everyone. It uses a Gantt chart to analyze the data by viewing where resource overlaps. Communicate in Wrike by sharing data and get to check your schedules. Access all your assets through Wrike. View comments in chronological order for convenience. Break down the campaigns into tasks and assign them to the individual member of the team. Manage files better as they are in chronological order. Use the dashboard to review the progress of the campaign process. Customize your dashboard by adding new widgets. Adjust the responsibility of your team members to help them.
3. ZOHO CRM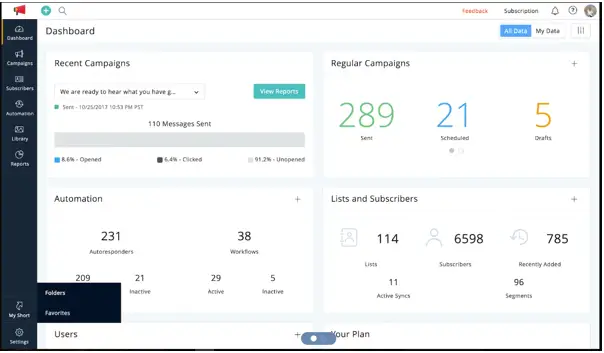 Convert marketing campaigns to sales using ZOHO CRM. Email marketing is the main feature of ZOHO. Small businesses can use the free version of this software. The marketing team in your company can run targeted campaigns to give a lead to your sales team. ZOHO CRM has marketing automation tools. Showcase your webinar campaign information in your CRM window to implement webinars better. Conduct polls in your campaign. Create objective surveys and send them. Find out which campaign words get you more customers. Associate multiple campaigns together using this software. Capture visitor information directly in your CRM. Scan business cards of your leads and keep them in this software.
4. Agile CRM

Agile CRM is software that automates your sales and marketing. Maintain the security of data and avoid data leak. Messaging is also available. Implement Agile effortlessly and get its support at affordable prices. This software provides cloud-based service, which makes it fast and straightforward to use. It is convenient to use in mobile too. Appointment scheduling is possible to share your calendar online and automate scheduling, and project management is much more comfortable. Email marketing features with newsletters are available. Email tracking is also possible to track the performance of your email. Integrate social media platforms into your campaign easily to get a better reach of what you are marketing.
5. Mindmatrix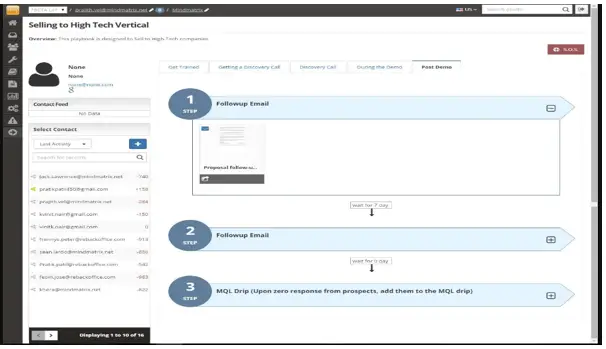 Make marketing easy with Mindmatrix. Generate personalized assets. Social media automation is possible. Email marketing will also help in your campaign process. Get prospect insight of 360 degrees. CRM integration is also possible. Get your marketing team to do creative tasks while Mindmatrix performs essential functions automatically. Scale up your support needed for marketing through this software. Edit newsletter templates and sends them every month. Get industry-related alerts. Generate reports on marketing and analyze them to improve your sales. Import and organize sales assets for easy searching of data. Data clean-up and migration is easy using this software.
6. Postalytics

Direct mail campaigns are easy to produce in Postalytics. Get updates on the status of each email you send. Synchronize all information to your CRM, allowing you to perform digital marketing effectively. Include personalized messages to reach out to your customers. Business people every day will receive many emails. Personalized messages will reach out to them better and help in your marketing. Select the geography and demographics of your email and get it ready within minutes to send to your consumers. Drag and drop postcards to make emails personalized. Deliver real-time dashboards and insights, annotate, and print charts to analyze data. Use the integrated domain management in this software to manage campaigns.
7. TUNE

TUNE is a marketing platform that makes marketing using the mobile easily. Optimize your campaigns using this software. Fraud detection is possible through this software. Advertisement management and affiliate management is more comfortable. TUNE is fully customizable. It offers customer support to enhance marketing and tracking links effectively. API and developer tools are present in it to aid you in marketing. Get trained on how to use this software and get the support documentation. Integrate mobile and desktop data easily. Agents can communicate with clients to support them through this system.
8. AdHawk

The campaign dashboard allows campaign management to be comfortable in Adhawk. Use creative optimization to manage your marketing—set a budget for your marketing through budget pacing. Targeting is done in three methods that are geo-targeting, contextual targeting, and retargeting. Bulk editing of the campaign is possible. Create custom reports to cater to the needs of your customers. Get notified when changes occur to key performance indicators. Grant access to select data and features based on the user. Use this reliable software with high performance. Campaign monitoring allows you to see which of your marketing strategies are effective.
9. Workfront

Launch campaigns faster using Workfront. You do not need to spend a lot of time chasing people as that work is accessible through Workfront. Spend your time increasing the quality of your work and automate your workflow across teams. Connect all your tools in one location and do marketing. Meet changing demands by using complex marketing programs; manage all your work in one place. Connect your business with other business applications to empower your marketing teams. New marketing options are available with enterprise work management, which creates success for this software. Workfront helps people, groups, and companies to get benefitted.
10. SocialPilot

Digital marketing is necessarily higher nowadays in multiple ways, as resources and information are being distributed online with so many services. Digital marketing agency's main job is to maintain their client's social media platform in an effective way to manage their brand. Still, when clients get increased, it isn't easy to achieve to overcome this use SocialPilot. With SocialPilot, one can easily connect unlimited social media for all their clients in one place. The "groups" feature is also available to group their clients nicely: Small Business & Professionals, Marketing Agency & Teams, and Enterprise fit s for SocialPilot. Flexible scheduling options are available for each client. The client's approval is required to share anything on their profile. Automatic sharing in BlogSpot is also open.