Financial management software, as its name suggests, is a powerful application that offers users with all basic accounting functions. Financial management software acts as an all-in-one solution to all businesses and enterprises. This application governs the organization's incomes, expenses, and assets effectively and efficiently. Several financial software applications are available today in the market. Many of them are compatible with a small scale, and many are suitable for medium and large businesses. Financial software tools perform accurate accounting without errors, minimized redundancy of records, and ensures compliance. The following are the top ten best financial management software, along with their traits.
1. Quicken: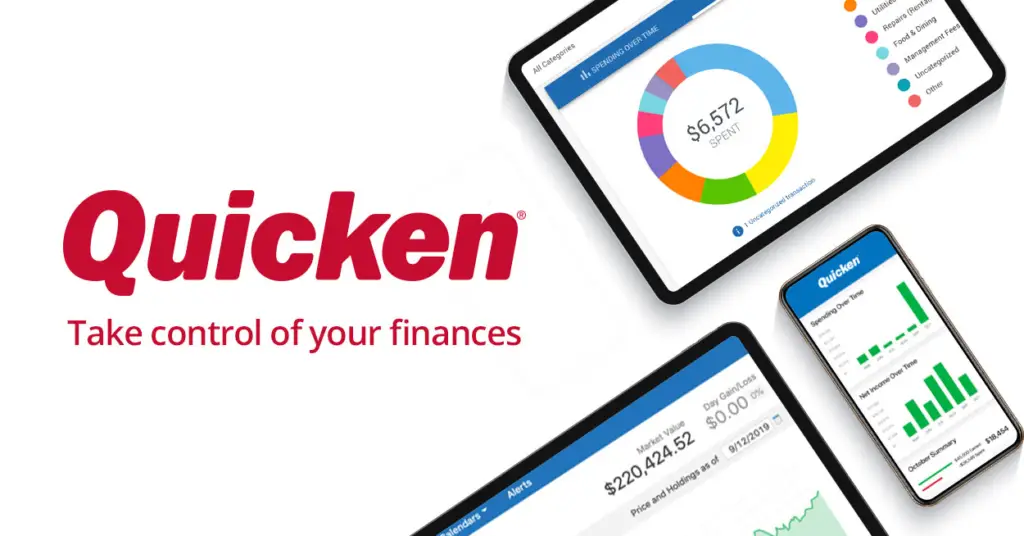 Quicken is one of the most-used and popular financial management software tools. This application provides users with a large set of advanced and revolutionary features, which make managing accounts more simple. Using this application, users can view banking, investment, retirement, and credit card accounts. So, this is an all-in-one financial management software. The features of this application include managing expenses, easily viewing and managing bills, tracking investments, paying bills online, and many others. It is trusted by more than 17 million people across the globe. This application comes with four plans, Starter, Deluxe, Premier, and Home & Business. Additionally, users are offered a 30-day free trial period.
2. Mint:

Mint is another fully-featured, all-in-one personal financial management software tool. This application is free, online, and easy to use. This online application is compatible to work on iPad, iPhone, Android, and Windows mobile devices. The Mint financial management software is a flexible budgeting tool and has a user-friendly interface. The features of this software include sending financial summaries and alerts via message or email, integration of tax tool with TurboTax, offers free credit score, bill reminders, low balance reminders, email or text for unusual account activity, bank-level data security, automatic downloads of transactions, categorization of downloaded transactions, adding the value of homes, cars, or any other physical assets, etc.
3. YNAB:
YNAB is another personal financial management software tool with multiple advanced features in it. This application has four rules, the key, the magic, the secret sauce, and if you will. It enables users to get real-time information from any device and anywhere. Additionally, it enables users to track their goals in budgeting, reports in the form of charts and graphs, personal support through lice and online workshops, etc. It also offers a high level of security by encrypting data, and bcrypt has all user passwords. Users can use this application for free for 34 days. The monthly plan is available at $11.99, and the yearly plan is available at $84.
4. Mvelopes:

Mvelopes is a simple but powerful and fully-featured financial management software tool. This application enables users to make the right financial decisions for a company or an organization. It is ideal for start-ups, SMEs, and agencies. However, it is easy to use, mobile-friendly, and has a user-friendly interface. Users can get smart advice on saving money and managing expenses. The Mvelopes software is also an online budgeting tool that offers real-time budgeting, synchronization with a bank account as well as a credit card, and many other features. It has got three different editions. The Basic edition is available at Rs. 288 per month, the Plus at Rs. 1368 per month, and the Complete at Rs. 4248 per month.
5. TurboTax:
TurboTax is yet another financial management software tool. It is specially developed for managing tax solutions. Also, it assists users in identifying business purchases, automatically scans bank accounts, and also scans a credit card. Users are offered with a provision of tracking real-time expenses, track miles automatically and get receipts via mobile phones. It is best suited for small-scale and medium-scale businesses. It is available in two packages, Deluxe and Premier. The Deluxe plan charges $34.99 per month, and the Premier charges $54.99 per month. The features of this application incorporate more than 350 tax deductions and credits, personalized reports, stocks, bonds, expense tracking, on-screen advice, data import, auto email notification, etc.
6. FutureAdvisor:
FutureAdvisor is one of the best financial management software tools that incorporates more advanced features. This application has several benefits. It allows integration with Fidelity and TD Ameritrade. It is backed by a top-tier financial institution, and the broker handles all account transfers. The best benefit of using the FutureAdvisor application is it offers tax-loss harvesting. But, users need to pay the specific amount for account transfers. It also supports individual and joint accounts and also 529 plans and rollover retirement accounts. OIt charges the fee of0.50% of assets under management.
7. Personal Capital:
Personal Capital is a mobile-friendly financial management software tool. Users can use this application on tablets as well as on desktops. It enables users to track and regulate the real-time net worth anytime and anywhere. This application allows users to place all accounts in one place and can track all financial life with a customizable dashboard in real-time. Personal Capital software enables users to build, manage, and forecast retirement in one place using a Retirement Planner. Additionally, it also involves a large set of financial tools, cash management tools, wealth management tools, etc. It also manages budgeting, cash flows, fee analyzer, education planning, etc.
8. Tiller Money: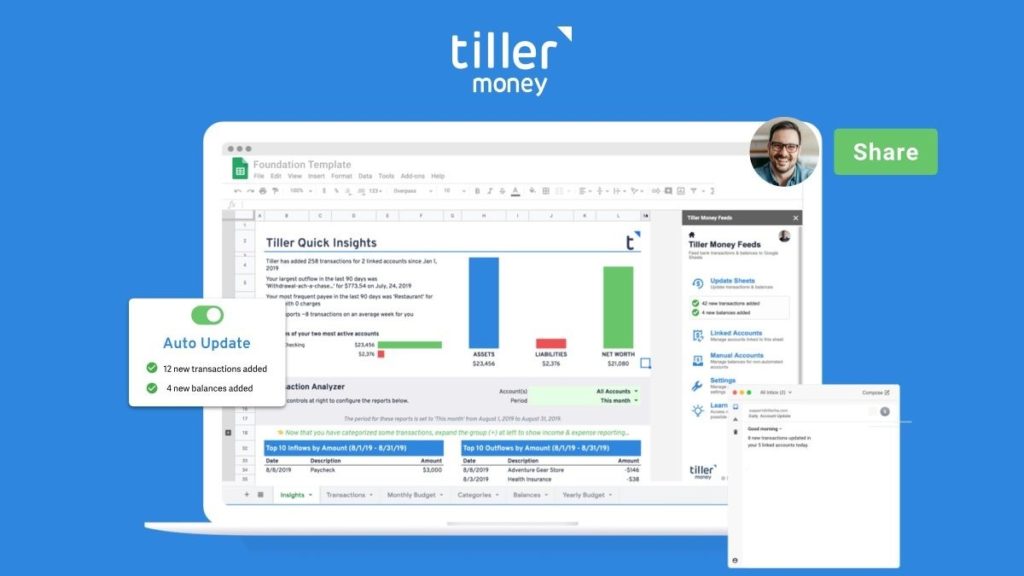 Tiller Money is an advanced financial management tool that feeds transactions and records in the spreadsheets. Spreadsheets are fed-in either Excel or Google Sheets. It has an outstanding dashboard that displays the user's top ten sources of income, the top ten sources of spending, the user's budget, net worth, and many other elements. This application is easy to use and is highly flexible. There is a Tiller lab add-on, which offers new templates, graphs, and visualizations. Additionally, it provides high-quality budgeting, debt-payoff, and financial independence sheets. The cost of this application is $59 per year, and it offers a free trial day of 30 days.
9. NetSuite:

NetSuite is an all-in-one, full-featured accounting, and financial management software tool. It provides features, like budgeting, accounting, financial reporting, and many others. Users can acquire instant visibility of the financial and operational performance of any organization or company. This application enhances accountability and compliance with powerful reporting features. Additionally, it also offers revenue management, inventory management, order management, and billing. NetSuite application involves fixed asset management, financial dashboards, reporting and analytics, income statement, balance sheets, variance reports, etc. The price of this software depends on the number of users involved.
10. SmartFusion:

SmartFusion is a dynamic school financial management software. Many companies and organizations use this software because of its faster working, viewing multiple reports at a time, easy integration of the third-party protect sensitive financial information, controls processes by removing the redundant data, and is highly flexible. As this application is based on the cloud, users can work on it from any location. The features include real-time updating, user-defined security, flexible grid reporting, drill-down capabilities, customizable reporting, integration with Microsoft Office and Adobe, etc.