Make your own music with your PC or laptop
Hi there everyone,
I would like to talk about music making using your laptop or desktop. In my opinion, it is the good and simple way to make some music using your taste of music and have fun.
Little bit about what is multi-track loop or sample based mixing. So there are given about 8-16 audio tracks in the programs which I will provide later and there you go – you are able to add to your audio track audio samples or loops followed each one after one or add them in parallel audio track. e.g. in one track is guitar and in other track is drums sample. The song which you made you are able to save as project for further editing or export it to mp3 or other sound format. And there you go – you can make your own music at your home with no special equipment just simply with your computer. To let you separate your music samples in mixing software they are painted in different colors. It means if you have 5 different sound samples (sample_1, sample_2 …) used in your song. Then each sample_1 will be e.g. yellow, each sample_2 will be blue.
What are sound loops and samples? These are small from 1 sec till 30 sec instrument or sound effect sound files. e.g. I use freeware music samples available on internet for my music production. You are also able to make your own sound samples which you can get by recording some kind of rhythmic beating on the table with your hand or stick. Give your imagination work or just by simply recording a guitar to your computer.
There are also possibility to emulate real music instrument and you are able to make your own rhythms. This is done by VST (virtual instruments) plug-in which are used in some music sampling software. VST plug-in cannot be run standalone. For this you need VST host, which is built in your music creation software. On internet there is plenty of free VST plug-ins available, just simply type "vst plug-in" in Google search engine or in another one which best suits your needs.
So here are the programs which I found on internet for multi-track loop or sample based mixing:
Magix Music Maker basic edition:

supports virtual instruments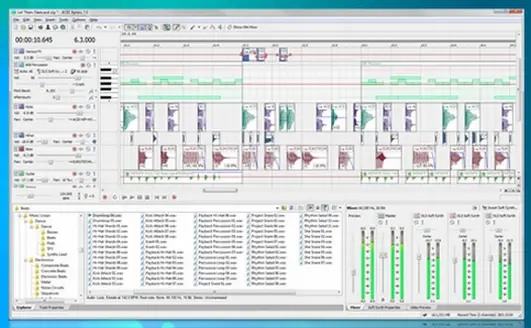 I will make further web research and let you know for other good multi-track mixing software, but now just sit down and relax and give your music ideas come true with these three music-mixing programs.
So, let's make your music and have good house party.