The most profound words will remain unread unless you can keep the learner engaged. You can't see their eyes to know if they got it and so say it, show it, write it, act it and connect it to a task." – James Bates
Digital learning is a study which is accompanied by automation it includes the application of a large spectrum of practices in conjunction with blended and virtual learning.it is meant to enhance the learning experience of people and not to replace the traditional or old methods. It is one of the keys to understanding better and smarter.
What are the various digital learning tools               
Google+
YouTube Channels
iTunes
Cloud-based Word Processors (i.e., Google Drive)
File-sharing platforms (i.e. Dropbox)
Evernote
Digital Pocket
And many more, which helps the students to reach up to the educational and useful sites and get near to their dreams. Well. It is beyond the conventional methods of teaching. It helped us to understand our subjects better.
How digital learning is advantageous to the schools and children's
Being a student of digital classes, I can tell how the digital classes help as I am experiencing it –
It engages students in learning more readily
It assists students to catch the topics more quickly
Also increases the instructional techniques
To connect the theory and its application easily
It helps us in a better way as it's much easier to grasp any topic while visualizing and hearing.
And aid to spread share the knowledge.
Decreases time restriction, we can learn anything from anywhere
Reduces the diminution of location; -now learning is not bounded inside the four walls.
Well in this century everything is changed, most of the things are now different for good, the days of blackboards, chalk, and dusters are replaced by E-learning now, its useful and effective
Today everyone is dependent on the internet even for the minute tasks we need internet and so this 21st century is termed as the digital era.
The tool or say the backbone of digital learning is the internet, we need an internet connection on our phones or computers, and we have the key to start the E-learning procedure.
Why do schools need to adopt digital learning?
All the schools should adopt the E-learning system as it will help the students to study smart. Digital learning is a revolutionary change in the education system as it has increased the curiosity inside the students, today the parents want to provide every facility to their kids which is going to help them to reach up to their goal, and now digital learning is one of those necessary tools. Digital learning will aid to change schools and education in a better way as: —
It has made Research Work Simpler
Has reduced the burden of work in schools
Made the preparation of exams easier and quicker
Offers a better platform to communicate and interact
What is Digital Pedagogy?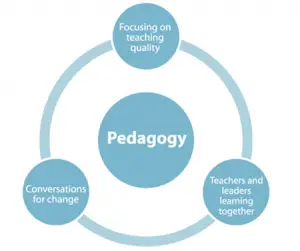 Digital Pedagogy
It is the combination or mixture of teaching, technical knowledge and the understanding of the students.it is a new experience of students and teacher both which inspires them to do some constructive work while gaining the information through digital tools. This digital can provide old classroom environment along with using the technical tools.
Conclusion
Digital learning is a blessing to the modern world as the challenges are increasing day by day and it provides a lot many opportunities for everyone. Well in total, every coin has two sides, and so the digital learning can be negative or positive depending on us the students or the people that how we use it. If you have a passion for studying and possess time, talent and commitment then its advantages are much stronger.
It can change the schools and the education system in a better way as it opens a lot many doors towards better learning and it's cost efficient too; education can now easily accessible at any part of the world through digital learning, which makes it easy to educate more n more people.