The Fastest Processor AMD FX-8150 8-Core Bulldozer Processor
AMD is an American Multinational semiconductor company; It competes with the world's powerful company Intel. It produces many devices like; Processors, Motherboards, Microprocessors and much more. Intel also produces these type of accessories, this time AMD has tried enough to beat Intel by making one of the powerful processor and Intel is no doubt one of the most demanding company today.
AMD always brings new, smart and innovative technologies and this time, AMD has made the AMD FX-8150 8-Core Bulldozer Processor, which is the fastest processor ever built. There are many model of FX but FX-8150 8-core Bulldozer processor is considered as the most fastest processor ever built in this planet. This processor has 8 cores, which are running at 3.6 GHzand all core turbo of 3.9GHz, and a 4.2GHz four core turbo.It is the major processor, which is given by AMD after Phenom 2 which was released in 2009. FX-8150 has basically four Bulldozer modules packed with a pair of processing cores. The CPU has also plenty of cores, 8MB of L2 which will be 2MB per core and 8MB of L3 it means 2MB per module. AMD has also updated this processor with FMA, XOP, AES, AVX, and SSE 4.2. So these features will obviously boost up the pc and it will provide a better speed. AMD has also done a great job by providing more than 2 Billion transistors in the whole package and it is looking amazing because it is twice as compared to their previous processor phenom 2. The Turbo core has also increased in FX-8150 Processor, which gives a speed of 4.2 GHz. This is the finest processor ever built by AMD, it will be faster, reliable and will be better enough to tolerant the loads without any type of slowing down. So by looking at the up gradation, which AMD has made in this processor, one will obviously say awesome.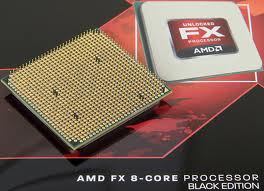 When we talk about its price then, it comes in-between Intel Core i5-2500K and i7-2600K. Well Intel is the only rival against AMD; usually Intel beats AMD most of the times. But after making this processor, AMD has done a marvelous job; this company had made their demand better than before. AMD wants to revolutionize the world and after making this fastest processor, AMD has tried enough to beat Intel. AMD FX-8150 8-Core Bulldozer Processor also got the Guinness world record for fastest processor ever built, no doubt it's a huge success for AMD and it's only due to the remarkable effort of AMD.